Estimated read time: 2-3 minutes
This archived news story is available only for your personal, non-commercial use. Information in the story may be outdated or superseded by additional information. Reading or replaying the story in its archived form does not constitute a republication of the story.
As interest in alternative energy for homes and cars surges, we are learning more about options for today and tomorrow.
We visited a homeowner who will tap the earth's energy to heat and cool his home.
Harnessing geothermal energy is nothing new. In fact, it's about a century old. Using it to make your home comfortable and save on energy bills is getting more popular.
Edwin Stafford is building his dream, green home in Logan. The Utah State marketing professor aims to meet his energy needs without big utility bills.
"I do work on marketing of clean technology and renewable energy in the state, so for me, the house is part dream home and part research project," Stafford says.
Here's the key: crews will dig five holes 300 feet deep. They'll feed loops of tubing into the holes to create a geothermal heating and cooling system.
Stafford initially considered solar power. "Here in Logan, we have these inversions that make it hard sometimes to have the sunlight. So I met with Jay and learned we could use geothermal and I could be completely off of natural gas," he says.
A pump circulates water through the loops in the ground, which heats the water. The pump pulls heat from the water in the winter. It distributes the comfortable air through radiant tubing in the floor.
Jay Bankhead, a geothermal system designer, says, "In the summer, it will reverse the process and take all the heat out of the house and put it back into the ground and cool his house."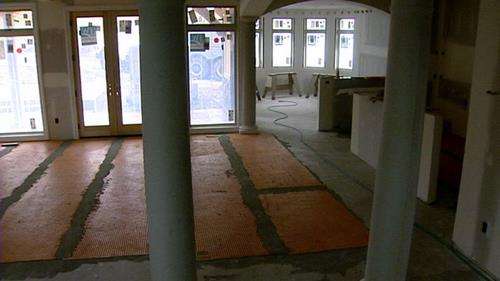 The most obvious drawback of the geothermal is that it costs about 40 percent more than a traditional heating and cooling system. But Stafford believes that he'll be able to make it pay for itself in about eight and a half years.
"To have it pay for itself in eight and a half years was worth it to me," he says.
Geothermal should cut Stafford's utilities 70 to 80 percent. He'll have back-up electricity and maybe a solar panel.
Jay Bankhead says, "Our return on investment and break-even points are down to the point where it makes sense to put geo systems in every house."
His objective is near zero energy use, so his home has energy efficient windows, an angle to passively use the sun's energy, and other features. And in Logan, he's concerned about the winter inversions. This house won't pollute as much as a typical house.
E-mail: jboal@ksl.com
×
Most recent Utah stories