Estimated read time: 3-4 minutes
This archived news story is available only for your personal, non-commercial use. Information in the story may be outdated or superseded by additional information. Reading or replaying the story in its archived form does not constitute a republication of the story.
TAYLORSVILLE — For four long, hard years, American Fork's girls basketball team had made the Class 5A state tournament.
Each time, it finished earlier than expected.
Taylor Moeaki was not going to let it be denied again.
Moeaki had 21 points and three steals to lift the Cavemen to the 5A state title with a 50-46 win over Viewmont in Saturday's championship game at Salt Lake Community College.
"It's a dream. This is what we've been working for, what we've put all the hours in," said Moeaki, who earned all-tournament MVP honors. "It's just what we came here to do."
Paige Farnsworth and Addison Holmstead each hit three 3-pointers to finish with nine points for the Cavemen (25-1), and Taylor Franson pulled down six rebounds to go with five points and two steals.
As tempting as it could have been, the Cavemen never talked about their one loss. They didn't need it to drive them toward the elusive goal of a championship.
"We talked about the process," said American Fork coach Corey Clayton. "Wins come when you are focused on the right things instead of the outcomes. I'm just happy for the girls."
Megan Carr led Viewmont (21-4) with 12 points, 10 rebounds and two assists, and Mercedes Staples scored all 12 of her points in the second half for the Vikings.
But the Cavemen weren't going to be denied in their quest for the program's first state title since 2009.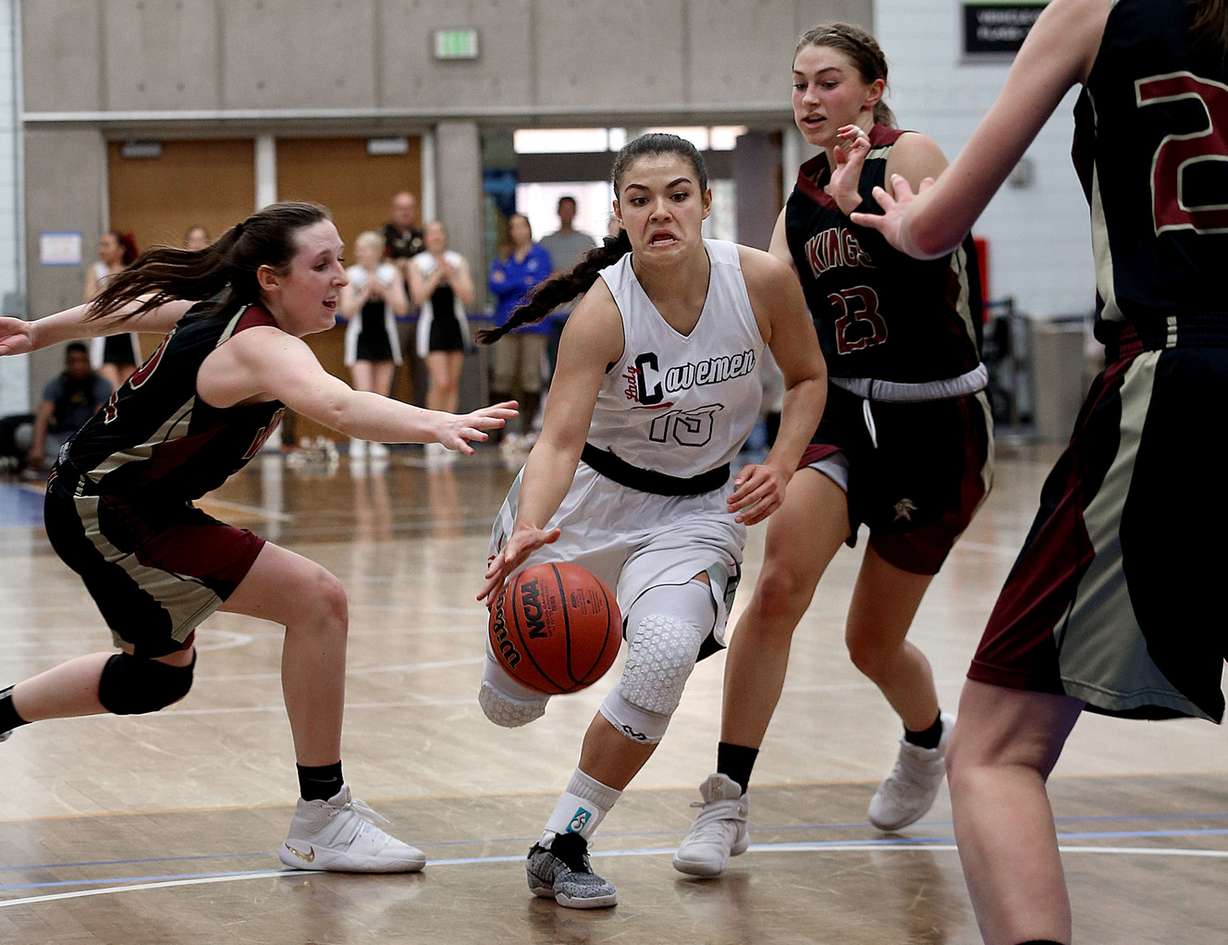 "I think that's definitely necessary to have the drive," Moeaki said. "Now that Viewmont has been here, [it's] going to be even harder next season, too."
American Fork opened the game on an 11-2 run, capped by Moeaki's jumper with 1:57 left in the first quarter. The Cavemen led 21-4 on Savanna Empey's jump shot just under two minutes into the second quarter.
"They've worked really hard their whole lives, and certainly the last four years to get back to this game," Clayton said. "They've had a lot of heartbreak along the way. That's what you need, to be resilient and determined, and I think they came into today's game already with their minds made up of how this was going to end."
The Cavemen hit five 3-pointers in the first half, including two by sophomore Holmstead. But Viewmont's Victoria Page scored four of her 10 points during an 8-2 run to end the half and cut the deficit to 29-16 at halftime.
Momentum continued on the side of Viewmont in the third quarter, opening the half on a 13-2 spurt in the third quarter to cut the deficit to one possession, 31-29. Viewmont outscored the Cavemen 15-7 in the third quarter and 30-21 in the second half.
But the Vikings, who were searching for their first state championship since winning the 3A title in 1980, couldn't make up the difference.
Farnsworth knocked down back-to-back 3-pointers — including one from NBA range — to bump American Fork's lead back to 39-31 with 6:09 remaining.
Class 5A All-Tournament Team
| Name | School |
| --- | --- |
| Taylor Moeaki (MVP) | American Fork |
| Mercedes Staples | Viewmont |
| Taylor Franson | American Fork |
| Megan Carr | Viewmont |
| Kaylee Carlsen | Sky View |
| Breaunna Gillen | Copper Hills |
*as voted on by the media
"I just knew that my team needed me to put that in," said Farnsworth, whose three treys were a game-high. "It was our last couple of minutes ever playing together. Everyone was willing to do whatever it took. We came together, focused down, and worked for each other."
Moeaki then took over down the stretch, knocking down back-to-back shots with a jumper to push the lead back to 43-31 during a 12-2 run bridging the third and fourth quarters.
One final push by Viewmont was thwarted as American Fork made 4-of-8 free throws in the game's final minute.
"It took every one of us, and we all came together," Moeaki said. "We have the best team in the state. I always knew that, but now I can finally say it with something to back it up."
×
Photos
Related stories
Most recent Sports stories