Estimated read time: 3-4 minutes
This archived news story is available only for your personal, non-commercial use. Information in the story may be outdated or superseded by additional information. Reading or replaying the story in its archived form does not constitute a republication of the story.
TAYLORSVILLE — The Class 4A girls basketball state championship goes through Region 6.
Few people expected those words when the tournament tipped off Monday at Salt Lake Community College. But when the final buzzer sounded Friday night, that's where everything stood.
Cameron Mooney scored eight of her 13 points in the first half to help Skyline rally for a 52-45 win Friday over Timpview and set up Saturday's title bout against region rival Judge Memorial.
"We were supposed to be the worst region, or something," said Mooney, who also had seven rebounds and three blocked shots. "But we're both good, and we're here."
Hannah Anderl had 14 points, nine rebounds, five assists and three steals to lead the Eagles (22-4), who rallied from a five-point halftime deficit to top the Thunderbirds.
"I thought we were flat the whole first half," Skyline coach Lynnette Schroeder said. "We weren't prepared for the tempo that Timpview came at us, and we had to match that tempo in the second half if we wanted any chance to win."
Kealani Neves scored 10 of her game-high 16 points in the first half to give Timpview (17-6) a 30-25 advantage at the break, while older sister Sierra Neves added five of her eight points in the first half.
"We haven't played Timpview for a really long time, so we didn't know what to expect," Mooney said. "But once we got in the flow and realized what they were doing, we focused on ourselves and how to work, and that's what we did."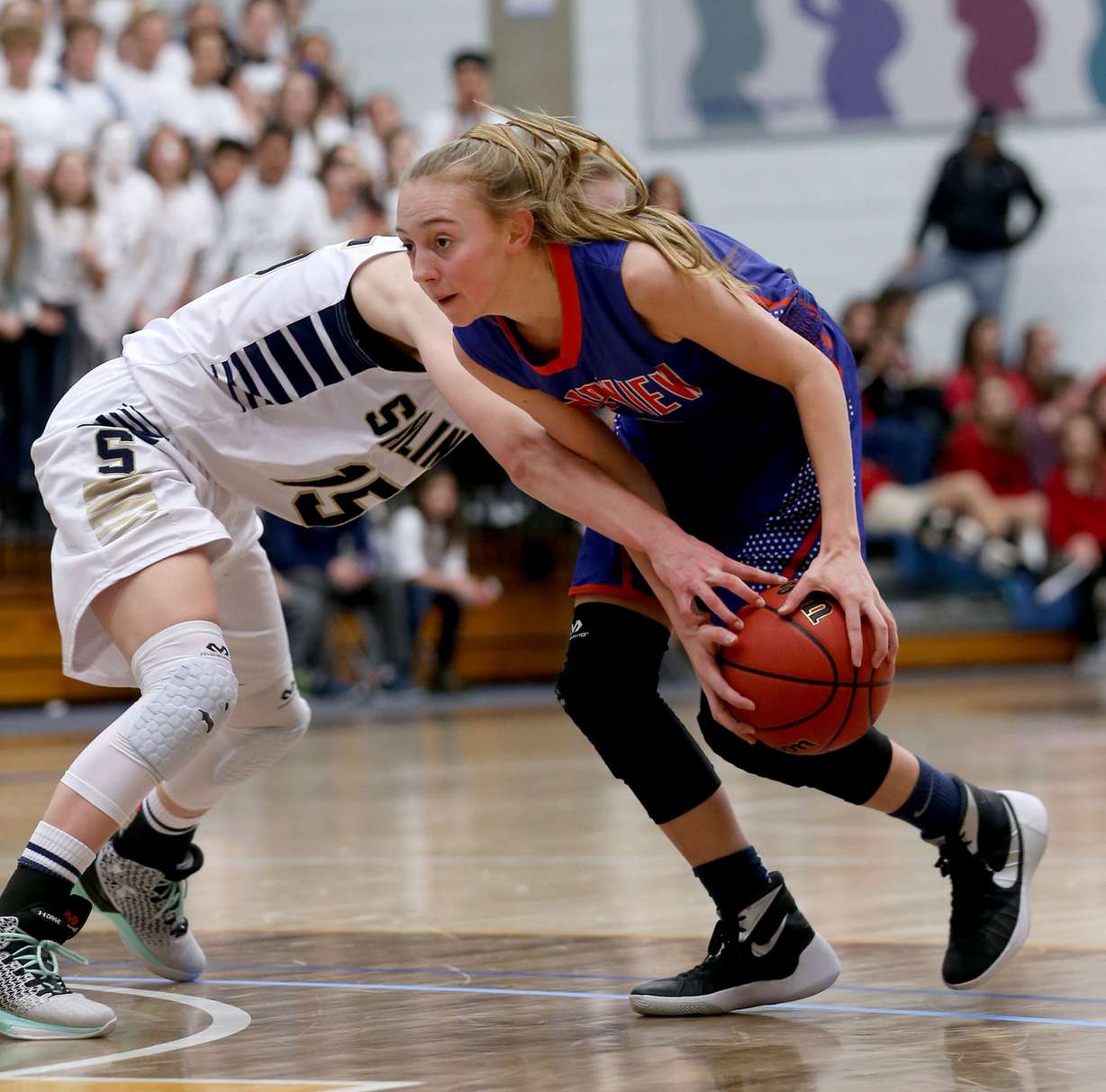 The Thunderbirds pushed the lead to double digits, 35-25, just under four minutes into the second half. Schroeder called a timeout, settled her team down and installed a full-court press that worked like a charm.
"We were down by 10; we had to get some stops," the fifth-year head coach explained. "That's why we went to the press."
The Eagles responded with a 10-0 run, capped by Madison Grange's shot off the glass to even the score 35-35 with 3:05 remaining in the third quarter.
"One of my jobs is to pump people up. If they are down, I have to be there and make sure they are coming back," said Mooney, whose father Sean played basketball at Utah. "If I see that they are down, I'm just trying to motivate everyone to play harder.
"I don't care if I'm scoring or not, I just want the team to win. I'll do whatever I have to do."
Kiana Eskelson gave the Eagles a 37-35 lead on a pair of free throws with 2:02 left, but the lead only lasted 16 seconds in a game where neither team felt comfortable with any margin.
Anderl gave Skyline a 41-39 lead after the Eagles' back-to-back buckets to open the final quarter's first 45 seconds.
Neves tied the game 30 seconds later, but the momentum was in Skyline's favor. The Eagles outscored the No. 3 seed from Region 7 15-6 in the fourth quarter to book a spot in the championship game Saturday at 1 p.m. MST.
Related Story
Barrett Jessop had 11 points and five rebounds, including four straight free throws in the final seconds, to close out the win for Skyline.
"Hannah knows her role and what she needs to do to get the team to play at the potential they can," Schroeder said. "When she does that, we are great."
×
Photos
Related stories
Most recent Sports stories