Estimated read time: 2-3 minutes
This archived news story is available only for your personal, non-commercial use. Information in the story may be outdated or superseded by additional information. Reading or replaying the story in its archived form does not constitute a republication of the story.
NORTH SALT LAKE — North Salt Lake city leaders and homeowners are once again concerned a landslide after a portion of a hillside shifted late Monday night or early Tuesday morning.
"You see it. You see the slough, you see the fall off, and it's just scary," North Salt Lake resident Terry Rasch said. He lives a few houses up and couldn't believe it when he woke up Tuesday and saw his neighbor shoveling mud, and then he noticed why. A large chuck of land slid down a few feet, closer and closer to his neighbor's home.
City workers put hay bales and sandbags into place to try to keep any more movement and mud from flowing into the house below. This is the same area where a home at 739 Parkway Drive was destroyed in a substantial slide on Aug. 5, 2014.
"It's frightening because, am I next? That's the question everybody wants to ask," Rasch said.
North Salt Lake City Manager Ken Leetham says he understands people get nervous every time the ground moves, but he is reassured by the studies the city has done on this slide since 2014 that the area is safe for homeowners.
"We still think the slide mass is safe to live around and nobody's home is in danger of any problems, so that's still what we believe," Leetham said. "And what we've observed is just this moisture impacting the surface of the ground, and it's completely saturated, so we are going to get some mud and debris coming down."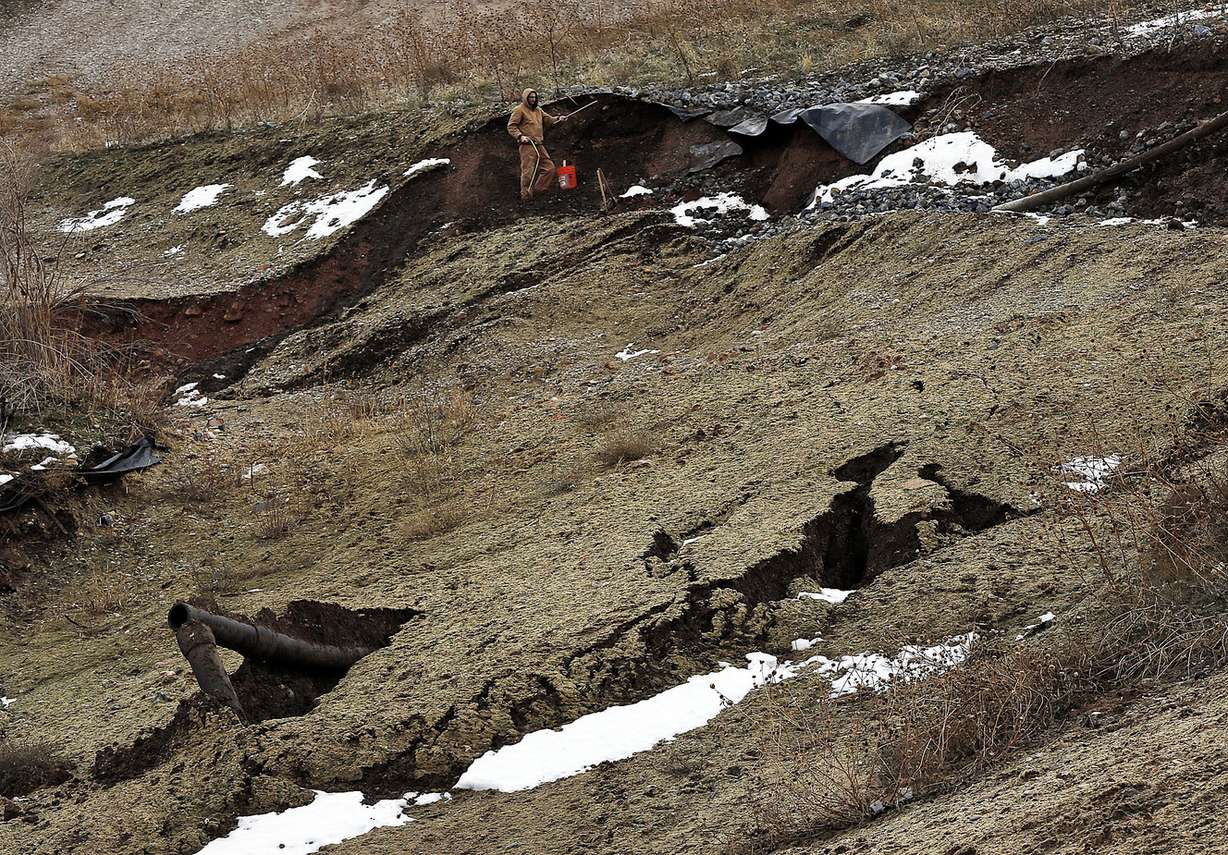 While the movement isn't a surprise to city officials, it is unnerving for many homeowners in the area, who have been dealing with movement for more than two years.
"Whoever is responsible here, I don't know, but whoever is, they just, somebody needs to accept some responsibility and get something done," Rasch said.
Less than two weeks ago, movement was detected in the same area. Some of the terrain had moved about 42 inches since November. The 42 inches of movement is a significantly faster pace than 4 inches of slippage between spring and fall of last year, according to Gregg Beuhkelman, a landslide project geologist for the Utah Geological Survey.
North Salt Lake's city manager says as the area sees more snow and rain, there will probably be more movement.
"We haven't had any discussions about condemnation of property for the homeowners at all, because we don't think there's a need to move anybody out," Leetham said.
×
Photos
Related stories
Most recent Utah stories