Estimated read time: 5-6 minutes
This archived news story is available only for your personal, non-commercial use. Information in the story may be outdated or superseded by additional information. Reading or replaying the story in its archived form does not constitute a republication of the story.
SALT LAKE CITY — After weeks of pointing to affordable housing as an integral piece to tackling Salt Lake City's homelessness challenges, Mayor Jackie Biskupski on Thursday rolled out her administration's comprehensive five-year plan.
Biskupski touted the proposal as Salt Lake City's first affordable housing plan in 16 years, designed to address housing issues in Utah's capital city through "bold but equitable" changes in city policy and procedures, and partnerships on county and state levels.
The 60-page document includes a hodgepodge of objectives meant to alleviate Salt Lake City's affordable housing shortage — a "crisis" that Biskupski said is already on the city's doorstep.
According to city data, 12,500 Salt Lake City residents live in poverty, with incomes of less than $20,000 a year. But to accommodate them, the city is short 7,500 housing units. Rents increased twice as fast as renters' incomes between 2011 and 2014, and half of the city's renters spent 50 percent or more of their income on housing.
"This plan acknowledges this crisis we are facing and recommends short- and long- term policy and procedure changes to help us find opportunity to create new housing, which is safe, secure and enriches lives in our community," Biskupski said.
Unlike former Mayor Ralph Becker's 5,000 Doors initiative, meant to increase affordable housing stock over five years, Biskupski's plan, "Growing SLC," focuses on overhauling the entire system.
"We are all facing this crisis together," she said. "We must find solutions together."
Related
Among the complex plan are options to consider a new ordinance requiring that affordable housing units be set aside in new developments, rezoning neighborhoods' density limitations, and identifying new funding sources for affordable subsidization, whether that be through impact fees, bonds or levies.
But creating new revenue for affordable housing through impact fees would require rewrites of state law. In addition, rezoning neighborhood density limits and asking the public for a bond may require heavy political pull, said City Council Chairman Stan Penfold.
"It's not an easy thing. It's going to take a lot of work on the part of the city and the state," Penfold said, adding that Biskupski's plan is a "really important step."
"It lays out a good foundation and a variety of options," he said.
Mike Akerlow, deputy director of community and neighborhoods, said city officials acknowledge the plan will require "significant policy changes" and many discussions with state and county partners.
"The success of this plan won't be because of words on a page, but rather the results of collaboration between our partners and willingness to do new things," Akerlow said.
"We know this is bold and aggressive, and it's going to be a lot of work. But we know we can do it. The answer is simple: We are in crisis now. We have to take action now," he said.
Biskupski said Salt Lake City's intense growth — with population projections on track to increase from 190,000 to 220,000 by 2030 — means city officials need to increase density and variety of housing in areas they may not be currently allowed.
"I recognize that some of the policies are in place to preserve the character of our city, but in some instances, they fail to allow us to be innovative in how we grow," she said.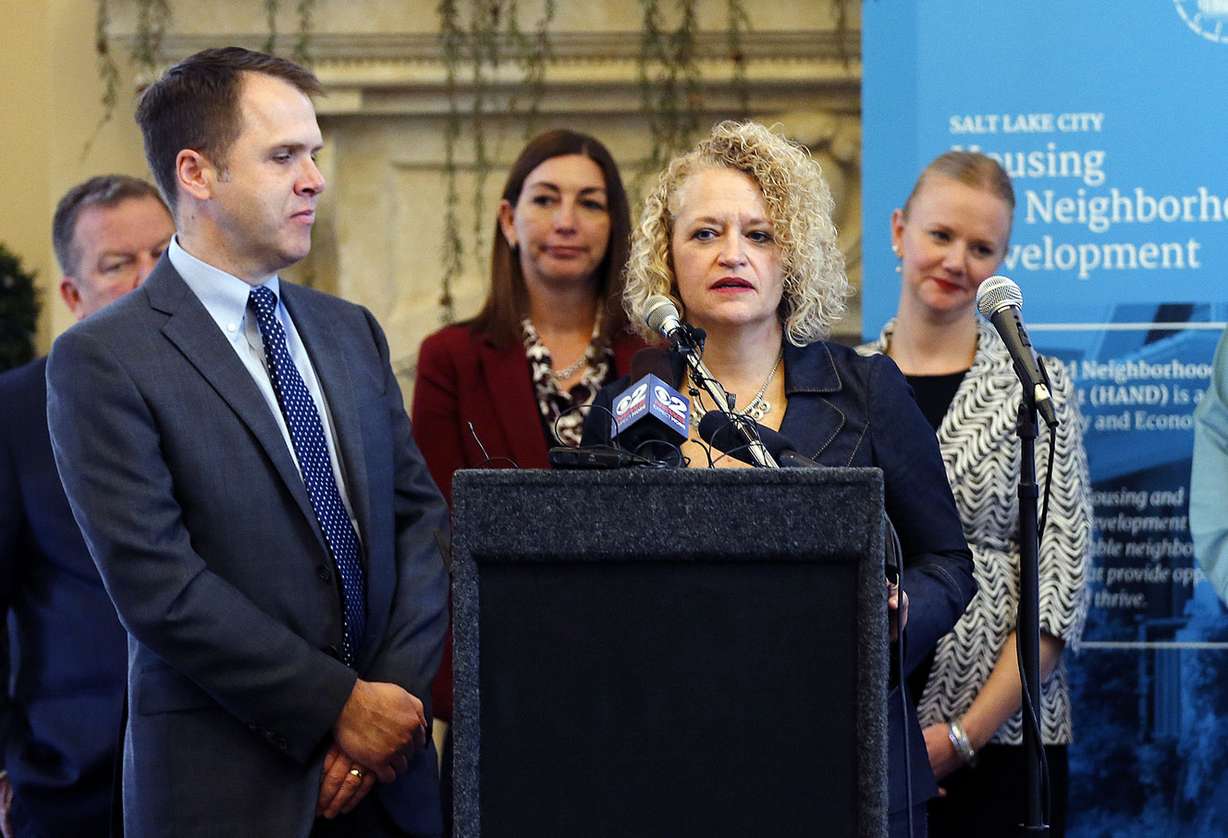 When asked if a new bond or levy is being considered, Biskupski said discussions have just begun and it's too early to know exactly what steps city officials will be taking.
The mayor said the next phase of the plan is to work with her newly convened "blue ribbon commission" — which includes local developers, bankers and the Salt Lake City Council — while taking input from the public.
A revised plan is expected to be sent to the Planning Commission in March for consideration and to the City Council in the spring for the final stages of public engagement, revision and adoption.
Dan Lofgren, president of local development company Cowboy Partners, is on the blue ribbon commission. He said Thursday after Biskupski unveiled the plan that he hasn't had the chance yet to comb through the details, but he's mostly just glad to see affordable housing becoming a priority for the city.
"I would have loved to hear someone say, 'Here's millions of dollars for affordable housing.' That would have been really cool, but of course that's not the case," he said. "But what I am excited about is this notion that (affordable housing) is rising up on the priority list, that the mayor is committing time and resources to it."
While the plan includes wiggle room for more specific direction, it aims to accomplish three main goals over the next five years while allotting time in the fourth year to evaluate the data and prepare for a new plan that incorporates market changes over the next five years.
The three goals:
Reforming city practices to promote a responsive, affordable, high-opportunity housing market.
Increasing housing opportunities and stabilization for cost-burdened households.
Creating more equitable and fair housing.
Each goal has a variety of objectives to help city leaders work toward a new system. Those objectives include:
Developing more flexible zoning rules to help facilitate more diverse housing, with all housing types rather than just large apartment complexes or single-family homes. The plan aims to make duplexes, cottages, bungalows and smaller apartment complexes more common within Salt Lake neighborhoods.
Reducing parking requirements for affordable housing developments, and eliminating such requirements where it makes sense.
Creating an expedited processing system for developers constructing new affordable units.
Establishing partnerships with housing industry leaders to construct innovative and affordable developments for all housing types.
Considering an ordinance to require and incentivize the inclusion of affordable units in new developments, with special focus on households earning 40 percent below the area median income.
Offering incentives to developers of affordable housing, such as land discounts and primary financing options.
Supporting and expanding incentives for landlords to rent low-income households, including landlord insurance programs.
Pursuing a change at the state level to create opportunities for new incentives and revenue sources.
Purchasing hotels and multifamily properties to preserve or transform them into affordable housing.
Increasing funding and marketing for affordable homeownership programs.
Tackling housing discrimination through working to enhance awareness and resources around tenant rights and responsibilities.
Salt Lake City residents can view the plan and provide feedback at www.slcgov.com/HAND.
×
Photos