Estimated read time: 2-3 minutes
This archived news story is available only for your personal, non-commercial use. Information in the story may be outdated or superseded by additional information. Reading or replaying the story in its archived form does not constitute a republication of the story.
A school teacher in Utah County is hospitalized with serious injuries after he was cut off by a van while cycling to work. Today he talked about the crash that nearly killed him.
More people cycle these days because of high gas prices. But a lapse in safety by a motorist or the rider can quickly turn into a dangerous situation for the cyclist.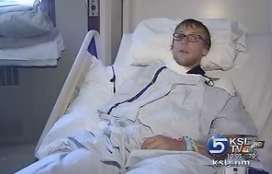 Andy Chapman is badly banged up all over.
"The paramedics and doctors have told me repeatedly how lucky I am to be alive," he said.
Friday morning around 7:30, the art teacher was bicycling on State Street in American Fork. He uses TRAX, a bus and his bike to commute from Salt Lake to Timpanogos Academy in Lindon.
"[I was] just feeling good to be riding in the morning to work. Then my next memory was waking up in a great deal of pain," he said.
A van cut in front of Chapman while turning into a restaurant parking lot.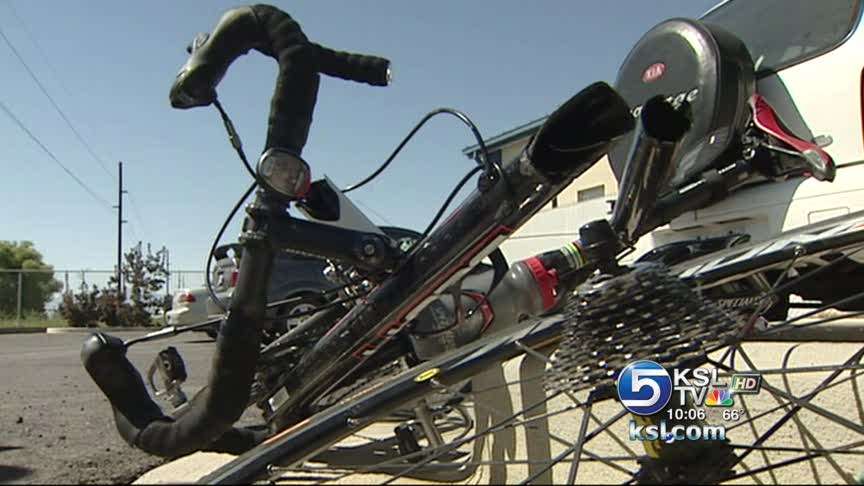 "I went through the glass on the back portion of the van," Chapman explained.
He broke his collarbone and several other bones in his face. A gash in his neck opened up both his carotid artery and jugular vein. As for his bike and helmet? School Principal Errol Porter picked up the pieces.
"[I was] kind of dumbfounded, I guess. I was surprised that it was broken in half. It was amazing he way alive," he said.
Adrienne Burke saw it happen. "He hit the side of the truck," she said. "It spun him around. He hit the road face first."
Burke jumped out of her car to help. "He turned over. I just saw a pool of blood pour out of him," she said.
She and another woman held T-shirts against his neck until medics arrived.
Principal Porter said, "After seeing the helmet and the damage that was done to him, I don't think he would have been around if he weren't wearing the helmet."
Critical lessons from a teacher who is eager to recover.
"[I'm] keeping a positive attitude, looking forward to physical therapy and getting back to my routine," Chapman said.
Chapman obviously has a lot of recovery ahead of him, but he says he will ride again, even if he's apprehensive at first.
Police tell us they cited the van driver for the crash.
E-mail: jboal@ksl.com
×
Most recent Utah stories