Estimated read time: 6-7 minutes
This archived news story is available only for your personal, non-commercial use. Information in the story may be outdated or superseded by additional information. Reading or replaying the story in its archived form does not constitute a republication of the story.
PROVO — Legendary BYU football coach LaVell Edwards, a College Football Hall of Famer known for his pioneering offenses, died Thursday morning. He was 86.
Edwards broke his hip on Christmas Eve, which contributed to his death, his wife Patti told the Daily Herald in Provo.
Renowned for his pass-first offenses that threw for more than 57 miles and opened a new era of college football, Edwards led BYU to the 1984 national championship and sent five players to the College Football Hall of Fame before his own enshrinement in 2004.
He earned Bobby Dodd National Coach of the Year honors in 1979 and AFCA National Coach of the Year in 1984, when he helped the Cougars to a 13-0 record, a win over Michigan in the Holiday Bowl, and a national championship by the Associated Press and Coaches' Poll.
"I love LaVell Edwards," BYU athletic director Tom Holmoe said in a statement from the school. "He came into my life, and the life of many others, at just the right time," Holmoe said in a statement. "I had the influence of a great coach, a wonderful person, a disciple of Christ, a loyal family man and a true friend, from the day I met him until the day he passed away.
"LaVell had a pure heart. He was the dream coach of every parent. His example will forever be with me and I will strive to live a life of love as he always did."
Edwards ranks in the top-10 winningest coaches in Football Bowl Subdivision history. His .722 winning percentage over 29 years ranks him as just one of two coaches nationally to win as many games in fewer than 30 seasons.
But he was more than a coach, said current BYU coach Kalani Sitake, who played fullback under Edwards.
"For a man who has accomplished so much, it's important that LaVell Edwards is never defined as just a coach," Sitake told KSL Newsradio. "He's a great person, and has had an influence on so many lives — mine included."
His coaching career began at Granite High School in 1954, and he moved to BYU as an assistant coach in 1962 before ascending to the head role 10 years later.
At the time of his hire, BYU had posted just 173 victories in its 49-year program history. His tenure began with a 7-4 season in 1972, but he quickly turned around the program until it won its first WAC championship in 1974 and accepted its first-ever bowl invitation, the 1974 Fiesta Bowl.
That began a run of 27-straight non-losing seasons, 22 bowl appearances and 20 league titles.
Beginning with an 11-1 season in 1979, the Cougars won double-digit games in six of the next seven seasons including 1984 and an 11-3 follow-up year in 1985 that ended with a trip to the Citrus Bowl against Ohio State.
The run of dominance within the WAC crescendoed in 1996, when BYU beat Wyoming in the WAC championship game before a 19-15 victory over Kansas State in the Cotton Bowl to finish 14-1 — the most games in a single season prior to the College Football Playoff era.
He coached Heisman Trophy winner Ty Detmer (currently BYU's offensive coordinator), two Outland Trophy winners given to the nation's best interior lineman, four Davey O'Brien award winners for the nation's top quarterback, four College Football Hall of Famers, and 13 All-Americans.
When he retired in 2000, Edwards had a career record of 257-101-3, the seventh-best record in Football Bowl Subdivision history. Prior to his final home game, BYU's home field of Cougar Stadium was renamed in his honor, unveiling a banner in front of LDS Church President Gordon B. Hinckley following a 37-13 win over New Mexico.
Among his pupils were Sitake and current athletic director Tom Holmoe.
"This was the LaVell Edwards era; a great, fantastic coach," Holmoe said last year. "He got it going back in those days with an incredible coaching staff. The thing that's the most memorable is that our defense was good, but our offense was great. We ran an offense that people couldn't figure out in those days. We had a string of about 10 quarterbacks in a row that were phenomenal. It was fun, it was an entertaining group and it was fun to be a part of it."
BYU inducted Edwards into its own Hall of Fame in 2006, and he received the Paul "Bear" Bryant Lifetime Achievement Award in 2013.
Following his brilliant coaching career, Edwards and his wife Patti served in multiple positions in The Church of Jesus Christ of Latter-day Saints, including as public affairs missionaries in New York City in 2002-03.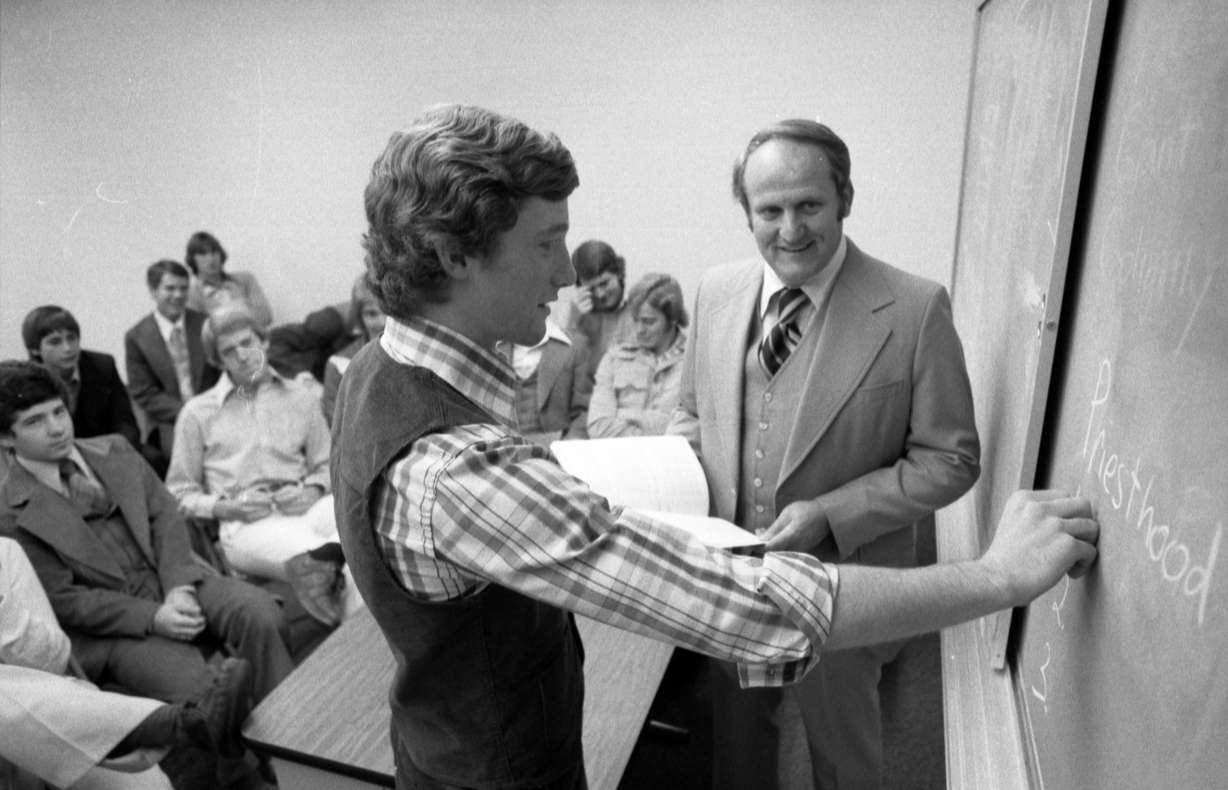 "You know, frankly, I'd never been to Harlem," Edwards told KSL upon the completion of his mission. "Meeting the people, that was probably one of the real highlights of our whole mission."
When Sitake became the first product of Edwards to take the helm of the football program following the 2015 season, the legendary coach expressed his excitement.
"I think it's a great hire," Edwards told KSL at the time. "He's a BYU grad; he played for us. He's been coaching very successfully as an assistant coach at the University of Utah and up at Oregon State. He's developed a very good reputation.
"He's a guy that is going to do very well."
Born Oct. 11, 1930 to a family of 14 children in Orem, Edwards graduated from Lincoln High School before attending Utah State, where he played on the offensive line from 1949-51.
He later earned a master's degree from the University of Utah, and a doctorate degree during his coaching tenure from BYU. Following the 1984 national championship, Edwards reportedly held interest from several larger college programs and NFL teams, but remained in Provo until his retirement at the turn of the century.
He and Patti are the parents of three children: Ann (Cannon), John and Jim.
In lieu of flowers, the family kindly requests donations be made to the Boys and Girls Clubs of Utah County in honor of coach Edwards
"That's something that LaVell and Patti were really passionate about," Sitake said of the Edwards' charity efforts. "He was really proud of it.
"It wasn't just about football with him; it was so much more. That's what I love about him. The passion he had for a football game was the same as he had for people in need."
×
Photos
Related stories
Most recent Utah stories