Estimated read time: 3-4 minutes
This archived news story is available only for your personal, non-commercial use. Information in the story may be outdated or superseded by additional information. Reading or replaying the story in its archived form does not constitute a republication of the story.
SALT LAKE CITY — Depending on who you ask, holiday shopping on the final days before Christmas can be stressful, a necessary evil or even a little fun.
Throngs of last-minute shoppers filled retail outlets across the Salt Lake Valley this week trying to pick out those final items to put under the tree Sunday.
Salt Lake resident Erika Garcia said she made the mistake of procrastinating before heading downtown Friday to City Creek Center in search of gifts for three of her most cherished loved ones.
"I got my dad a jacket and my uncle a sweatshirt, and now I just have to get something for my boyfriend," Garcia said.
This year, a brisk work schedule prevented Garcia from her normal routine of shopping much earlier, giving herself enough time to choose more thoughtful presents, she said.
The last-minute shopping added more pressure and took some of the fun out of the experience, she noted.
"It is horrible because I have to rush and buy whatever, and I kind of feel bad," Garcia said. "I'm usually a control freak about it, but not this time."
For Utah transplant Brock Sandberg, the experience of procrastination shopping was more a function of convenience than poor planning. Rather than having gifts shipped or added to his checked luggage on his flight from his current home in New York, he just allotted some extra time on his visit for gift shopping for his young nieces and nephews.
"I have a basic idea of what to get, then just walk around the stores and see what catches (my) eye," he said. "It's a little stressful, but you have the Christmas music and the lights, and that makes it a little bit nicer."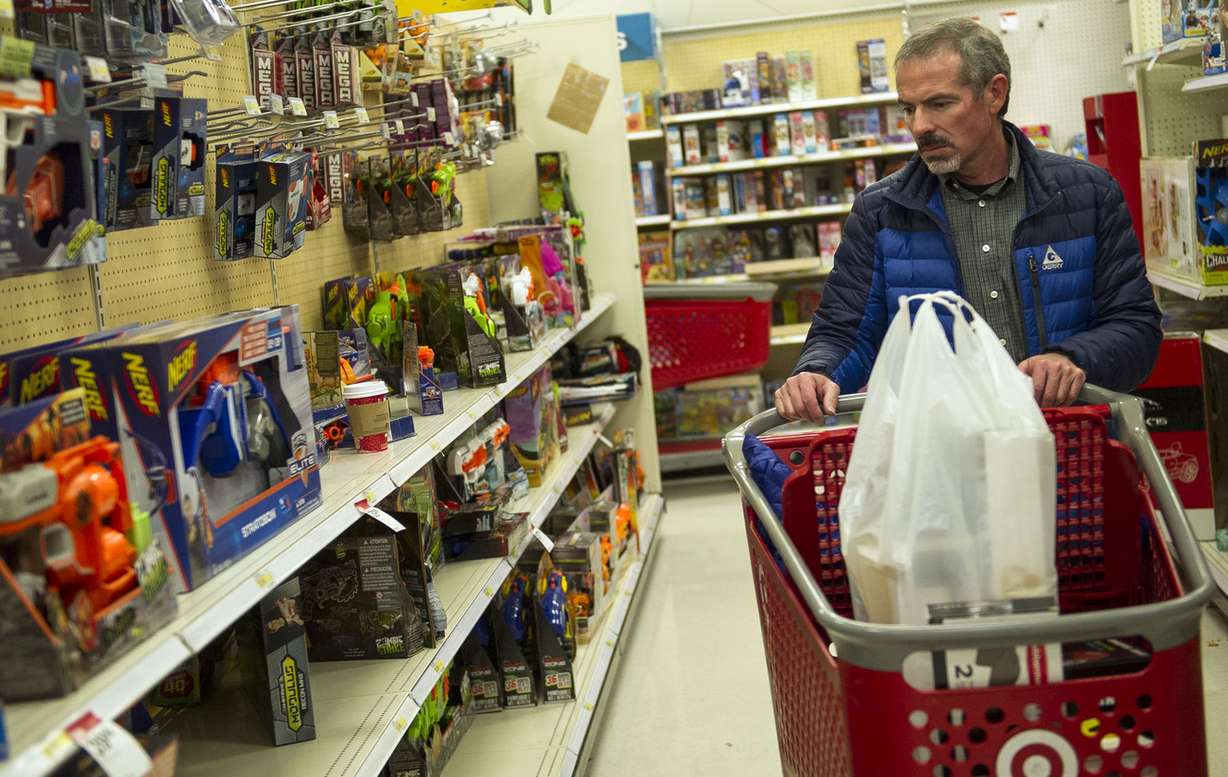 Former Utahn Cody Reno and his wife have made a habit of waiting until the final days to do their holiday shopping.
"We're always last-minute shoppers," said Reno, who now lives in Dallas, Texas. "We're always very busy. We work better under pressure, I guess."
Reno said they have become so accustomed to procrastinating that they enjoy it more than shopping earlier.
"When you have to make quick decisions, it's easier to do it last-minute," he said.
Retail spending
Through mid-December, analysts said retail spending this year rose 2 percent, slightly slower the 2.4 percent gain from a year ago, the Associated Press reported.
The rate of online spending far outpaced buying at physical stores from Oct. 29 to Dec. 12, according to First Data. The firm analyzed online and in-store payments from nearly a million merchants. The data captures about 40 percent of all card transactions in the U.S. but excludes cash.
Online sales grew 9 percent, while spending at physical stores was up a mere 0.1 percent. At the midpoint of the holiday shopping season, e-commerce comprised approximately 22 percent of all retail spending — up from 16 percent in 2015.
Overall, the average dollar amount spent per person for the 45-day period was $70.28, up slightly from last year's $69.34.
Four of the seven categories First Data tracks showed sales growth this season: building materials, electronics and appliances, furniture and home furnishings, and health and personal care.
General merchandise stores suffered the biggest sales drop — 2.8 percent — because of deep discounts as well as less foot traffic. Within that category, department stores took the biggest hit, with overall sales down 8.8 percent.
×
Photos
Related stories
Most recent Utah stories