Estimated read time: 6-7 minutes
This archived news story is available only for your personal, non-commercial use. Information in the story may be outdated or superseded by additional information. Reading or replaying the story in its archived form does not constitute a republication of the story.
SAN DIEGO — Jamaal Williams was on pace for a BYU bowl record-setting performance in his first appearance in the Poinsettia Bowl since 2012.
But even his superhuman performance needed one final defensive stop to secure the Cougars' first postseason win since Kyle Van Noy's two-touchdown night in San Diego three years ago.
Kai Nacua was happy to oblige.
"Right when I saw him leave the pocket, I looked back at the tight end and saw him working my way," Nacua said of Wyoming quarterback Josh Allen's final throw of the 2016 season. "I waited, and almost overran the ball because I knew it was coming my way.
"Then I ended up picking it."
Williams ran for 210 yards and a touchdown, and Nacua recorded his sixth interception of the season in the final minute as BYU snapped a three-year postseason losing streak with a 24-21 win over Wyoming at Qualcomm Stadium.
"I would've liked him to run more clock off," BYU coach Kalani Sitake joked. "But I think he just wanted to run over to us and celebrate."
The Cougars' win in San Diego was the first since the 2012 Poinsettia Bowl, when Williams also scored a touchdown as a 17-year-old true freshman. The fifth-year senior ran for his sixth 100-yard game of the season, finishing just shy of San Diego State's Ronnie Hillman's Poinsettia Bowl record of 228 rushing yards. Instead, the Rialto, California, native eclipsed former Utah State running back Joey DeMartino for the second-most rushing yards in Poinsettia history.
"It brought back a whole bunch of memories of my freshman year," Williams said. "It was a great offensive blocking scheme: my line, my tight ends, and Jonah — that man had the best block in the world. I wanted to celebrate before I even scored."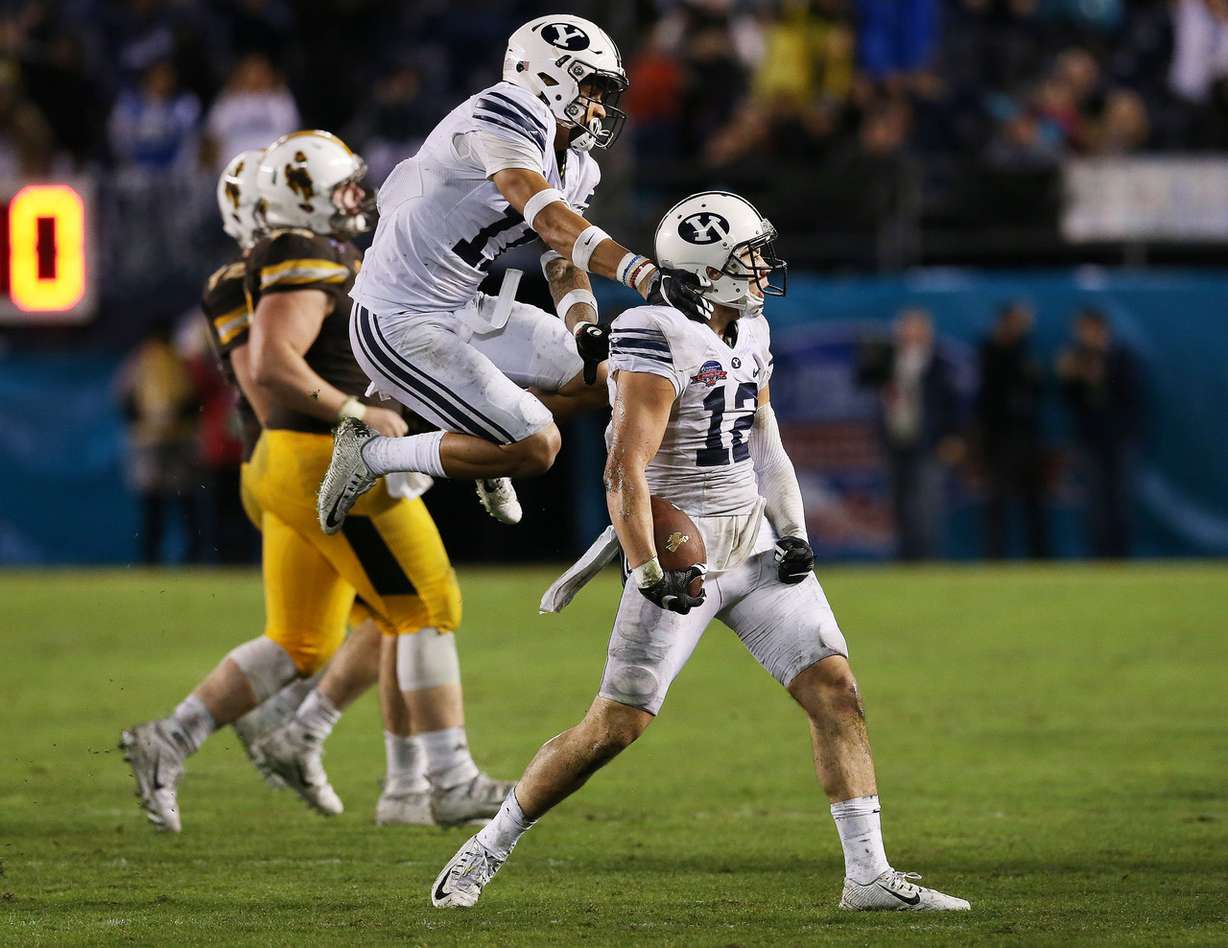 Brian Hill ran for 93 yards and a touchdown on 26 carries for Wyoming (8-6), and Allen completed 17 of 32 passes for 207 yards and two touchdowns in the loss.
But when it came time to celebrate his achievement, and the offensive MVP award, he wanted to share — with his linemen, with the Cougars' tight ends, and with wide receiver Jonah Trinnaman, whose downfield block spurred Williams to the Cougars' game-clinching 36-yard touchdown with 14:07 left in the fourth quarter.
"It's a team effort and the way I wanted to go out as a senior," Williams said as he invited his teammates to celebrate on the postgame platform where the Cougars celebrated the win. "I'm nothing without the line. You can't run the ball without the line, or do a lot of things.
"They really need more credit than what we do; we just run behind them and find holes and stuff. They are the ones opening holes, moving people, end-around every down, and going against big dudes every down. I don't think they get enough credit."
Tanner Mangum completed 8-of-15 passes for 96 yards, a touchdown and an interception for BYU (9-4) with another rushing touchdown that opened the scoring by scrambling for a 3-yard touchdown dive with 38 seconds left in a rain-soaked first quarter.
Rhett Almond added a 27-yard field goal in the second quarter, and the Cougars took a 10-0 lead into halftime after just 164 total yards in the opening half. The Pokes became the first team held scoreless in the first half of a Poinsettia Bowl appearance since Northern Illinois in a 37-7 loss to TCU in 2006.
Wyoming converted just two third downs in the first half, and compiled 119 yards of offense as the Cougars shut out an opponent in the first half for the first time since the season-opener Sept. 3 against Arizona.
Brian Hill capped off a 60-yard drive with a 4-yard touchdown run as the Pokes opened the second half with an eight-minute, 22-second drive to pull within three. Wyoming converted two fourth downs on the drive, and quarterback Josh Allen converted a pair of third-down conversions with his legs to keep moving.
Mangum responded with a little magic.
The sophomore signal caller tossed a 5-yard touchdown strike that caromed off three players before landing in tight end Tanner Balderree's hands in the end zone with 2:42 left in the third quarter for a 17-7 lead.
The play, dubbed "Miracle Mangum" by multiple watchers, capped an eight-play, 73-yard drive over 3:47 to finish with Balderree's second career touchdown grab.
"It was like 'oh no.' OK. Oh, I guess we caught it; the Mangum Magic happened again," Sitake said. "But the thing I was really happy with (Mangum) was that he was able to manage the plays. He can throw the ball really well, and that's something that is natural for him. I guess he ironed out a few kinks, but I am happy enough for him to just hand the ball off to Jamaal and let him score."
BYU safety Micah Hannemann was ejected for targeting for a head-to-head blow on Allen. But the Cougar defense forced another big play on the next possession, when Dayan Lake picked off Allen and added a 14-yard return to take a 10-point lead into the final quarter.
On the first play of the quarter, Williams followed Trinnaman's downfield block 36 yards into the end zone to extend the Cougars' lead to 24-7.
"I love my line, and I tell them I got them, whatever they need," Williams said. "It's a team effort, and I think running the ball is a team effort. They know that I will do anything for them, and I know they will do the same for me.
"You've got to have respect for your teammates, for what they do for you and being the leader that you are. I'm grateful for them, the tight ends, the wide receivers and everybody who blocks."
Tanner Gentry pulled the Cowboys within 24-14 with an 11-yard touchdown grab with 7:35 remaining. The senior from Aurora, Colorado, caught seven passes for 113 yards for two touchdowns, including a 23-yard score to pull the Pokes within three with 2:11 remaining.
After a three-and-out that include an 11-yard sack, Wyoming had one final shot to tie or take a lead.
Until Nacua made one more play than the Cougars' old WAC rival.
"Kai's done that throughout his career. He's made big plays for this program," Sitake said. "I'm really thankful that he was able to do that in his last play as a Cougar.
"He's got great presence, and he's a great ball player. He was a quarterback in high school, and seeing him here now as a senior and graduated, I'm really proud of him. I was happy he made that play."
×
Photos
Most recent Sports stories