This archived news story is available only for your personal, non-commercial use. Information in the story may be outdated or superseded by additional information. Reading or replaying the story in its archived form does not constitute a republication of the story.
BRIGHAM CITY — The marshes, mud flats and open water of the Bear River Migratory Bird Refuge sprawl some 80,000 acres, offering a soggy and wild interlude for more than 200 species of birds.
Situated outside of Brigham City and just north of Ogden, the refuge established by Congress in 1928 is one of 14 "priority" urban refuges across the nation identified by the U.S. Fish & Wildlife Service.
Celebrated for its close connections and relationships to an urban setting, the refuge was showcased in a new film that details its wildness and describes how it is as a place for people to push pause in their everyday lives.
"These refuges are in close proximity to many of the major metropolitan areas in this country. They are a natural treasure that connect these urban communities to wildlife and wild places, and provide a variety of recreational opportunities for outdoor enthusiasts, children and families," said filmmaker and Tandem's CEO Ian Shive.
Tandem Stills + Motion and the National Wildlife Refuge Association released the film on the Bear River refuge earlier this month as part of an ongoing collaboration to highlight wildlife refuges with urban connections.
Tandem highlighted seven refuges last year, and the other seven refuges are being showcased in films released this year. In December, Tandem will release a film on the Detroit River International Wildlife Refuge and another on three refuges in south Texas.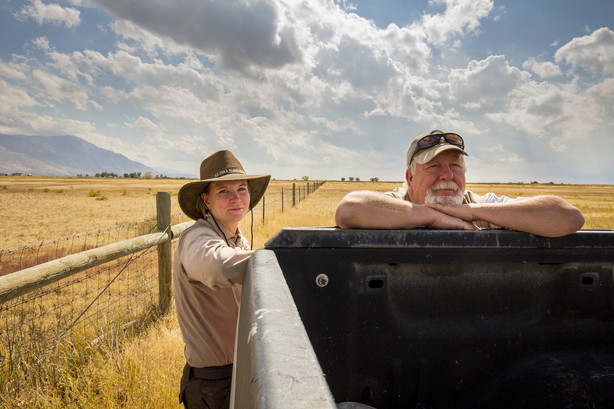 The Bear River refuge is designated as a Western Hemisphere Shorebird Reserve network site, signalling its global importance as a shorebird area.
Each year, it also draws 200,000 human visitors from 45 countries around the globe.
"Almost all cultures have a need to connect with these natural resources," said refuge manager Bob Barrett. "People travel from literally everywhere in the world to see the resources we have here."
Barrett, who has managed the Bear River refuge for nine years, said the refuge has been able to forge local partnerships that boost its importance in an urban setting.
A grade-school educational program teaching children about the importance of watersheds has enabled 160,000 fourth-graders to tour the visitor center, get classroom instruction and see the birds up close and personal.
"The refuge system has been established for the American people because people want experiences in relationship to wildlife," Barrett said.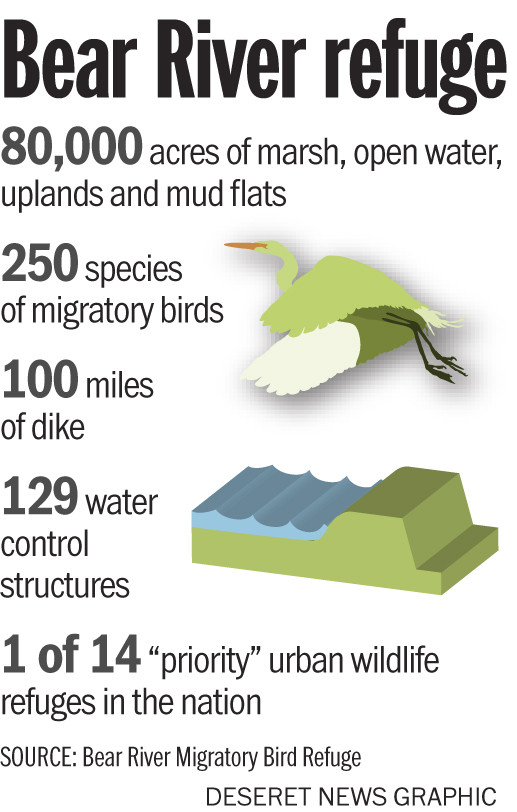 The visitor center's classrooms and auditorium gives it a "functionality" that helps it build on those relationships, he added.
"Having those functional facilities and a community that is very interested in the refuge really allows us to be an icon in the refuge system with urban refuge status."
The refuge was created out of the remnants of neglect and ignorance. Early settlers had diverted so much water in the area they dried up nearly 45,000 acres of wetlands.
By 1928, an outbreak of avian botulism horrified the public with scenes of hundreds of thousands of dead or dying birds, resulting in a congressional act to establish the refuge.
The floods of 1983 wiped out a new visitor center and rendered it inoperable. A new visitor education center opened in 2006.
×
Photos