Estimated read time: 2-3 minutes
This archived news story is available only for your personal, non-commercial use. Information in the story may be outdated or superseded by additional information. Reading or replaying the story in its archived form does not constitute a republication of the story.
Downtown Salt Lake City will be a loud and fun place to be through the weekend as the world's best Action Sports athletes compete in the 2008 Dew Tour.
The freestyle motocross course across from the Triad Building is just one of several venues that will be filled with fans starting tonight.
This event is not quite the scale of the Olympics, but it certainly has that feel. This is the fourth stop on the 2008 AST Dew Tour, with one more stop to go. Show organizers say they love coming to Salt Lake.
They are expecting more than 60,000 spectators this weekend. Those fans will be watching more than 300 competitors from 20 countries do stunts like those in the freestyle motocross competition. On another track, they'll see equally-impressive stunts by BMX riders. And inside EnergySolutions Arena, it's the skateboarding competition, where everyone is fearless, it seems. Fear of heights and fear of falling don't exist here, and kneepads are just part of the wardrobe.
Chris Prybylo, vice president of events for the tour, said, "These guys compete for about $3.5 million through the course of the tour. They can win a lot of money here, and then at the end of the year, like the PGA Tour, we've got a big bonus for them."
The Dew Tour is a five-city event: Baltimore, Cleveland, Portland, Salt Lake and Orlando. The athletes accumulate points through the entire season; final prize money will be awarded after the final competition next month.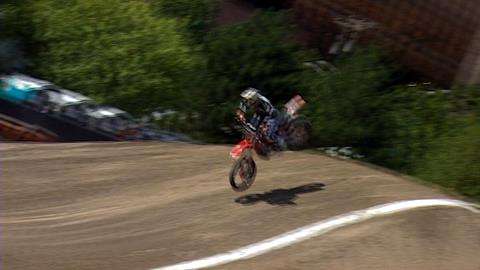 This is the fourth year for the Dew Tour, and the numbers of athletes and spectators just keeps growing, thanks in large part to network TV coverage.
"Yeah, we're live both Saturday and Sunday on NBC, and we're going out all over the world. We're live simulcast in Europe and also into Australia," Prybylo said.
Bikes, cycles and boards are putting Utah on the map, which has long-term positive implications.
Governor Jon Huntsman said, "For me, that not only means sharing great games with our local population but also allowing the rest of the world to tune in and a lot of people, I'm sure, will be captivated by the scenery they're going to see. And that's going to stimulate a lot of travel and tourism."
Competition got underway today. All three venues are located along 300 West and within walking distance of each other. The action will go continuously through Sunday at 6 p.m. If you can't make it down, NBC will carry the weekend events live on KSL 5.
E-mail: kmccord@ksl.com
×
Related links
Most recent Utah stories