Estimated read time: 3-4 minutes
This archived news story is available only for your personal, non-commercial use. Information in the story may be outdated or superseded by additional information. Reading or replaying the story in its archived form does not constitute a republication of the story.
SALT LAKE CITY — Seven-year-old Kyle buried his face in his mother's leg Friday as he waited for his father to exit the airliner docked at the Roland R. Wright Air National Guard Base.
He clutched a sign he'd made himself that morning, after his mother, Pepa Kruse, surprised him with the news: "Today I get my daddy back."
When Chief Warrant Officer 2 Nathan Kruse emerged from the plane, Kyle jumped up and down. His 6-year-old sister, Heidi, screamed, and their mother — with 2-year-old Mason on her hip — burst into tears.
Kyle and Heidi ran to their father, hugging each of his legs. Nathan Kruse grabbed Mason and put him on his shoulders. Then he kissed his wife.
"It's such a relief," Pepa Kruse said. "I've been crying all day; I couldn't wait. Our family is complete again."
Nathan Kruse was one of about 50 Utah Army National Guard soldiers who returned home Friday after an 11-month deployment to Iraq.
The soldiers returned from Detachment 2, 101st Airborn Division (Air Assault). Their mission was to provide intelligence support to the headquarters of the Screaming Eagles of the Joint Coalition Task Force in Iraq.
"It's great to be home," Nathan Kruse said. "It was a great mission served with a lot of great people. I'm proud to have served my country."
While other families rushed to the arms of their husbands, sons, grandfathers, Whitney Stanger hung back, nursing her 7-week-old daughter, Magnolia.
Stanger said she couldn't wait for her husband, Richard, to see his brand new daughter in person for the first time.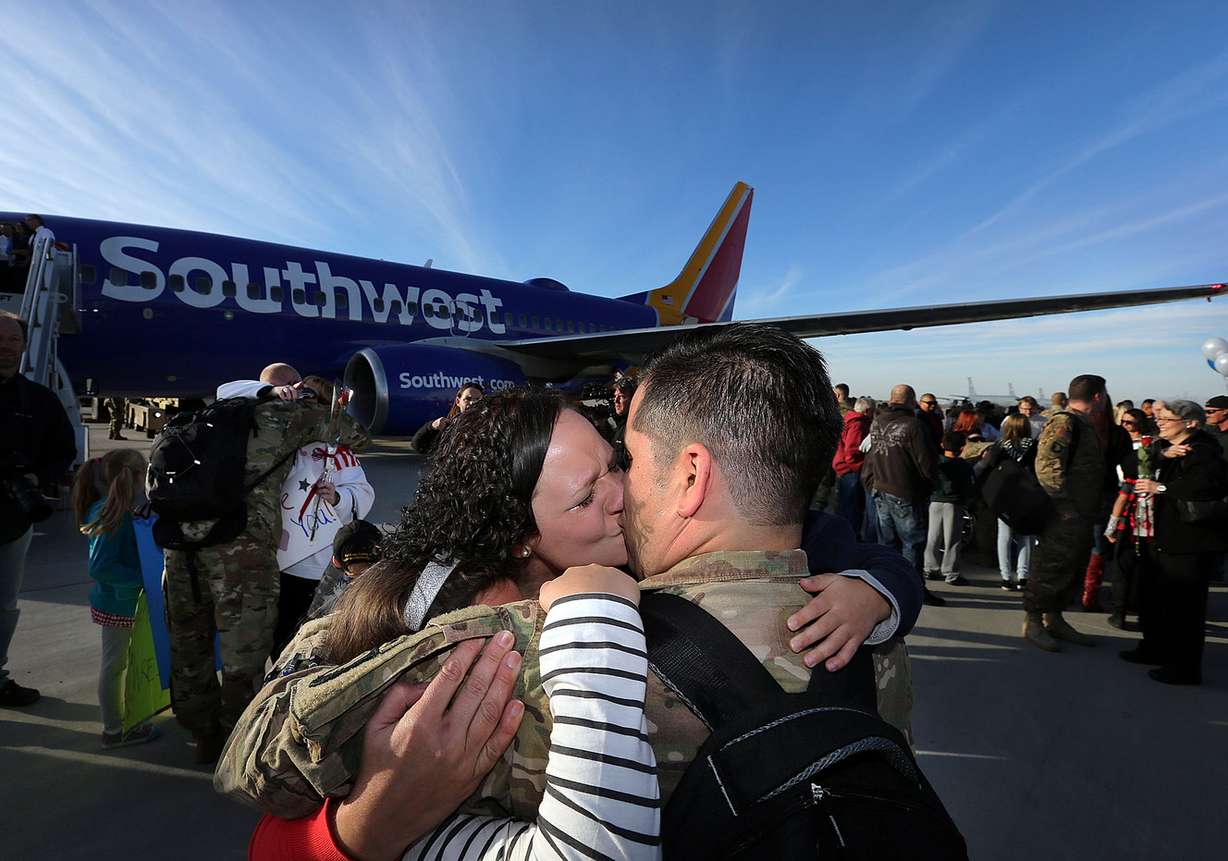 "I just can't wait to see his face," she said.
When Richard Stanger found his wife and baby, he gingerly took Magnolia in his arms.
"She's beautiful," he said.
When Doris Buck found her son, Clayton, she wrapped her arms around his neck and buried her face in his shoulder, tears soaking her cheeks.
"I prayed every day that the lord would bring him home safe," she said.
"It's great to be back on Utah soil," said Clayton Buck, with his wife, Jessica, and their two young boys, Tyson and Royce, at his side.
"This past year, it was tough, but we all know deployment isn't going to be a walk in the park," he said. "We did wonderful things over there. Everybody that served should absolutely feel proud of what they've done."
Detachment 2 Cmdr. Capt. Mikel Jackson said the soldiers had a challenging path to deployment. Their unit was only formalized in June last year as one of the pilot multi-component units where National Guard and Army Reserve members support active-duty formations.
"(The program) was very successful," Jackson said, noting that the unit members melded quickly and completed their mission successfully. "Because of the success of this initial unit, 10 other (multi-component) units have been created to align with active Army divisions."
Doris Buck said she's grateful her son and the other soldiers made it home safe.
"My heart is overflowing," she said. "Thank you to all the men and women who serve our country so we can live in peace. If it's not for them, where would we be?"
×
Photos
Related stories
Most recent Utah stories