This archived news story is available only for your personal, non-commercial use. Information in the story may be outdated or superseded by additional information. Reading or replaying the story in its archived form does not constitute a republication of the story.
Editor's note: Some viewers may be disturbed by the images.ST. GEORGE — Nancy Limburg's six-year-old toy Yorkshire terrier, affectionately named Chewy, was killed by her neighbor late Friday afternoon in front of Limburg's daughter.
However, did Limburg's neighbor intend on killing the dog?
That's the question St. George police said they are mulling in a case that gained outrage from a social media post.
Police responded to a report that a dog had been killed near 2040 East in St. George at around 4:30 p.m. Friday, according to Capt. Mike Giles of the St. George Police Department.
The dog entered a neighbor's yard and approached a man who was working on landscaping around his home. The man struck the dog in the head with a pair of long-handled pruning shears, killing the dog instantly, Giles said.
"He was using some scissors — some gardening shears; some old pruning shears and the dog was approaching him or came after him and he used those shears and swung it at the dog," Giles said.
The incident was witnessed by Limberg's daughter, Haley, who said the neighbor struck the dog twice.
Haley said she saw Chewy run across the street after the neighbor's dogs started barking, drawing Chewy's attention.
"The next thing I saw (Chewy) was bleeding on the (ground)," she said. "... I didn't know if he had cut (Chewy's) nose or if he had hit him. I was scared."
Limberg said she was in her room when her daughter, distraught, told her what had just happened.
"My daughter came running in screaming, yelling 'the neighbor just killed Chewy. The neighbor just killed Chewy,'" Limburg said. "I got up and went across the street, where he was at and my dog was on the sidewalk — blood all over the sidewalk."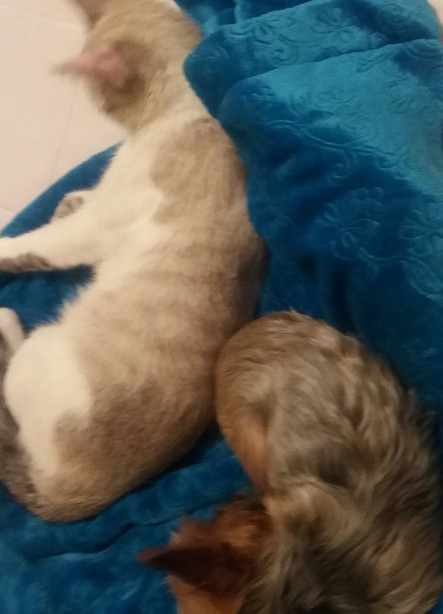 Limberg said she had no previous encounter with the neighbor prior to the incident, though Haley said the neighbor had complained about the dog running across the street before.
Chewy was a two-pound dog that didn't bark much and was mostly an indoor dog, Limberg said.
"He was a sweet dog," she said, holding back tears as she went on to describe him.
She added that she confronted her neighbor upon seeing Chewy dead on the sidewalk.
"I asked him, 'why would you kill my dog? What makes you think you can just kill my dog?'" she said.
The neighbor told her it was done in defense of his dogs that were in his backyard, Limberg said. Both Haley and Nancy Limberg said the neighbor pointed at Haley and said she told the dog to run across the street.
Officers took statements from both sides and Giles said the case remains under investigation. The man's name was not immediately released.
Part of the rage from the social media post stems from police not making any arrests or issuing any citations. Limberg said she believed police "let her down."
"They didn't arrest him — he didn't go to jail. He's still across the street," Limberg said, in frustration. "It's sad because we've lost our dog. My daughter has medical conditions — that dog was a service dog to her and for him to do that in front of her is just traumatic in itself."
Giles said the man was not arrested because of how animal cruelty laws are written, it was difficult to determine if an arrest would be appropriate.
Police cannot arrest an individual unless the officer witnessed the action or if a felony had occurred, he said.
Since there are different levels of animal cruelty laws that vary from misdemeanor to felony, Giles said it was difficult for officers to arrest the man unless it was an obvious felony case since no officer witnessed what happened.
"There's a lot of factors that can play in determining whether that act was intentional. Was it reasonable? Was it lawful?" he said. "That's what we're working through right now."
The major difference between the levels is often intent.
"In this case, there are conflicting accounts of what the suspect was intending to do when he encountered the animal," Giles said, in a written release posted on the department's Facebook page Saturday morning. "This conflict makes it more difficult to determine what the suspect intended to do when he encountered the dog."
Giles added it will be up to the prosecutor's office if charges will be filed against the man who killed the dog — and to what severity those charges would be.
As for Limburg, she said she hopes charges will be filed against the man.
"I just want justice for Chewy," she said.
Contributing: Marc Weaver
×
Photos