This archived news story is available only for your personal, non-commercial use. Information in the story may be outdated or superseded by additional information. Reading or replaying the story in its archived form does not constitute a republication of the story.
SALT LAKE CITY — On average, 21 cars are stolen in Utah every single day. That's thousands a year, and the problem is only getting worse.
So KSL Investigators went digging, trying to track down the thieves and find out why it's become a growing issue. Are there more people trying to steal cars or is the justice system going easy on them?
Our investigation begins with two people telling two different stories with one common thread. Someone broke into their cars and took off without a trace.
Sheila Bunn had her 1987 Toyota 4-Runner stolen in a grocery store parking lot. In the back seat was an irreplaceable urn with her parents' ashes.
"I just was in shock," Bunn said. "I don't see any reason why they would want my parents' ashes. We've lost them once, it seems like I'm losing them again."
Our second victim, Jonny Johnson, parked his brand new Audi A7 outside a condo complex, left it running and ran inside a friend's home for five minutes. When he walked back out, his car was gone.
"It was crazy. The craziest emotional day ever," Johnson said. "I was really upset that someone would take my property that I worked hard for."
Unfortunately, Bunn and Johnson are just a couple of statistics in a growing problem in Utah. Since 2010, the state has seen a 46 percent increase in auto thefts.
In Salt Lake City it's become even worse, up 50 percent.
The obvious question is why? Salt Lake City police Detective Robert Ungricht has spent nearly 10 years in Salt Lake City's auto-theft unit and said repeat offenders are becoming a repeat problem. Crooks will steal a car and get caught, but the prosecution can get tricky.
"They know the game. This isn't the first time they've done this rodeo," Ungricht said. "A lot of them are very well-versed and know the system well enough to know what to say and what not to say."
Ungricht says in many cases, the alleged car thief will lie about how they got the car. Many times claiming they didn't know it was stolen or they were just borrowing it from a friend.
The challenge: Proving they stole it. And if there's no clear-cut evidence, they often plead to a lesser crime or get off altogether.
Case in point is 21-year-old Dallas Choate. Five times in the past two years, he's been either charged or convicted of stealing a car. In one instance, striking a parole officer with the front of the vehicle.
"This is a person who had multiple, multiple, multiple felonies," said Salt Lake County District Attorney Sim Gill.
In short, Gill says many of these car thieves aren't getting enough jail time. According to the law, auto-theft is a property crime, meaning it's not necessarily violent. And even though it carries a sentence of one to 15 years in prison, Gill says rarely does anyone get anything close to that — even repeat offenders.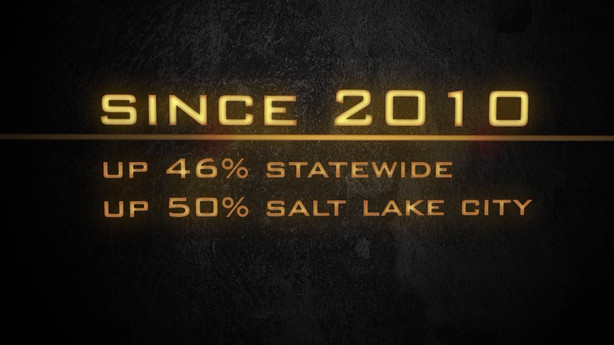 "There has been a concerted effort by Adult Probation and Parole and certainly within our court system, to not send these folks to prison," Gill said.
Instead, the district attorney says lawmakers have pushed for criminal justice reform. In essence, ordering more treatment and parole instead of time behind bars. Gill says it's a good idea, but it's not working. Instead, he says it's putting lives in danger.
"With some individuals our best chance is incapacitation because I just need to remove him from society to slow him down," Gill said.
But to put the offenders in prison, you've got to catch them first, and that's a problem.
The "clearance rate" for stolen cars in Utah is hovering around 7 percent, meaning for every 100 cars stolen, only seven people are arrested, charged or taken into custody. So, with a bait car wired and equipped to get stolen, the KSL Investigators made an attempt to find one of those seven and catch a car thief.
First, when we set the bait car out it was equipped with a kill-switch, meaning if someone were to get in and steal it, the engine would shut down as soon as they shifted into gear. We did that to make certain they couldn't drive off and put anyone in danger.
The KSL Investigators then did what many people do throughout the cold months and left the keys in the ignition, car running and unoccupied to warm up.
For days we moved the vehicle to different car theft "hot spots" across the Salt Lake Valley, and while it sometimes appeared people were interested, we didn't get a single bite.
But a few months later, we finally caught a guy trying to sell a truck that he had stolen through the classifieds. The thief was Samuel Bates. He pleaded guilty to a second-degree felony. By law, he was to be sentenced one to 15 years in prison.
In reality, the judge suspended his prison term. Bates got credit for serving 83 days in jail and was released on probation.
"It's frustrating for us because our officers and detectives put a lot of time into these cases, and I know it's frustrating for our officers when they're continually pulling the same people out of cars," Ungricht said.
As for Johnson, turns out his $70,000 Audi was found just a couple of blocks away. Thousands of dollars of merchandise was stolen from the inside, but the car itself was in good shape.
Police also found Bunn's 4-Runner on the opposite side of the Salt Lake valley. More importantly, the urn and her parents' ashes were untouched.
"You know, we've had a really tough couple of years with the deaths of my dad and now my mom. We were just hoping this would be a lot better year," Bunn said.
So, what can you do to lessen the chances of getting your car stolen?
Tips from police:
==================
Don't leave your keys in the car, even if you think you're being clever and have them hidden in the glove compartment.
Lock your doors.
Don't leave your car running and walk into the house while it's warming up.
Look at getting a lock for your steering wheel.
×
Photos