Estimated read time: 4-5 minutes
This archived news story is available only for your personal, non-commercial use. Information in the story may be outdated or superseded by additional information. Reading or replaying the story in its archived form does not constitute a republication of the story.
SALT LAKE CITY — It's a constant concern for those of us who are parents: What are our kids doing online?
Getting a phone is now a rite of passage for many kids, and like many in her sixth grade class, Hannah Sterzer loves hers.
"I like mostly the games you can play on it," Hannah said. "And I can communicate with my friends out of school."
Hannah's phone is also a challenge for her mom, Tina Sterzer. It can open a door for strangers into her daughter's personal life.
"There are predators out there will have access to your children if you don't protect and monitor them," Sterzer said.
3 ways to monitor
1. SecureTeen
Sterzer decided to install a monitoring app called SecureTeen on Hannah's phone.
"I can see every phone call she makes, every text message she sends, and I can see her location," Sterzer said.
She pays $40 a year for her SecureTeen subscription, which also allows her to block Hannah from seeing websites and content she doesn't want her to see.
SecureTeen also lets parents see their kids' activity on Instagram, Facebook and other social media sites such as WhatsApp, Kik, even Skype. Specific games and apps can also be blocked, and Sterzer uses it frequently to set time limits for Hannah on certain apps, or even on the phone itself.
2. MMGuardian
MMGuardian is Stephanie Ashcraft's monitoring app of choice for her teens.
"You see the messages all the kids are receiving, all their apps, how many minutes they're using online," said Ashcraft. "All that comes to your phone, directly."
Like SecureTeen, MMGuardian users pay a subscription fee: $35 a year for one phone; $70 for up to five. It also blocks apps, monitors texts and calls, filters out potentially harmful content and tracks location.
Parents can also set MMGuardian to block calls and even lock a teen's phone while they're driving.
"MMGuardian gives the kids the agency to make the decision on their own and their parents the oversight to see what their kids are adding, and they can check on the app," Ashcraft said.
3. TeenSafe
KSL TV looked at one more app, this one called TeenSafe. If you want to see your kids' total history, this may be the app you want.
For $15 a month, TeenSafe logs browsing and search history, keeps track of phone calls and lets parents see messages in Instagram, Facebook and chat apps like Kik and WhatsApp. You can even read the deleted messages.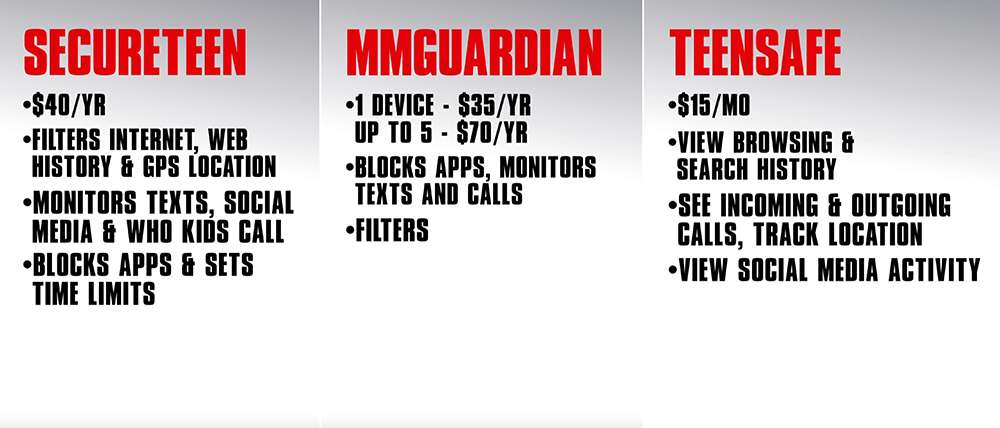 Successful parental monitoring
Many parents find these tools extremely helpful, but can there be too much oversight of our kids' digital lives? Parents KSL TV spoke to on the street didn't think so.
"They do not get any privacy expected from us. We get to know everything," said parent Bonnie Wilson. "We track their history. We look at messages – anything."
Jared Horner told us he periodically checks his teenage daughter's phone.
"You might as well try," Horner said. "You have to be as safe as you possibly can."
Besides hosting duties, KSL Newsradio's Jay Mcfarland gives safety seminars around the state where he warns of the risks of giving kids phones. From cyberbullying, to inappropriate content to predators.
"I feel like handing a child a smartphone is like handing them a loaded weapon, without any training," Mcfarland said. "So, you have to be an involved parent if you're going to allow them to use this technology."
But to protect your kids and to keep their trust at the same time, Mcfarland says you need to tell them that you're monitoring them.
"You say, 'I'm going to hand you this phone. Right now it's limited and I'm going to be involved with you as you learn how to use it,'" Mcfarland said. "'As you learn to be trusted, I'm going to expand your world — just like, eventually, you're going to drive that car without me here.'"
McFarland and other experts point out no one app will do it all when it comes to protecting kids from online dangers. Some apps will make it somewhat easier for parents to know what their kids are doing online, but parents will need to keep discussing internet safety with their kids.
---
Sloan Schrage is a special projects producer for KSL TV. Contact him at sschrage@ksl.com.
×
Photos
Most recent Utah stories