This archived news story is available only for your personal, non-commercial use. Information in the story may be outdated or superseded by additional information. Reading or replaying the story in its archived form does not constitute a republication of the story.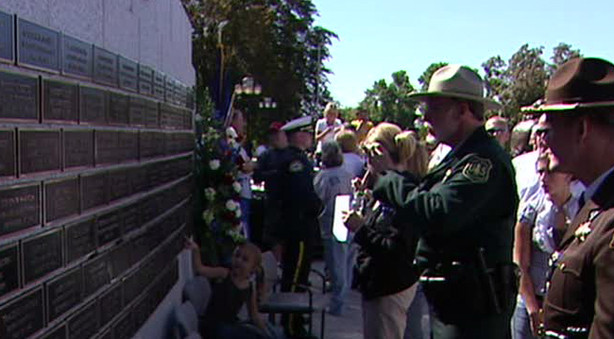 A memorial two years in the making was unveiled today to honor Utah law enforcement officers who have sacrificed their lives in the line of duty.
Police officers and citizens came together in 2006 to start this $1.3-millon project. Now it will be a place of solace for family and friends of those killed. There are 126 names on the wall of the memorial. Each one of those names belongs to a Utah officer who was killed.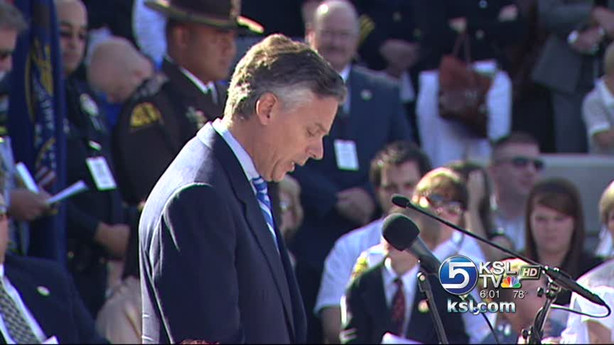 This morning family and friends gathered as Gov. Jon Huntsman spoke of the courage it takes to serve in the line of duty. He told the audience that the memorial will stand as a reminder to Utah of its obligation to support those men and women.
"This very spot will be a reminder of a world where real people stand in harm's way, the old-fashioned way. (They're) willing to lay down their lives to protect their fellow citizens," the governor said.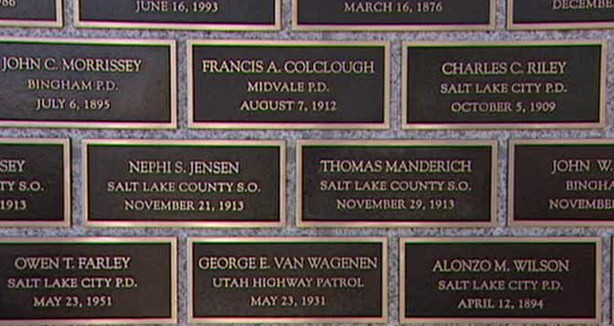 At the dedication, 126 uniformed men and women represented each name on the wall. Three statues also were unveiled: A police officer, a female k-9 officer, and the first officer ever killed in the line of duty in Utah in 1853, Rodney Badger.
Beneath the memorial is a 100-year-old time capsule containing information regarding fallen officers, letters from family members, and law enforcement items including shoulder patches and badges. Mille Anderson, the widow of the most recent fallen corrections officer, Stephen Anderson, and her son Shawn placed his plaque on the wall.
Shawn said, "It is just an incredible honor, not just for my dad, but for all of the families and friends who have lost a friend or loved one in the line of duty."
Debbie Beaulieu, the mother of another fallen officer, said, "This wall enables all of these families to have honor and tribute paid to their loved ones. It also says their life wasn't in vain, that they died in service to this state, and it's an absolutely wonderful memorial."
The memorial was dedicated by President Boyd K. Packer from The Church of Jesus Christ of Latter-day Saints.
The statues were sculpted by Lena Toritch of Young Fine Art Studio in Salt Lake City.
For a complete list of the names on this memorial, see the link on this page.
E-mail: spark@ksl.com
×
Related Links