Estimated read time: 7-8 minutes
This archived news story is available only for your personal, non-commercial use. Information in the story may be outdated or superseded by additional information. Reading or replaying the story in its archived form does not constitute a republication of the story.
SALT LAKE CITY — Utah is officially a battleground state, and independent presidential candidate Evan McMullin is benefitting from a disenchanted Utah electorate toward Hillary Clinton and Donald Trump, according to a new poll released Wednesday.
McMullin is now leading the state in likely presidential candidates in a new poll conducted by Emerson College. The former CIA agent and policy director for U.S. House Republicans now leads Republican nominee Donald Trump by four points (31 percent to 27 percent) in the state of Utah. Democratic nominee Hillary Clinton isn't far behind at 24 percent.
"We've got some momentum that we're very excited about. We're inviting all leaders in the region and across the country to join our efforts. This is a new conservative movement, and we want more people to join us and to be a part of it," McMullin told KSL.com "This is what this country needs and we're very excited about it. There's a lot of work to be done between now and Nov. 8, especially here in Utah. We're encouraged by the poll, but we're not going to get too excited about just one poll."
The poll surveyed 700 people and was conducted from Oct. 17-19. The poll had a plus or minus 3.6 percent margin of error. Of those surveyed, 12 percent are still undecided.
The survey is the first poll conducted to give McMullin a lead in the state of Utah. A survey conducted by Y2 Analytics last week had Clinton and Trump in a dead heat at 26 percent and McMullin at 22 percent. That survey found that a majority of voters, specifically members of The Church of Jesus Christ of Latter-day Saints, wanted Trump to drop out of the race.
In August, a few days after McMullin declared his candidacy, Trump acknowledged "having a tremendous problem in Utah" and has seen his favorability drop in the days since. "Utah is a different place," Trump told a group of evangelical pastors in Orlando, Florida. "Is anyone here from Utah? … I didn't think so. We're having a problem."
Both Clinton and Trump have a high unfavorability rate in Utah, according to the Emerson College poll: 72 percent of respondents gave Trump an unfavorable rating, while 74 percent of respondents gave Clinton an unfavorable rating.
Boyd Matheson, president of conservative Sutherland Institute, told KSL last week that voters in Utah are not satisfied with either candidate from the two major parties.
"It doesn't matter if it's Trump or Clinton, Utahns are saying, 'No, that's not what leadership looks like to us,'" Matheson said.
"I do believe that there is a time for a new conservative movement, and I believe that it will come from the mountain west, especially Utah," McMullin said. "And the reason for that is because Utah and other nearby states rejected Hillary Clinton and Donald Trump. People in this region understand that these two choices are unacceptable for our country and that we need something better. Our message is resonating here especially well. I believe that it will gain traction first in the mountain west and then I believe it will spread to the rest of the country."
Among those polled, 51 percent of former presidential candidate Ted Cruz's primary voters in the state of Utah are backing McMullin, while 29 percent are voting for Trump.
McMullin's strongest support comes from a younger demographic (18-34) where he is winning 36 percent of the vote, compared to that of Trump and Clinton's 22 percent. However, Trump does lead McMullin 35 percent to 24 percent among those 55 and older.
McMullin said he's trying to give Utahns and the rest of the United States "a better option."
"We believe it's time for a new generation of leadership in this country and a new conservative movement that is dedicated to the truth that all men and women are created equal and that we have an inalienable right to life, liberty and the pursuit of happiness," McMullin said. "These are principles that Donald Trump and Hillary Clinton do not stand for, and yet they are key to our future and they were key to our founding.
"What we need to do is recommit ourselves to the foundational principles that have made this country the most powerful and prosperous on the earth," he added. "And we need to be able to appeal to liberal conservatives, to women, to minorities, to people of different races and religions, to people with disabilities. And we can do that. We can do that by honoring our principles, not by abandoning them."
McMullin, a member of the LDS Church and BYU grad, has gained in popularity since declaring his candidacy on Aug. 8 in Salt Lake City. The website FiveThirtyEight forecasts Clinton as a strong favorite to win the presidency, but that a McMullin win in Utah could send ripple waves across the country.
"It would take a fascinating scenario — in which much of the technical detail of how we select presidents comes into play — for McMullin to be sworn in as the 45th president, but the chances of its happening are slim, not none," reporter Benjamin Morris says.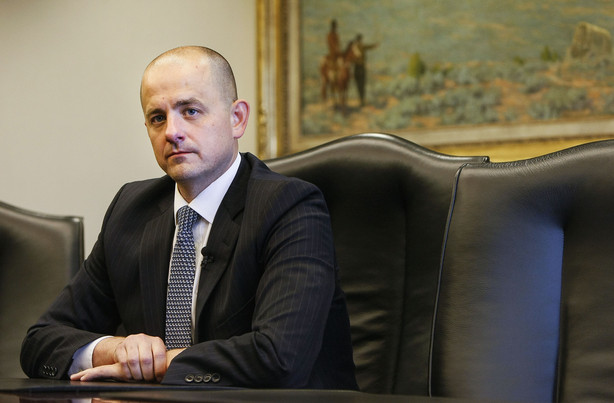 McMullin's path to securing 270 electoral votes is nearly impossible given that he's only on the ballot in 11 states, including Utah. However, a win in the state of Utah and a deadlock in the Electoral College would open up the possibility of winning in the U.S. House.
Should a candidate not secure 270 electoral votes, the 12th Amendment says that the top three presidential candidates are sent to the House, with each state getting one vote.
"Fortunately for McMullin," Morris writes, "Republicans haven't shown Trump a lot of loyalty. Unprecedented numbers of congressional leaders have already abandoned their nominee — and that's under the working assumption that Clinton is the only alternative."
Although only on the ballot in 11 states, McMullin is an official write-in candidate in approximately 35 states. He said he hopes to be in 45 states by Election Day.
"People downplay the write-in opportunity," McMullin said. "We have ballot access where our votes for me can be counted in most states. I think we'll have a good showing in some write-in states. Our electoral goal is if the election is very close, then we could block Hillary Clinton or Donald Trump by winning a state or two."
He added that his campaign isn't trying to dilute conservative votes, but "since Donald Trump is already losing so badly, it doesn't even matter."
"Unless something dramatic changes, Hillary Clinton is going to win by a large margin, and that's unfortunate because she's probably the most corrupt nominee the Democrats have had in modern times," McMullin said. "And any truly conservative Republican nominee would have been able to defeat her. Donald Trump is not a conservative and he has a range of character flaws that make him unfit for the presidency."
Picking up endorsements
Also Wednesday, a dozen Utah elected officials, including several Republican state lawmakers, endorsed McMullin.
Mayors from Orem, Payson and South Jordan were among those standing with McMullin at a news conference Wednesday at the state Capitol. McMullin spoke to the Senate GOP caucus before the event.
Sens. Lincoln Fillmore, R-South Jordan, Howard Stephenson, R-Draper, Curt Bramble, R-Provo, and Daniel Thatcher, R-West Valley City; and Reps. Fred Cox, R-West Valley City, Paul Ray, R-Clearfield, Justin Fawson, R-North Ogden, and Jacob Anderegg, R-Lehi, endorsed McMullin.
"We're getting some traction with the leaders of Utah," McMullin said.
Acknowledging McMullin is a long shot, Fillmore said the candidate stands for conservative principles and that character counts in this election.
"We cannot let difficulty stand in the way of doing the right thing," Fillmore said.
×