This archived news story is available only for your personal, non-commercial use. Information in the story may be outdated or superseded by additional information. Reading or replaying the story in its archived form does not constitute a republication of the story.
SOUTH JORDAN — Embattled West Jordan City Councilman Jeff Haaga pleaded guilty Friday to leaving the scene of an accident after he allegedly left a bar intoxicated in July.
South Jordan Justice Court Judge Clinton E. Balmforth ordered Haaga to pay a $500 fine and spend 180 days on probation for the class C misdemeanor. No jail time was ordered.
After the ruling, Haaga evaded reporters on his way out of the courtroom, ignoring requests for comment as he made his way to his car with his family.
The plea came amid demands that Haaga resign, but his attorney, Tyler Ayres, said there's "no reason for him to resign" since he's taken "full responsibility" for his actions by pleading guilty to the criminal charge.
But Josh Kanter, president of Alliance for a Better Utah — the group that called for Haaga's resignation after police body camera footage showed the councilman appearing to insinuate to police that he had "protection" because he was a public official — said Haaga's plea was not enough.
"He holds a special position of public trust, and yet he showed a tremendous lack of judgment in the way he handled himself with the police," Kanter said. "Other public officials have done similar, if not as bad things and have taken responsibility by leaving office. Mr. Haaga should do the same."
Ayres issued a printed statement on Haaga's behalf as the councilman rushed to his car.
"Mr. Haaga is pleased to have the opportunity to take responsibility for his actions and to pay the same price as anyone else would for this violation," the statement said. "He appreciates the support that he has received from the people of West Jordan — especially at the times when he falls short of expectations.
"Mr. Haaga recognizes that, as an elected official, his conduct is the concern of the community he represents, and he hopes that by accepting responsibility for his conduct he will set an example of openness and honesty for other public officials to follow."
Related:
It's the first public statement Haaga, 61, has issued since he was charged in July for failing to remain at the scene of an accident after witnesses said the councilman appeared drunk on July 19 when he left the Sheep Bar & Grill, 1520 W. 9000 South, and got into his vehicle. Witnesses also told police Haaga backed into a parked vehicle and drove away.
South Jordan police, who investigated the case to avoid a conflict of interest with West Jordan, said Haaga appeared intoxicated when officers found him on the front porch of his home about an hour later.
Body camera footage from that night shows Haaga talking slowly and at times incoherently, while at one point telling the police officer he is "protected."
"You know I'm a councilman," Haaga says in the clip.
The footage also shows an officer telling Haaga that he probably should have been arrested for DUI, although he never was.
When reporters asked Ayres Friday if Haaga was intoxicated that night, the attorney said he didn't know because he wasn't there and that he hadn't discussed that with his client.
Ayres also denied that Haaga tried to use his position to avoid criminal charges.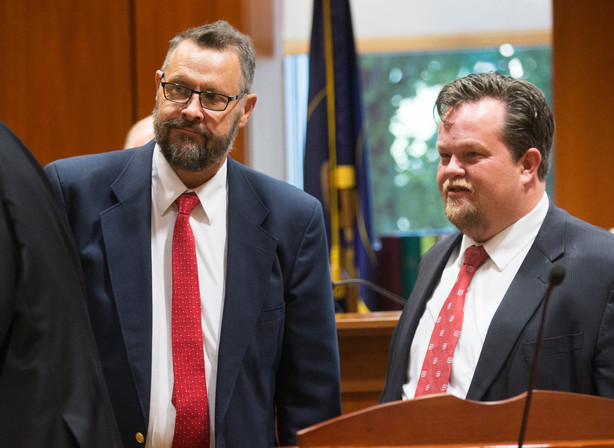 "He never thought he was entitled to special treatment, and he does regret that he insinuated that," Ayres said. "And he certainly regrets that people interpreted that, as well."
Prosecutor Scott Burns said Haaga's plea deal was "what any other person would receive" and said Haaga "received no special favors because of his position."
Along with the Alliance for a Better Utah, West Jordan City Council members Sophie Rice and Zach Jacob have also called for his resignation.
Jacob said Haaga's plea does not do enough to "reconcile" public outrage over the incident, so he "stands by" his call for Haaga to resign.
"I think it would be easier for the city to move on without this issue hanging over our heads," Jacob said. "The bottom line is there's a standard of acceptable behavior, and for a councilman it should be higher than the average citizen because we have a responsibility to the people."
Under state law, elected officials cannot be recalled from office unless they're found to have committed malfeasance or certain specified crimes during their time in office. Leaving the scene of an accident is not one of those crimes.
A West Jordan City Council motion to formally censure Haaga failed to pass in August, despite receiving support from a majority of council members present.
Since the July episode, Haaga has missed every City Council meeting except for a meeting on Sept. 21, during which he didn't publicly address allegations against him. He left the meeting early, avoiding reporters' attempts to reach him for comment.
Last month, the City Council voted in favor of an ordinance that implements specific standards of ethical conduct for the city's elected officials. The ordinance spells out behaviors that are deemed unacceptable. Leaving the scene of an accident and DUI offenses are included within the ordinance, as well as failure to attend regularly scheduled meetings.
Under the new ordinance, an official who misses any three consecutive meetings will receive a pay cut of $750 per missed meeting. The council typically meets every other week, so council members are usually paid $1,500 a month.
But since the ordinance was passed Sept. 7 and Haaga attended the Sept. 21 meeting, he has not tallied up enough missed meetings to start receiving pay reductions.
Haaga's term runs until the end of 2017.
×
Photos
Related Stories