This archived news story is available only for your personal, non-commercial use. Information in the story may be outdated or superseded by additional information. Reading or replaying the story in its archived form does not constitute a republication of the story.
UINTA-WASATCH-CACHE NATIONAL FOREST — In 1997, Scott Hayes and his friends created a "rock garden" in the Uinta-Wasatch-Cache National Forest, made up of rock paths, rock furniture and a fire pit.
Now, almost 20 years later, his "rock garden" has turned into the "Fairy Forest," a 3-acre area in the national forest that has become a popular spot for vandalism and littering.
"That was just kind of how it got started," Hayes said. "I was just lying there in the forest eating lunch and I got kind of bored and decided I wanted to build a ring of rocks around me."
This past June, Hayes and one of his friends returned to the area, which they hadn't visited in about four years and saw that people had painted and vandalized the area with spray paint, craft paint and various forms of litter.
"Four years ago, there was a little bit of paint there, but it was nothing like it is now," he said.
Hayes has recently been up to the "Fairy Forest" four weekends in a row to clean up litter and vandalism done to the national forest. He said that at least one person has been to the forest every weekend for the last six weeks cleaning up.
Jeff Schramm, district ranger of the Uinta-Wasatch-Cache National Forest, said forest officials have gone up every year to the "Fairy Forest" to clean up the area.
"We recommend to any individuals that are out on the forest, if they want to pick up litter, feel free to go and do that and clean up their national forest," Schramm said.
Hayes said that when he and his friends created the rock garden, they used no paint and left no litter; they only arranged rocks.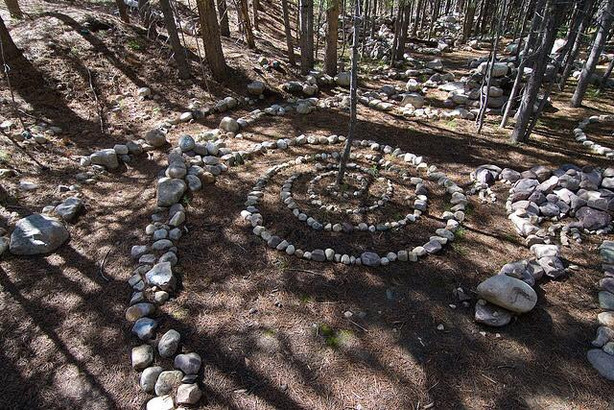 Hayes said the majority of the people who are vandalizing the forest are not criminals who are sneaking around, but families who are seeking a fun activity.
"Ninety-five percent of the people I've talked to had no idea they were doing anything wrong," he said.
However, Hayes said some people take the vandalism to an extreme, spray-painting tree trunks, rocks and entire areas of the forest and leaving garbage behind.
"I don't understand why people think that's art," he said. "It's not — it's just vandalism."
Schramm said forest officials have visited the "Fairy Forest" annually — sometimes biannually — to clean the area, but that people always return and leave the same mess.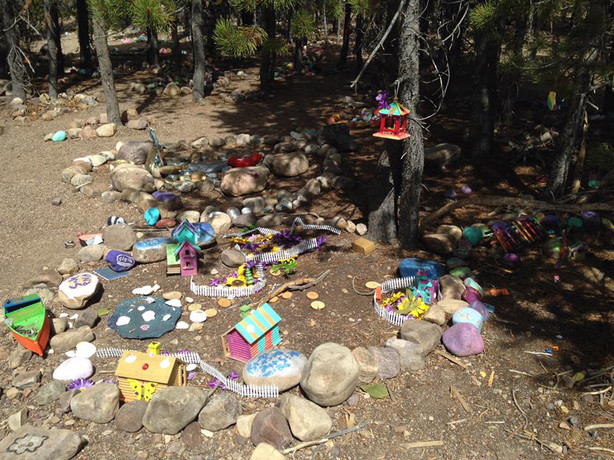 He said that as of right now, the only remaining sign of the vandalism in the forest is the painted rocks.
Schramm said the vandalism and litter has expanded to the other parts of the national forest, and that there is paint on picnic tables and rocks in campground areas.
"We want you to come out and to experience your national forest and to use it in a respectable way," he said.
Hayes said that although the original rock garden was something he was proud of, he now wishes he hadn't started it.
"That's why I'm so passionate about trying to get it cleaned up," he said. "I feel partly responsible, and I also like the area so much that I'm afraid one day the forest service will just go in with a bulldozer and start over."
Schramm said that if park visitors have belongings they have left in the "Fairy Forest," they should come and retrieve them if they want to keep them, otherwise they might be disposed of.
He said that although this vandalism and littering in the national forest is illegal, forest officials strive to educate visitors to respect the area and refrain from issuing citations or fines unless it is a repeated offense. "Generally we go more to try and inform folks," he said.
Schramm said national forest officials are in the process of making and putting up signs in the forest that will warn visitors not to paint or leave litter.
Hayes has created a Facebook page for the "Fairy Forest," where he posts updates on cleanups. He said what started out as a fun, harmless, creative outlet in the forest has now gotten out of hand.
"If I knew it was going to turn into what it has, I would have never put that first rock down," Hayes said.
×
Photos