This archived news story is available only for your personal, non-commercial use. Information in the story may be outdated or superseded by additional information. Reading or replaying the story in its archived form does not constitute a republication of the story.
MURRAY — Lorena Zelaya says she and her husband became licensed foster parents because they saw great need in the Latino community.
But as the couple has fostered eight children since becoming licensed foster parents in 2014, they, too, have reaped many rewards from helping children removed from their homes by child welfare authorities amid allegations of abuse and neglect.
One boy placed in their home with his sister told the couple he was unable to read.
"While he was in our home, we encouraged him and practiced with him. I saw the effort he was putting into reading. By the time he left us, he was reading. That's our job as foster parents, to help children see that there are opportunities and that they can reach whatever they set their minds to," Zelaya said.
She shared her experiences Thursday at a press conference encouraging other Latinos in Utah to become licensed foster parents.
One in 5 children in foster care in Utah is Latino, a percentage that far outstrips the numbers of licensed foster parents who are Latino.
"Children thrive best in foster homes of the same cultural backgrounds," said Tatiana Torres, Utah Foster Care's foster/adoption recruiter for Salt Lake County.
"We need families now more than ever."
Utah Foster Care, a nonprofit organization that recruits, trains and supports foster families, will offer training in Spanish starting in November. To learn more about the training, families are invited to attend an informational meeting at 6 p.m. Wednesday, Sept. 14, at Utah Foster Care's offices in Murray, 5296 S. Commerce Drive, Suite 400.
Sen. Luz Escamilla, D-Salt Lake City, urged members of the Latino community to consider opening their hearts and their homes and go through the process of becoming foster parents.
"Children in foster care are our children. They come from our community and as a Latina in our community, I think it's our responsibility to provide them with the things they need not only to survive, but to thrive," Escamilla said.
When children enter foster care, it is frightening for them to be removed from their parents and other aspects of their lives that are familiar.
"Being placed with a family that has different traditions, language, tastes or even smells can sometimes create great anxiety to the children. Research indicates that the children who are placed in homes with different cultures are more likely to experience depression, loneliness and more likely to show problems with behavior," Escamilla said.
"Children do better when placed with a family that can help them maintain their cultural identity. Keep in mind identity is a sense of stability when everything else in changing."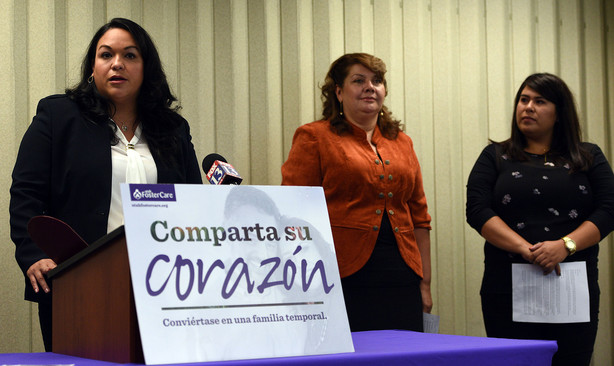 Zelaya said she and her husband became a foster family "because we wanted to do something for our children, for our future. They are our future so we wanted to do something for them."
She urged other Latinos to take the step of becoming foster parents.
"Don't be afraid. Just do it. Those kids need you. They need us. Those are wonderful kids. They will change your life. It changed my life. I'm more happy now. I'm healthy. Just come and do it."
For more information, call Tatiana Torres at 801-783-4303.
Conozca a una familia temporal
Miercoles, 14 de Septiembre, 6 p.m.
La Fundación del Cuidado Temporal de Utah (Utah Foster Care) busca familias Latinas que estén dispuestos en cuidar a ninos que han vivido algún trauma. El cuidado puede ser desde varios meses hasta un año.
Mas de 1 en 5 de los niños bajo la custodia del estado son Hispanos. Esto significa que hay alrededor de 600 niños Latinos que han sido removidos de sus hogares debido al abuso o negligencia.
×
Photos