Estimated read time: 3-4 minutes
This archived news story is available only for your personal, non-commercial use. Information in the story may be outdated or superseded by additional information. Reading or replaying the story in its archived form does not constitute a republication of the story.
EVANSTON, Wyo. — It's an enigma — baking in a vanishing stream parched by drought: If a river dries up, where do the fish go?
That unusual question — focused on a fish species most people have never heard of — has launched a study along the Utah-Wyoming border. It involves a fish-finding tool most people would never have thought of: aerial drones.
"Throttle is 63 percent, ground speed is 15 meters a second," said a ground-based radio communicator as the drone flew computer-controlled loops along a stretch of Yellow Creek.
"She's crabbing a bit with the wind, but she looks really steady," said drone pilot Daniel Robinson. Both of his feet were planted firmly on the ground just outside Evanston, Wyoming.
The fixed wing drone with a wing-span of 8 feet is part of a 10-drone fleet owned by 'Aggie Air,' a flying research service out of Utah State University. The target this time? A fish species rare enough to have a worrisome future. The northern leatherside chub lives only in tributaries of the Bear River and the Snake River.
"And nowhere else in the world," said Joan Degiorgio of the Nature Conservancy. "If we can't sustain them here, story over!"
The problem is that Yellow Creek tends to dry up late in the summer when runoff from winter snows is depleted and when farmers and ranchers are still drawing water for late-season irrigation. The diminishing water flow in the creek leaves patches of dry creek bed and isolated puddles of water. Only in certain stretches is there running water with a noticeable current.
"We want to try to find out where we have water during the worst conditions possible, so late summer and during a drought time," said Paul Thompson of the Utah Division of Wildlife Resources.
Yellow Creek meanders on both sides of the border in Utah and Wyoming so agencies from both states and the federal government are working together. They've partnered with the Nature Conservancy, a private group that's been working for several years to improve the natural habitat of the Yellow Creek watershed.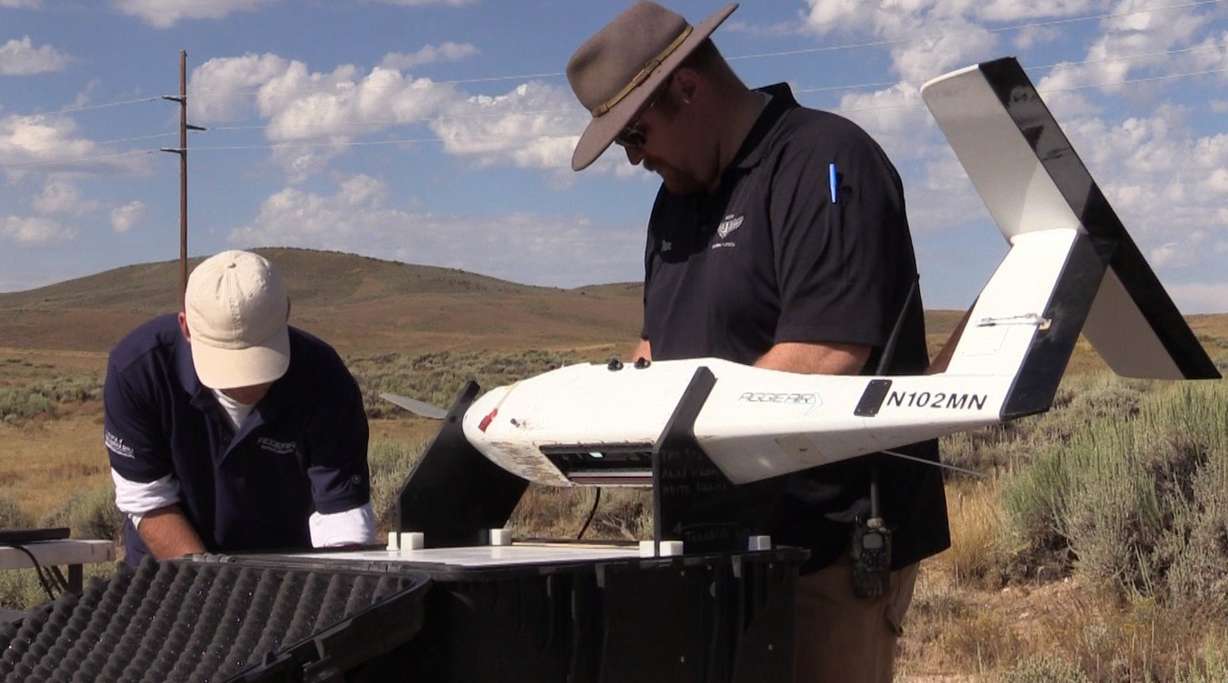 The job of the drone is to find the water that's left behind as the creek starts to go dry. Two on-board cameras capture images in color and infrared. The unmanned plane flies at altitudes less than 400 feet above the creek.
"Manned aircraft would fly much higher, for reasons of man-safety," Robinson said. "This aircraft can fly much lower and pick up the data."
"Without the drone," Thompson said, "we would be walking 35 miles worth of stream channel."
There are many places where Yellow Creek is dried up completely. In this era of climate change, reduced flows could get to be an even bigger problem in the future.
"Well, its stressed right now," Degiorgio said. "If the predictions are accurate, it's pretty clear that it's getting hotter and drier."
Along one dried-up stretch, Degiorgio and Thompson found a small pool of water almost hidden in a nook behind some boulders. In the puddle there were about a thousand tiny fish, leatherside chubs hanging on — surviving — at the worst time of year.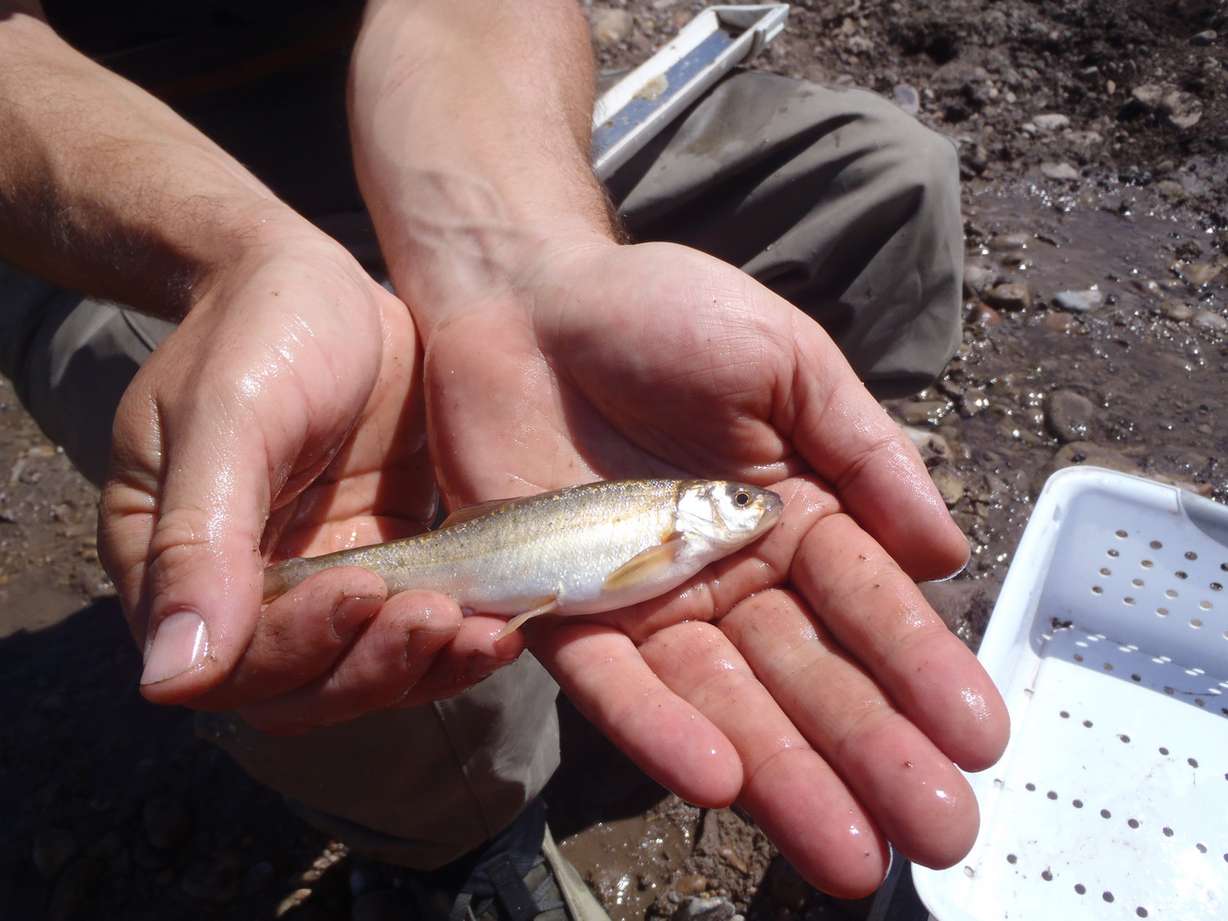 "Yep, this is a leatherside," Thompson said as he captured one of the minnow-sized fish and examined it in the palm of his hand. "It's very exciting that there are still refuges in a dry channel like this."
The agencies will use the images and information provided by the drones to help map out a game plan aimed at helping the species survive.
"What we're trying to do is find out where we have good water within the watershed," Thompson said. "Then we're trying to protect those areas and enhance them."
Part of the goal is to keep leatherside chubs off the federal endangered species list. "That brings a whole other level of regulation into the mix," Thompson said, an outcome he said state officials would like to avoid.
Other sensitive species in Yellow Creek include the boreal toad and the Bonneville cutthroat trout. If the bail-out effort helps the leatherside chub, it may also benefit plants and other critters that are barely surviving the worst of the summer.
×
Photos
Most recent Utah stories