This archived news story is available only for your personal, non-commercial use. Information in the story may be outdated or superseded by additional information. Reading or replaying the story in its archived form does not constitute a republication of the story.
SALT LAKE CITY — Finding a good job out of high school can be challenging. For people on the autism spectrum, it can often be a traumatic experience. But a Utah program is helping young adults with autism find friends and jobs.
The residents at the Jones Court group home rely on Dylan Lamb for care and companionship. "I more or less get paid to have a good time with people," says Lamb.
The 24-year-old with autism discovered he had many talents to offer potential employers after attending a NeuroVersity workshop at the Columbus Community Center.
Stephanie Mackay is the chief innovation officer at Columbus. She says, "We know these individuals (young adults with autism) really want to work."
But they aren't working, and the unemployment numbers here in Utah reflect that discouraging trend. "It's 80 percent unemployment with these young adults who are in their twenties," says Mackay.
Adults with autism often have the training but lack the social skills to secure employment. University of Utah professors Scott and Cheryl Wright founded the NeuroVersity program to find solutions to that problem.
At NeuroVersity workshops, students use 3-D imaging software called "Sketch-up" to design buildings. "I just wanted to see if I myself could just make an apartment building," says Lamb.
But these students are building up to something much more important. "There's personal growth, self-confidence building, and there's also social engagement," says Cheryl Wright.
"Supportive and interacting with peers who feel comfortable, competent, and then there is this notion of confidence, which does rise to the top," says Scott Wright.
Students at NeuroVersity become friends. Student Mason Dimock describes it this way: "It's just fun, like the social atmosphere is great."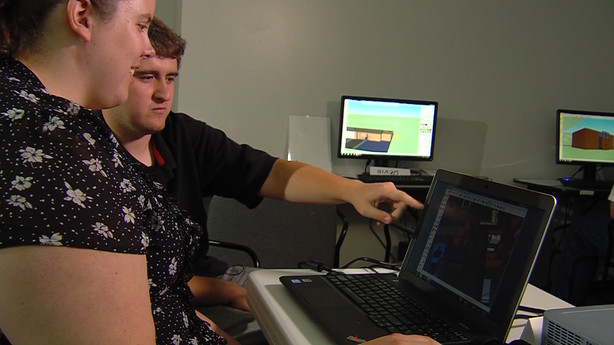 And students also learn how to market themselves to potential employers. "These students are amazingly talented, and they have so many strengths, and oftentimes that goes hidden," Cheryl Wright says.
"I wanted to diversify my skills a little bit more so I could try and open up more opportunities for employment," student Andrew Lyon says.
"The work ethic part is so important," says Scott Wright, who sees a desire to find good jobs and work hard in NeuroVersity students.
In fact, the staffs at NeuroVersity and Columbus Center are all working hard to make sure employers tap into this potential for success. "It's almost kind of overwhelming to see all this possibility," says Lamb.
Mackay says, "We find the folks, we find the jobs and then we bring everything together."
Finding fulfilling work is already making a difference in Lamb's life. "I'd say today is a really good day," says Lamb, as he helps a client finish a healthy snack and gets set to play a game with another.
NeuroVersity has served 30 students in Utah and already placed several in full-time jobs. A new set of six classes begins at the Columbus Center in early October and runs through mid-November. For specific dates and times, check out the NeuroVersity website at https://neurov.com. Email: solney@ksl.com
×
Photos