Estimated read time: 9-10 minutes
This archived news story is available only for your personal, non-commercial use. Information in the story may be outdated or superseded by additional information. Reading or replaying the story in its archived form does not constitute a republication of the story.
SHARON, Vt. — A Utah multimillionaire's dream for what he calls "new age green communities" in Provo, in Vermont near the birthplace of LDS Church founder Joseph Smith and eventually all over the world has stirred bitter opposition from neighbors in two states.
And now a new statement from The Church of Jesus Christ of Latter-day Saints makes it clear that church leaders do not favor the projects.
David Hall — an inventor-businessman whose wealth came from the development of tools used in oil and gas drilling — said he believes his concept of building huge, densely packed, robotically operated communities to reduce consumption of the world's resources will eventually find acceptance.
"Only if it's the best solution," Hall said. "Then it can spread to the whole world."
But in rural Vermont, where Hall's NewVistas Foundation has been buying up land, the "city of the future" is getting a firm thumbs-down from neighbors, not unlike it has in Provo.
"I don't know where he's coming from," said Storm Woodard, who lives nearby, "but that's not gonna happen in Vermont."
Ingrid Van Steamburg, whose husband's Vermont dairy farm is close to some of the land Hall bought, is also opposed.
"I really worry about what it will do to the area, and how it will change our way of life," Van Steamburg said. "Our lives as we know it, or as my husband's family has known it for the last hundred years, wouldn't be the same if all those people were just over the hill."
In the rolling farms and picturesque villages of Vermont, signs protesting the NewVistas project are visible alongside many roads, especially near the birthplace of Joseph Smith.
Over the past year or so, Hall's foundation has acquired parcels — or is negotiating purchases — totaling 2,000 acres near the historical site. He said his goal is to acquire 5,000 acres. He said it would likely be a generation or two before a NewVistas "city of the future" gets built there, but he said the land needs to be purchased now to prevent it from getting subdivided by developers.
"I don't mind choosing challenging places," Hall said, "to see if it would work."
Woodard, who lives in the nearby town of Sharon, has a message for Hall: "Go back to Utah."
Teams at work
Back in Provo, 200 architects, engineers and designers are working to make Hall's vision a reality. He set up 25 companies to design marketable spinoff products that he hopes will find a market, even if NewVistas never becomes a reality. He has teams at work on such products as compact modular elevators, sliding walls and floors, high-tech toilets that monitor a resident's health and robotic storage systems that allow furniture to play hide-and-seek.
In the future, Hall says, moving walls and floors will be part of the daily routine. The key concept of a NewVistas community is that a resident's apartment would need to transform itself several times a day because each person would have only 200 square feet of living space. That's less than the average hotel room.
Max Tarver, a mechanical engineer working on designs for the project, said the living space would transform into whatever configuration is needed at any given time. "You can make it a bedroom," Tarver said, "or you make it a living room or a kitchen — whatever you need."
"And then you have your floors coming up and your couch or bed might be in here," Hall said, pointing to storage spaces that would spend most of their time hidden under the living space. As the furniture moves in and out of storage, small robots would scuttle around. Their job would be to move furniture into place, Hall explained, "so that you don't have to spend a lot of time moving the furniture yourself."
Hall envisions communities of 15,000 to 20,000 residents, with two-thirds of the land left as green space. As the concept catches on, Hall envisions bunching communities together — 50 of them side by side — forming cities of 750,000 to 1 million people. The buildings and related systems would be designed to reduce impacts on land and resources.
"If this works," Hall said, "15 billion people will be able to live sustainably on 20 percent of the land that we're currently consuming."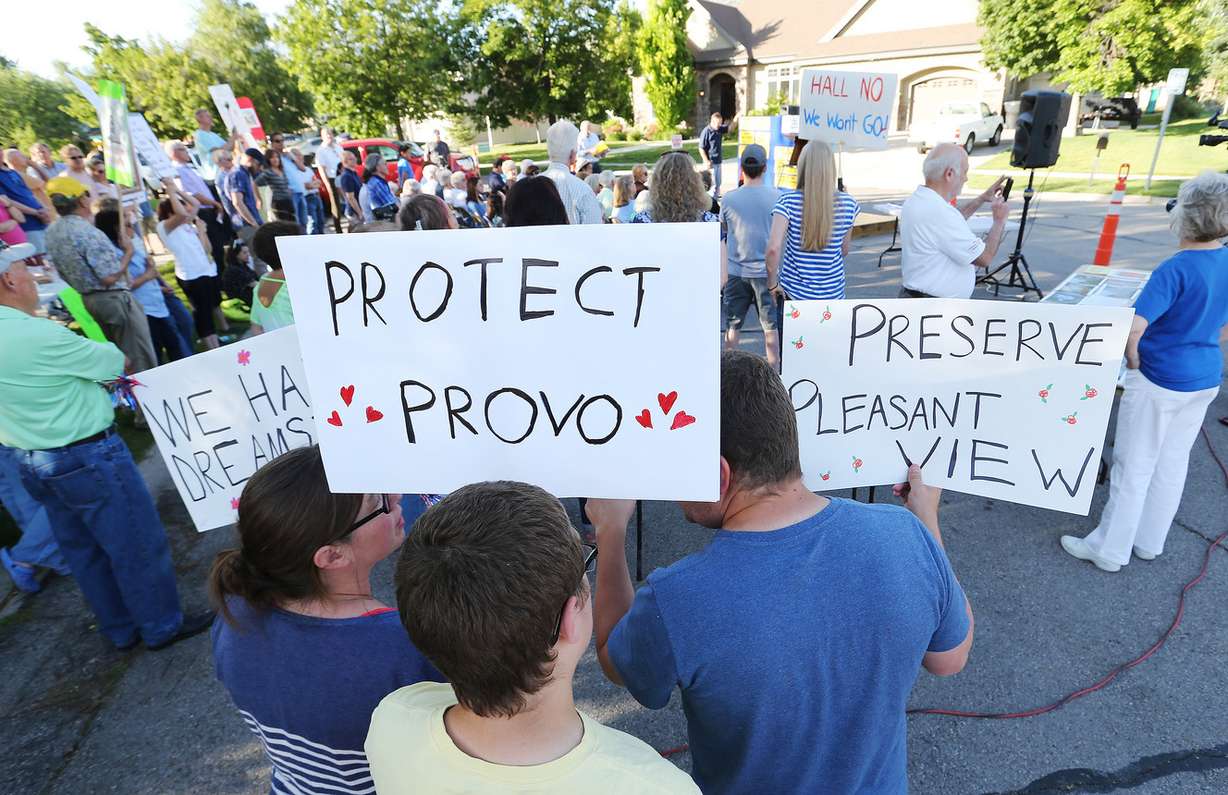 But in the rural slice of Vermont where Hall has focused much of his land acquisition, his scheme has landed like a dead cow falling out of the sky.
"I don't think it's such a great idea," Van Steamburg said. "I think my biggest concern is the scale."
That thought was echoed by Annie Penfield, a resident of Strafford, Vermont.
"I don't know how that can be congruent with the rural community," she said. "I guess if it's really about sort of low-impact living-kindly-on-the-land-and-environment, that's certainly consistent with how many of us choose to live here. But the numbers are just unbelievable, and I just don't know how they're going to carve the land to fit that many buildings into such a small area."
It's an area where most people choose to live because of its rural character. The affected towns are generally older than the United States. So to many, Hall's "city of the future" seems a bit crazy.
"It's certainly a pipe dream," said Vermont farmer Rob Howe. "It's hard to imagine that it could ever come to fruition."
Howe worries that the NewVistas land-buying effort is already pushing up land prices. "It's throwing the values of real estate a little bit out of whack right now," Howe said. And he worries that if NewVistas is ever built, it may fail.
"It's going to be hard to sell people on the idea of living that type of lifestyle," he said, adding that he can't understand why anyone would want to start on such a huge scale. "Communal type living for maybe a thousand people or maybe even 500 people to see if it worked," Howe said. "But why would somebody want to invest this kind of money? It just is beyond me."
"I've spent more than $100 million and I intend to spend a lot more," Hall said as he acknowledged being "one of the wealthiest people in Utah." When asked if he is a billionaire, Hall said, "No, I wouldn't say that. But I have enough net worth to play around."
Big scale concerns
Earlier this year, Vermonters staged a colorful protest. They waved placards and posters denouncing NewVistas, and they paraded a large effigy or puppet meant to resemble David Hall. Vermonters don't seem ready for NewVistas.
"I'm not sure if people from anywhere are ready for it," Woodard said.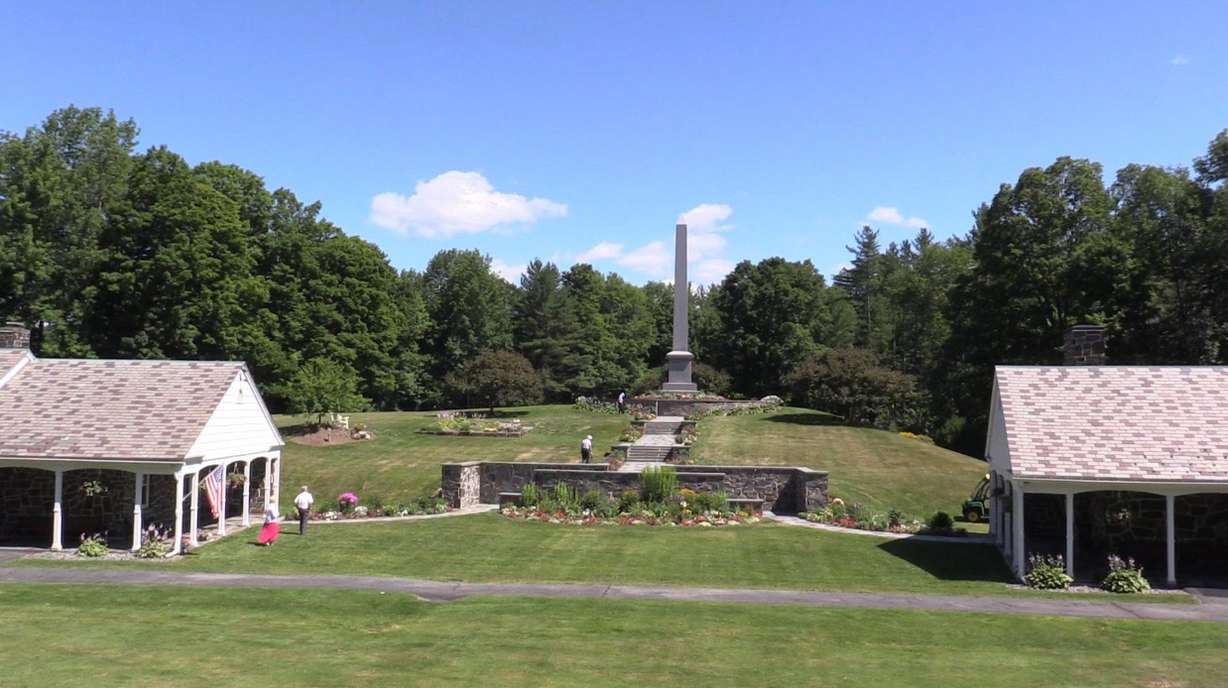 In a local co-op grocery, customers and staff are worried about a threat to their way of life.
"If you come in from the outside and try to change it, there's going to be a lot of resistance to that," said Adam Smith, manager of the South Royalton Market.
At a farmers market nearby, some people had positive comments about the NewVistas philosophy of each person consuming fewer resources. But the notion of 20,000 new residents frightens many in such a rural place.
"If it was smaller scale, good idea," said Matt Moore of the Moore Rhythm Farm. "Otherwise, bad idea."
The proposed scale of NewVistas is the biggest single issue triggering the uproar in Vermont. But there's also an undercurrent of skepticism — even a suspicion — about the social organization of people who would live there."
"I think he's looking for a utopia down the road that I just can't see happening," Woodard said.
Vermont resident Kathy Bigelow wondered where 20,000 people would go for entertainment. "I mean, are they going to be confined to that space and working away like slaves or what?" she asked.
Hall said the word "utopia" misrepresents his proposals, and he argued that no one would lose any rights under his NewVistas model. He said the social and political structure of each community would conform to all local laws and regulations and would not in any way alter the existing rights of residents. He also said NewVistas communities would not be limited by religion.
The general concept of NewVistas was based on Joseph Smith's plans for "the City of Zion," Hall claims. He said he produced NewVistas designs by "triangulating" from designs contained in 1833 documents that he attributes to Smith's revelations.
"It says that all men are supposed to live there," Hall said, "not just Mormons."
Each NewVistas community would be governed by a board comprised of husband-and-wife couples. Each resident would contribute all their net worth to a corporate trust that would operate businesses on-site.
"Your dividends are according to what your contribution is," Hall said.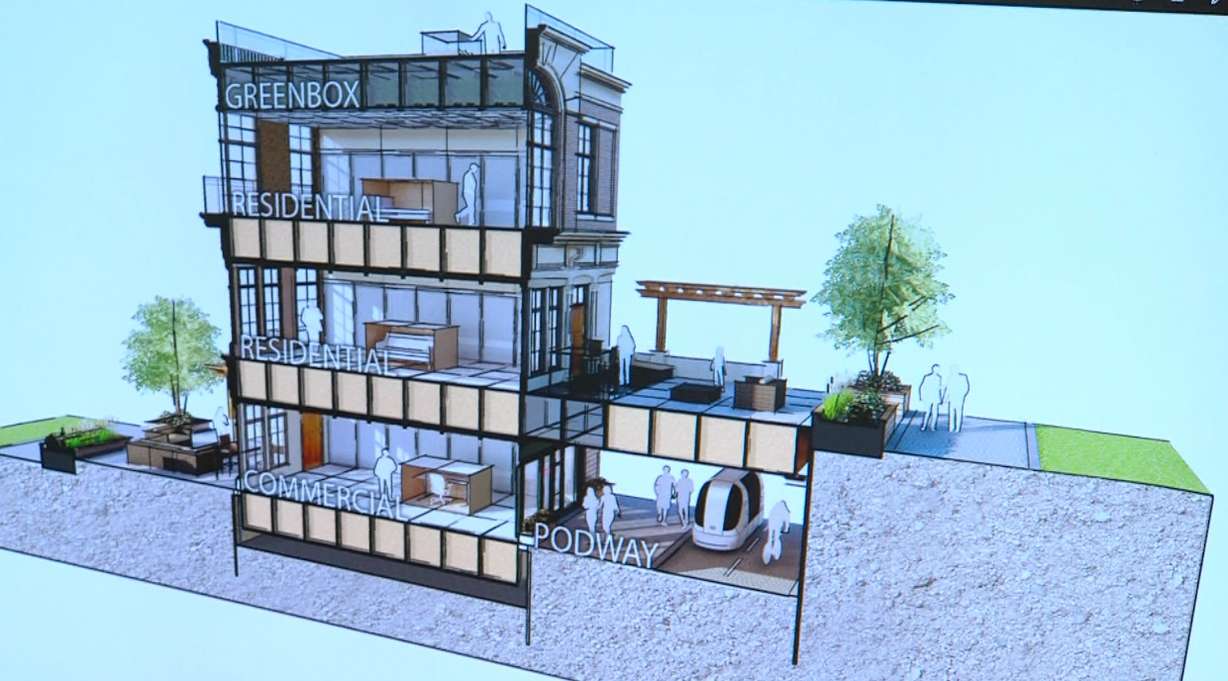 Provo opposition
Hall is also facing opposition from residents of Provo. In the Spring Creek neighborhood, Hall said he has bought 20 out of 25 homes and intends to start building a hotel later this year as a trial run for NewVistas concepts. In the Pleasant View neighborhood north of BYU and northeast of LaVell Edwards Stadium, Hall said he has bought 20 homes over the past 10 years.
Hall predicts that a NewVistas community will be built in Provo before he ever breaks ground in Vermont. But he faces fierce opposition at home, as well.
"David's vision is certainly possible within the world, but not in this neighborhood," said Richard Paul Evans, chairman of the Provo Pleasant View Neighborhood.
But Hall is convinced the world will eventually embrace his high-density vision — or something like it — because it's essential to reduce human impacts on land and resources.
"I think we have to live in a similar way," Hall said, "because we need to consume one-tenth what we're currently consuming."
The LDS Church is not supporting NewVistas. When asked for comment, church spokesman Eric Hawkins issued the following statement:
"This is a private venture and is not associated with The Church of Jesus Christ of Latter-day Saints in any way. The church makes no judgment about the scientific, environmental or social merits of the proposed developments. However, for a variety of reasons, we are not in favor of the proposal."
For his part, Hall said he expects NewVistas to eventually "fill up the world, just fill it up," he said. "I think it will happen, especially if the system works so it's best for people."
But even Hall doesn't think that will be anytime soon.
"You can't do things tomorrow," he said. "You have to think very long term." Email: hollenhorst@deseretnews.com
×
Photos
Most recent Utah stories