This archived news story is available only for your personal, non-commercial use. Information in the story may be outdated or superseded by additional information. Reading or replaying the story in its archived form does not constitute a republication of the story.
CLEVELAND — Utah Republicans reluctant to accept Donald Trump as their nominee were fired up at the Republican National Convention, when their choice for president, Texas Sen. Ted Cruz, spoke Wednesday.
Trump's running mate, Indiana Gov. Mike Pence, had much of the convention crowd on their feet later in the evening with references to his Christian faith and conservative values.
But it was Cruz who roused the Utah delegation to repeatedly cheer and chant, "Ted, Ted, Ted." Cruz did not endorse Trump and didn't even mention the billionaire businessman and reality TV star who entered the arena toward the end of his speech to sit with his family in the arena.
Trump supporters started their own chants of "Trump, Trump, Trump," and "Go Home," waved signs and, in one case, a woman even held her nose before joining in a chorus of "Boos" as Cruz wrapped up.
Utah Eagle Forum President Gayle Ruzicka said Cruz generated much-needed enthusiasm for like-minded conservatives at the convention, who were defeated in a chaotic battled over Trump's nomination on the first day.
Ruzicka, among the Utah Republicans who gave Cruz 69 percent of the vote in the state GOP presidential preference caucus election in March, said it was Trump's supporters who were preventing party unity.
"He didn't say one thing they could disagree with," Ruzicka said, in a speech that touched on many conservative themes, including religious freedom and states' rights.
But Salt Lake County Councilwoman Aimee Winder Newton, one of Utah's 40 delegates, said she was disappointed in Cruz.
"It didn't help. It made things more divisive as you could hear in the audience," Newton said. She said she had hoped there could be a shift from "the grieving process to the productive process," even if some still have doubts about Trump.
"The name calling and things of that nature are just uncomfortable. It's not what I would be telling my kids to do," she said. "We want somebody with integrity, somebody that's respectful. That's what we value in our candidates back home."
Newton said Utah Republicans want a candidate who shares the "strong conservative values that so many of us hold dear and that some of us have questions about with Trump," including how he would reduce the role of the federal government.
Sen. Mike Lee, R-Utah, who helped lead a contentious floor fight on the first day of the convention Monday over an unsuccessful attempt to force what would have been a protest vote against Trump, clearly was pleased with Cruz, a close friend.
Lee cheered on Cruz throughout his speech. He and the rest of the Utah delegation shrieked their approval when Cruz referenced their battle to allow delegates to vote their conscience rather than be bound by election results.
"If you love our country and if you love your children as much as I know you do, stand, and speak, and vote your conscience. Vote for candidates up and down the ticket who you trust to defend our freedom and to be faithful to the Constitution," Cruz said.
Lee said he is not ready to endorse Trump.
"I don't endorse any candidate for any federal office — House, Senate, president — unless they're willing to be aggressive defenders of separation of powers," Lee said. "He's not there yet so I'm not there."
Related
Chris Karpowitz, co-director of the Brigham Young University Center for the Study of Elections and Democracy, said Cruz offered "an important cue for many conservative Republicans" by not backing Trump.
Karpowitz said Cruz was likely positioning himself for another run in 2020.
Utah GOP Chairman James Evans had hoped hearing from Cruz and Pence would help ease the delegations' concerns about Trump and "demonstrate we're not losing our conservative center in this presidential race."
Evans said he still believes Utah Republicans will get behind their party's presidential nominee and "understand the political reality that we want a Republican elected and that's going to be Donald Trump."
During the roll-call vote Tuesday, Utah cast its 40 delegate votes for Cruz. However, because of a state party rule that prevented the delegates from supporting a candidate no longer in the race, Utah's votes went for Trump.
When Trump's nomination became official, Lee and other Utah delegates sat quietly in the convention hall, but state House Speaker Greg Hughes was cheering wildly nearby.
Hughes, invited to attend the convention by Trump's campaign, said he understands the frustration felt by his fellow Utah Republicans but is counting on Pence's No. 2 spot on the ticket to win them over.
He said he Pence, a conservative who is close to Gov. Gary Herbert, "doesn't have to work overtime to overcome Donald Trump" in Utah, Hughes said.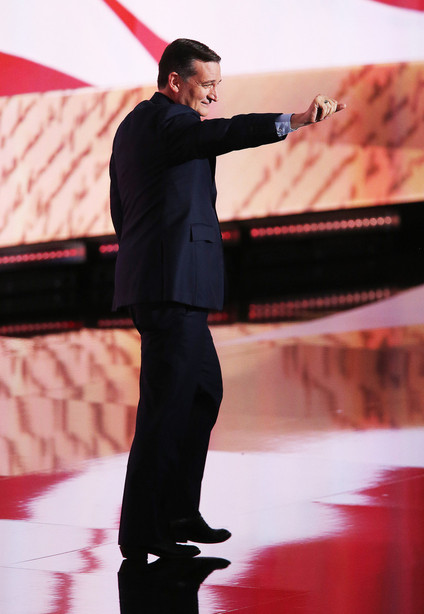 Other potential Trump vice presidential picks, New Jersey Gov. Chris Christie and former U.S. House Speaker Newt Gingrich, would have had to work harder, he said.
Like many of Utah's elected leaders, Hughes had initially endorsed Florida Sen. Marco Rubio for the GOP nomination. But when Rubio dropped out, the speaker was one of the few who backed Trump.
Hughes said he knows it will take time for Utah Republicans to come around. In the March caucus election, Trump finished a distant third behind Cruz and Ohio Gov. Jon Kasich with just 14 percent of the vote.
"I think with a nontraditional candidate, it's going to take longer than it has in the past," the speaker said. But he said he believes Trump may have more support in Utah than those results suggest.
Hughes said thousands of Utahns lined up for blocks to see Trump when he campaigned in Utah just before the March caucus election with little effort by the campaign.
"I have never seen anyone create that kind of interest," Hughes said. "I have to wonder out loud, 'Is the sentiment from our political infrastructure the same as from the public at large?'"
Trump's campaign is concerned enough about Utah that there are plans for Pence to make an appearance in the state as soon as possible, a source told the Deseret News Tuesday.
Jason Perry, head of the University of Utah's Hinckley Institute of Politics, said Wednesday that "although the Trump campaign has not indicated a timeline, it is clear there are active discussions about the state of Utah and who would be best to come here."
Perry said Utah's status as a reliably Republican state raises the stakes for Trump. Utah has not voted for a Democrat for president since 1964, and polls earlier this year showed that could happen again with Trump at the top of the GOP ticket.
"It's worth Donald Trump's time to pay attention to the state of Utah," Perry said.
×
Photos
Related Stories