Estimated read time: 2-3 minutes
This archived news story is available only for your personal, non-commercial use. Information in the story may be outdated or superseded by additional information. Reading or replaying the story in its archived form does not constitute a republication of the story.
A national bus tour criticizing the Bush presidency made a stop in Utah today. The museum on wheels takes direct aim at the policies and decisions of George Bush and his administration.
"Disastrous" is what the people behind the bus tour call the Bush legacy. The president is more popular here than in most states, but a stop here in Salt Lake drew plenty of folks who agree with the sentiment behind the tour.
In an election year, it's the perfect vehicle for public discontent. An unpopular president, another tight election, and a group, this time progressives with Americans United for Change, trumpeting what they see as a list of failures from the party in charge.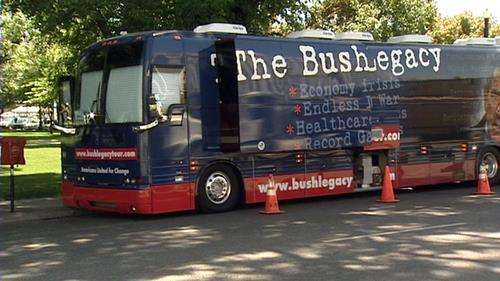 Las Vegas resident Stacey Gray said, "I think it's a great way to put the message across that Bush isn't as great as people think he was."
President Bush is still very popular in Utah with a 55 percent approval rating, that's higher than any other state. But this isn't all about him. The $700,000 tour visiting 150 cities hopes to link Bush to McCain to help Obama.
Today it's mostly an exercise in preaching to the converted. Those visiting the bus we spoke with already had strong negative views about Bush's handling of the war, the economy and Katrina.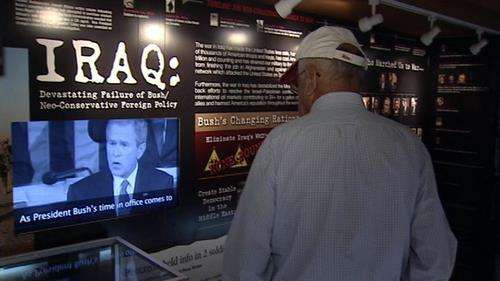 Bountiful resident Bill Ernest said, "It's seven years too late ... I wish the people of Utah would have realized what was going on seven years ago, maybe it would be different today."
Salt Lake City resident Jimmy Valdez said, "This war was unnecessary. The loss of lives was unnecessary. I mean, it was just stupid. Bush should have never gone in the first place. It was because of oil, more or less, you know. But of course they don't want to admit that, you know."
The president's fans would undoubtedly see this as pure Bush-bashing, but tour organizers say there's more than enough blame to go around.
Julie Blust, the press secretary of the Bush Legacy Tour, said, "We want to make sure we look at the conservative policies that Bush has supported, that his allies in Congress have supported, and where they've gotten us. And this bus is the exemplification of where it's gotten us."
Sen. Orrin Hatch released this statement: "I always do what I believe is right and in the best interest of our state and country. My positions generally reflect the opinions of Utahns, and President Bush won Utah by huge majorities in 2000 and 2004."
We left messages with the White House, the state Republican party and Sen. Bennett, but our calls were not returned this afternoon.
E-mail: jdaley@ksl.com
×
Related links
Most recent Utah stories