Estimated read time: 3-4 minutes
This archived news story is available only for your personal, non-commercial use. Information in the story may be outdated or superseded by additional information. Reading or replaying the story in its archived form does not constitute a republication of the story.
KSL team coverageThe ink is barely dry on a new employee policy in Bountiful, and already it's drawing a lot of attention. No visible tattoos and no piercings, that's the new standard if you want to work for the city of Bountiful. The city says it wants to present a professional image. People at a Bountiful tattoo shop think that's discrimination.
Punctured Piercing and Tattoo is the only place you can get a legal tattoo in Bountiful, but if you want to work for the city, it better not show.
Tattoo enthusiast Dustin Hylemon said, "You could look at somebody and just judge them by the way they look. You could be completely wrong."
Tattoo Artist Casey Wardell says tattoos and piercings are growing in popularity. He's disappointed by the message the policy sends. "You could be the most suited person for the job and immediately discriminated against because of having a tattoo," he said.
We all see plenty of tattoos these days. Bountiful City Council sees the same trend and wants a policy for new workers. Fred Moss, with the Bountiful City Council, said, "We want to be a professional city with professional employees. So the concerns came up over tattoos and body piercings."
The policy is similar to one used by the Air Force and the Los Angeles Police Department: No visible tattoos on the face, neck and head, and no body piercings. "They can take them out. If they have earrings types of things, they can take them out during the day. What they do on their private time is up to them," Moss said. The difference is, this applies to all city workers, not just those in uniform.
Wardell doesn't plan to challenge the policy, he'll just keep doing his business. "The majority of the people in this city are O.K. with tattoos, as far as I know. I've never had anyone complain about my having a tattoo shop in Bountiful. I've only heard positive things about having a tattoo shop," he said.
Moss says they'll see how the policy works and modify it if they need to. He sees it as a good first step.
Symbols are protected speech under the constitution, but the Supreme Court has never ruled on a case involving tattoos.
A Bountiful resident and Salt Lake City tattoo artist says the ban on visible tattoos for city workers will never stand up in court. Tattoo artists like Kelly Miller says, "I'm not an attorney, but I doubt it. I've been around tattooing for about 30 years, and I've seen New York finally have to relax its regulations, Oklahoma, many of the states where for a long time it was illegal."
Miller, of Susie M's tattoo parlor, says he considers tattoos protected speech under the Bill of Rights. He does say however, "If the tattoo is pornography, or if they can show that it's a hate-crime type of tattoo, maybe they might have something to stand on there. But otherwise, they don't have much to stand on, I don't think."
He's got body art on his arm that his sleeve doesn't hide, and in his view that's discrimination. He says, "If you want to experience true prejudice, get a tattoo and go to Bountiful."
He adds, "Probably 30 percent of the people that apply to the job will not be eligible, just simply because of that. That's too far. That's unconstitutional. It'll never float, in my opinion."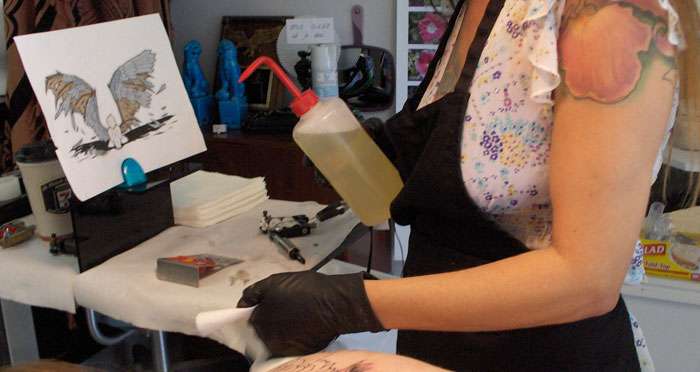 The U.S. Supreme Court first recognized symbolic speech (non-verbal) as protected was Stromberg v. California in 1931. In 1969, in the case of Tinker v. Des Moines, Justice Fortas said, "In the absence of a specific showing of constitutional valid reasons to regulate their speech, students are entitled to freedom of expression of their views." The case involved students who wore peace signs.
There is a grandfather clause, so city employees with tattoos that are easy to see aren't in danger of losing their jobs.
E-mail: bbruce@ksl.com
E-mail: aadams@ksl.com
E-mail: jboal@ksl.com
×
Most recent Utah stories