SALT LAKE CITY — It's the hardest decision a zoo could ever make.
Choosing between the zoo's top priority — ensuring guest safety — and ending the life of an animal that employees care for daily and whose species they are committed to protecting is a question no one wants to face.
But after a 3-year-old boy slipped under protective barriers and fell 15 feet into the Cincinnati Zoo's gorilla enclosure Saturday, prompting zoo officials to shoot the animal after it dragged the child around its habitat, that's precisely what officials at Utah's Hogle Zoo are discussing this week.
"It's a zoo's worst nightmare," said Erica Hansen, Hogle Zoo's community relations coordinator. "They love these animals so much, they care for them every day. … But there was a human child in there, and because of those quick actions, in a nanosecond they have to make these decisions, they saved that child's life and that's what's important."
Since the weekend incident, the decision by Cincinnati Zoo's dangerous animal response team to kill Harambe, the 17-year-old male silverback gorilla, has been hotly debated online, alongside discussions of the responsibility of the boy's parents.
Put in the same painful situation, Hogle Zoo officials almost certainly would have made the same choice, Hansen said Tuesday.
Like its Cincinnati counterpart, Hogle Zoo also has a male silverback, a 24-year-old western lowland gorilla named Husani. His handlers describe the "big boy" as comfortable and cooperative with staff and medical teams, but note that at more than 400 pounds, he is still massively strong.
The only male in the zoo's three-gorilla "troop," Husani spent the afternoon Tuesday as he does on most sunny days, ambling quietly through the grass of his open enclosure and plucking odd plants and leaves to eat.
As they watched him, crowds of small children giggled happily and chattered about the animal's lumbering walk and furry appearance. Nearby, two mothers whispered quietly about the encounter between the gorilla and the child in Cincinnati.
"Look at him, he's huge," one mother said, watching Husani.
"I know, can you even imagine?" the other replied.
Husani's enclosure, set in the ground so that guests can look in from above, is open and dotted with live trees that he and the female gorillas can climb or lounge beneath. A shallow moat circles the exhibit edge, and on one side is a below-ground viewing area that lets zoogoers come down to the animals' level.
Related
Hogle Zoo's open-air exhibits are designed in accordance and even exceeding safety standards set by the Association of Zoos and Aquariums, said Michele Stancer, director of animal care. The upper periphery of the exhibit eliminates gaps and features several clear viewing areas to let children stand on the ground or look from a stroller to see into the enclosure without being lifted up. Cables and pointed wooden poles of varying heights discourage sitting atop the barrier.
Nevertheless, Stancer and Hansen said they see guests on a daily basis who are not acting safely around the open enclosures.
"People want to see these animals in the open, there's nothing quite like gazing at a silverback gorilla without a barrier, and fingerprinted glass and mesh can sometimes ruin a zoo experience," Hansen said. "We do everything we can not only to design the exhibits safely but to maintain them, and to do everything we can to keep people out and animals in. However, we need parents to (help) us."
In addition to the physical safety measures, Hogle Zoo has its own 14-person emergency response team trained to handle dangerous animal encounters. Members of the team all have regular jobs around the zoo, Hansen said, but are prepared to answer an emergency call at a moment's notice.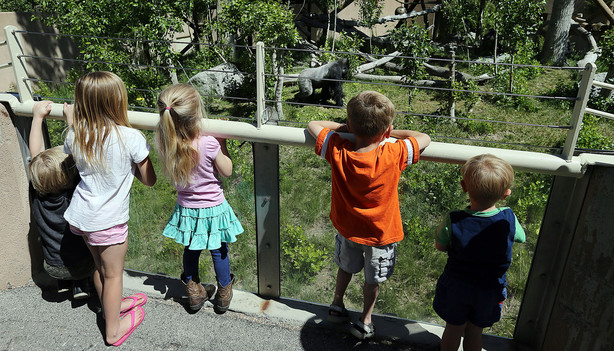 "They are trained to make difficult decisions," Hansen said. "They work here, they're on our staff, so they're forced to make those decisions about an animal that they know, they love, they have visited on their lunch break, and they care about."
The dangerous animal response team generally includes staff members with prior law enforcement or military experience, Hansen said. Off-site training, including marksmanship, is conducted on a regular basis.
In a situation where someone is close to an animal, like the case in Cincinnati, using a tranquilizer instead of lethal force is not an option, Stancer said.
A sedative powerful enough for a gorilla takes precious minutes to prepare, Stancer explained, and once deployed, will take even longer to take effect. Meanwhile, the shock of being struck would likely trigger a violent response, making it increasingly dangerous to be anywhere near the 400-pound animal.
Hansen added, "I guarantee that if Cincinnati could have saved the child and spared the animal, they would have done it."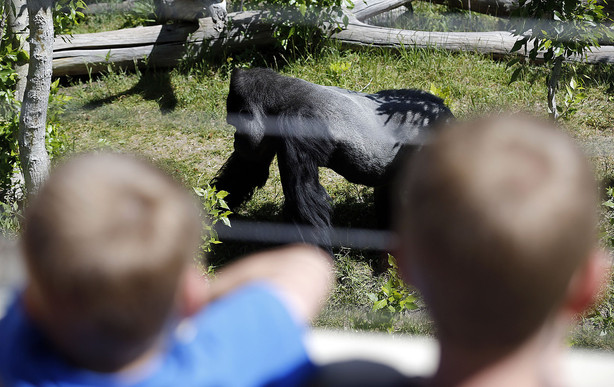 Emergency drills are conducted at Hogle Zoo several times each year, Hansen said, ranging from fire or earthquake responses to animal encounters. Daily drills include things like calling animals back into their pens should a foreign object end up in their enclosure.
In the case of Harambe at the Cincinnati Zoo, female gorillas in the exhibit returned to keepers when they were called after the boy fell into the enclosure, but the male did not.
Hogle Zoo has never had an encounter between a guest and a dangerous animal, Hansen said, but through the years there have been occasional incidents involving zoo staff.
As Hogle Zoo reviews what happened in Cincinnati and evaluates its own safety policies, the animal caretakers, including some who were acquainted with the Cincinnati Zoo's ape keepers, are saddened for both sides.
"It was very upsetting, it was very sad. I knew what the zoo's response team was thinking, that human safety is of paramount importance," Stancer said. "I felt emotional for the keepers and the response team that had to react to that."
When it comes to safety at the zoo, specially designed exhibits and careful training for staff members can only do so much, Hansen said. The rest is up to guests, particularly parents.
"Nothing can replace a vigilant parent. We need a little less phone time, a little more eyes-on-the-kids time," Hansen said. "I walk through the grounds daily and am still shocked that people will plop their children right up on a ledge. No one thinks they're going to be the one to drop their kid."
Contributing: Jed Boal
×
Photos
Related Stories