This archived news story is available only for your personal, non-commercial use. Information in the story may be outdated or superseded by additional information. Reading or replaying the story in its archived form does not constitute a republication of the story.
AMERICAN FORK — Tyson Ricks remembered how, as a little boy, he would sit next to his dad as they drove in his old pickup truck.
"When the sun would hit my eyes because I was so little, he'd always take off his army hat and put it over my face. I'd pull it down so I couldn't see the sun," said Tyson Ricks at his father's funeral Saturday.
"I remember feeling the heat and smelling the sweat and dirt from his hat," Tyson continued, his voice wavering as he held back tears. "That may sound unpleasant to some, but it's something I'll always cherish."
Several hundred friends, family members and co-workers gathered at an LDS Chapel in American Fork to honor the life of Kay Ricks, a husband, father, faithful member of the church, handyman and UTA employee who was found dead on a dirt road outside Kemmerer, Wyoming after he and his UTA truck vanished on May 12.
Police have ruled Ricks' death a homicide and are investigating a potential connection between his death and two suspected kidnappers who were apprehended in Wyoming two weeks ago.
UTA officials, police and other employees joined Ricks' family in mourning, remembering him as a hard worker and loving father, husband and friend.
Related Stories:
Ricks, 63, was born Feb. 15, 1953 in Logan. He married his wife, Lorie, in 1974, and they were later sealed in the Provo LDS temple in 1978. They were married for 42 years and had three sons: Wynn, Joel and Tyson.
To Wynn Ricks, the best way to describe his father is that he was "endlessly forgiving."
"I know at this very moment my dad has already forgiven the people that did this to him and to the rest of us," Wynn Ricks said. "And he is sitting by, watching, waiting and hoping that the rest of us can forgive them as well."
Mourning for Ricks spread beyond those who attended his funeral to all across the Wasatch Front Saturday. At noon, marking the start of the funeral services, UTA trains and buses stopped in their tracks to hold a moment of silence.
Later, a motorcade of UTA police patrol cars and maintenance trucks transported Ricks' body and his family to his grave site at the Lehi City Cemetery.
"We are extremely grateful to have the opportunity to make today special for (the Ricks') family," said UTA Police Chief Fred Ross. "We will continue to be in contact with them. This is a horrific incident and they will have our utmost support as long as they need it and want it."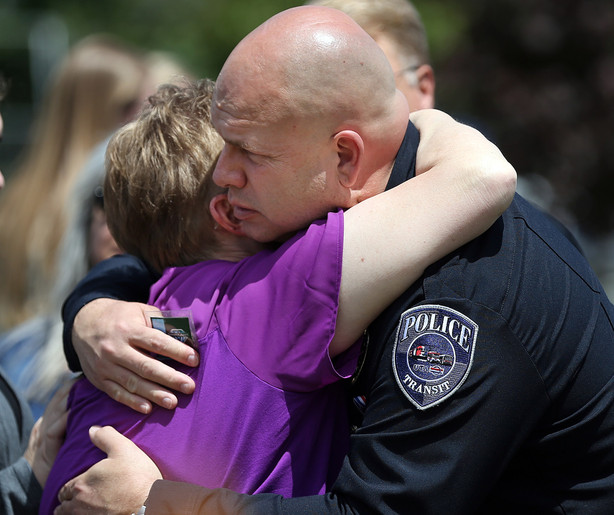 Ricks was a veteran of the Vietnam War. He served four years active duty, two years in the Naval Reserve and eight years in the Utah National Guard.
When the flag drapped over his casket was folded and placed in Lorie Ricks' lap, her eyes brimmed with tears.
Ricks was also remembered as a faithful member of the Church of Jesus Christ of Latter-day Saints. He served in a bishopric, high priest quorum leadership, and as a high councilman. For 29 years, Ricks also served with the Boy Scouts of America.
"Kay had an unwaivering faith and trust in God," said Bishop Rob Chamberlain. "He was a great example to me, and he and Lorie never lost faith through the hardest of times."
Before Ricks worked for UTA, he spent nearly 20 years working for Geneva Steel, and he owned an electrical contracting company.
His neighbors remembered him as the guy who was always willing and able to help, not matter the problem or project. Neighbor Justin Jones, said Ricks has "fixed every roof in the ward."
"I'm going to miss calling him when I have a problem," said his son, Joel. "It didn't matter what it was, he always had the answer ... I loved my dad. He was my best friend."
Tyson Ricks, the youngest, said his father taught him to be the electrician he is now.
"My dad and I had a special relationship," he said. "He taught me my trade and was always there for me when I needed help. ... He could do anything. He helped me re-do my roof, build a deck, build a pantry, put down a new floor, remodel the bathroom and many other things I didn't know needed to be fixed."
Tyson Ricks said he'll always remember his dad's hands: Strong. Rough. Worn.
"I always wanted my hands to look like that," he said.
When Tyson said good-bye to his father at the burial site, he placed a measuring tape, roll of electrical tape, and a pair of pliers on the casket.
"Him being taken from us left a hole that will never be filled, and it hurts so much," Tyson said. "I can never thank him for making me the man I am. And I know I should forgive, but I don't think I'll ever be able to do that. That's not to say I will be a bitter person, but it will be hard.
"I love you dad," Tyson continued. "I will always miss you."
×
Photos