This archived news story is available only for your personal, non-commercial use. Information in the story may be outdated or superseded by additional information. Reading or replaying the story in its archived form does not constitute a republication of the story.
BOUNTIFUL — If you've ever struggled to find what you need in the endless depths of a diaper bag, a Bountiful mom's simple solution could help.
Sariah Tate created the streamlined Peke-Buo diaper bag after the birth of her third son. It's a compact kit that quickly folds out into a changing table, while at the same time offering access to essentials like wipes and tissues without opening the bag.
"My whole thing was, 'Why can't we have a little diaper bag that you can just put into your purse?'" Tate said. "Because I then take that same (Peke-Buo) diaper bag and if I need a backpack that day, for instance to carry my laptop and work things, then I can slip it right into a backpack. I can give it to my husband to put it wherever he's going. I can hand it to a sitter."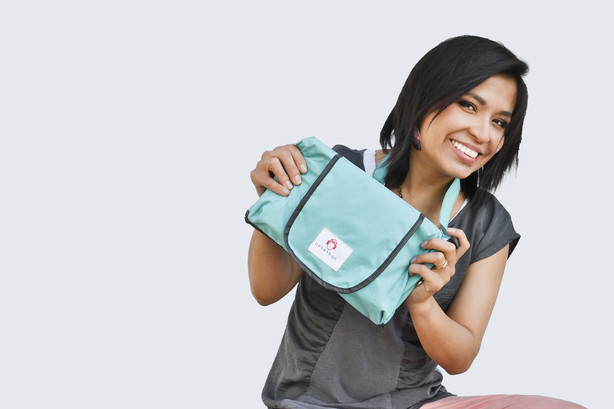 With her second son, Tate said she had a little diaper bag with wipes on the outside and loved it. However, when she saw changing pads with pockets that could fold into a clutch, but didn't have the wipe access on the outside, she wondered if there was a way to combine the two ideas so a child's caretaker could access everything they needed whether the bag was open or folded up.
She drew up an initial design to test out at home.
"Once I figured it out on a piece of paper, then I had to find out if it was actually functional — like if I could make it work on fabric and things," she said. "So I started sewing my first prototype without knowing where it would lead. It was just a fun side project I was working on."
After working through a couple of prototype versions, Sariah Tate teamed up with her brother-in-law Emrys Tate to enter Peke-Buo in the University of Utah's 2016 Opportunity Quest. They won third place, securing $2,000 to help start the business.
To improve the Peke-Buo, the mother of three used it herself while caring for her third son. Her children are currently 6 years old, 4 years old and 20 months old. Sariah Tate said she wanted to develop it so she could help out other parents.
"My eyes became really keen to see all of the diaper bags the other moms had and they were all big and clumsy. Everyone has to carry so much stuff and they're rummaging through their things," she said. "I think this could really benefit a lot of moms to have something a little bit more compact, a little bit more streamlined and way more versatile."
Sariah Tate pitched the Peke-Buo as a minimalist approach to organizing what she considers to be the essentials of baby care: diapers and wipes. The bag has a storage area that fits a diaper and bottle, in addition to other small items. If someone needs to carry larger items like blankets, she recommended they slip the Peke-Buo into a bigger bag.
Production of the Peke-Buo is ready to start once the company receives enough orders, according to Sariah Tate. She launched a Kickstarter campaign Tuesday to sell pre-orders and has raised about $3,000 so far.
×
Photos
Related Links