Estimated read time: 5-6 minutes
This archived news story is available only for your personal, non-commercial use. Information in the story may be outdated or superseded by additional information. Reading or replaying the story in its archived form does not constitute a republication of the story.
SALT LAKE CITY — Ivy Estabrooke has had a lot of role models she partly credits for helping her navigate a balance between a successful career and being a single mom.
Also at play is her women's intuition.
"It really comes down to balance and knowing where your priorities are. My children are my priority, and I feel I'm contributing to their future by the kind of work I do," said Estabrooke, executive director at the Utah Science Technology and Research Initiative, an agency that turns university research into job- and revenue-producing companies in the state.
Attending a women's college and being inspired by great men and women throughout her life, personally and in the work place, has taught Estabrooke to be confident and take risks for opportunities to progress, she said.
A growing number of women are putting themselves out there, applying for promotions and running for political office. And more Utah businesses, corporations and organizations are stepping up to stand behind them, according to Utah's Women's Leadership Institute.
The group is overwhelmed with positive responses from employers and employees looking for resources to promote more women in Utah, said CEO and former Utah lawmaker Pat Jones. The number of participating organizations has almost tripled since the institute launched its ElevateHER Challenge a year ago.
At least 120 Utah-based brands have signed on.
"It's become a business imperative," Jones said. "People are realizing that it adds to the quality of life when women both step up and are valued in boardrooms, businesses and politics."
Local businesses that are actively working to recruit, hire and promote more women in leadership positions (commitments included in the challenge) are reporting increased returns on investment and enhanced reputations, and are having an easier time attracting and retaining talent in a competitive market, she said.
"It's not about quotas or where you've been in the past. It's about looking forward and implementing strategies to include more women in senior levels," Jones said.
Studies show that women are highly influential when it comes to consumer habits in homes and families, as well as in business. Women oftentimes offer a different perspective due to different life experiences. And due to low unemployment rates, women are now making up a greater portion of the workforce.
"To have that voice at the table is absolutely critical for companies as they move forward," Jones said.
Zions Bancorp. was one of the first organizations to join the ElevateHER Challenge last year, and it plans to continue the momentum created by it, having added all kinds of forums specific to ethnicities, military service and ambition levels for its employees.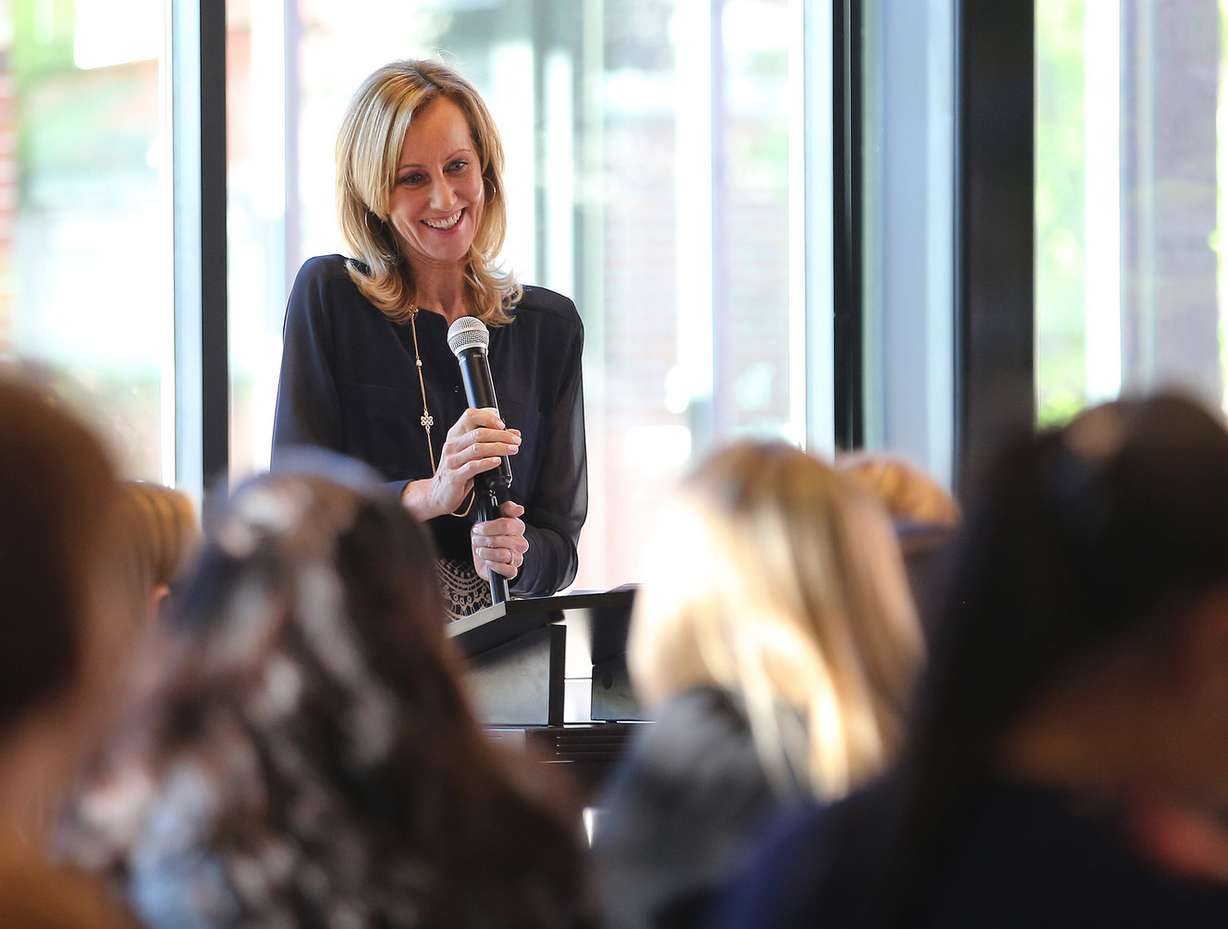 "We will definitely continue to foster inclusiveness and diversity in our workplace," said Heidi Prokop, Zions' senior vice president and public relations manager. "We hear great feedback from our employees about what we're doing, and it is making a difference."
The ElevateHER Challenge was developed out of a desire to motivate more women who want to be involved in decision-making capacities throughout the state.
Jones said women she spoke with prior to the launch were "tired of the talk. They wanted the walk." Tenets of the challenge stemmed from an idea implemented in Boston and has grown to include training and mentoring for political positions.
And as women and/or minorities are making up a greater portion of the incoming workforce in Utah and elsewhere, other states are taking notice. Idaho has created its own Women's Leadership Institute, fashioned after the one Jones leads in Utah.
Interest in the program, which links people to various developmental training opportunities and strategic ideas for mentoring, is rapidly increasing.
"It's helping women understand they're valued, prepared and needed," Jones said, adding that a woman's perspective is "sorely needed and adds value to the state."
The initiative celebrated women at a networking social Wednesday, giving what the group calls "emerging leaders and young professionals" a chance to mingle.
"I can't believe we're having the same conversation we had 20 years ago," said Betsy Myers, an expert on the culture of changing leadership who has been writing about and advocating for women in leadership over a decade.
But Myers believes change is happening because men are a part of the discussion now as partners in the movement.
"They realize that talent comes in different colors, shapes and sizes," she said.
Master of Business Administration students Chance Murray and Mackenzie Hales, who have revolutionized the Graduate Women in Business program at the University of Utah, told of how they are changing the perspectives of their classmates to improve gender equity in hiring and pay, but also to "make work work for both parents" of children, Hales said.
"Bringing together diverse groups of people creates value," Murray said. "We need to drive home the value of having different perspectives."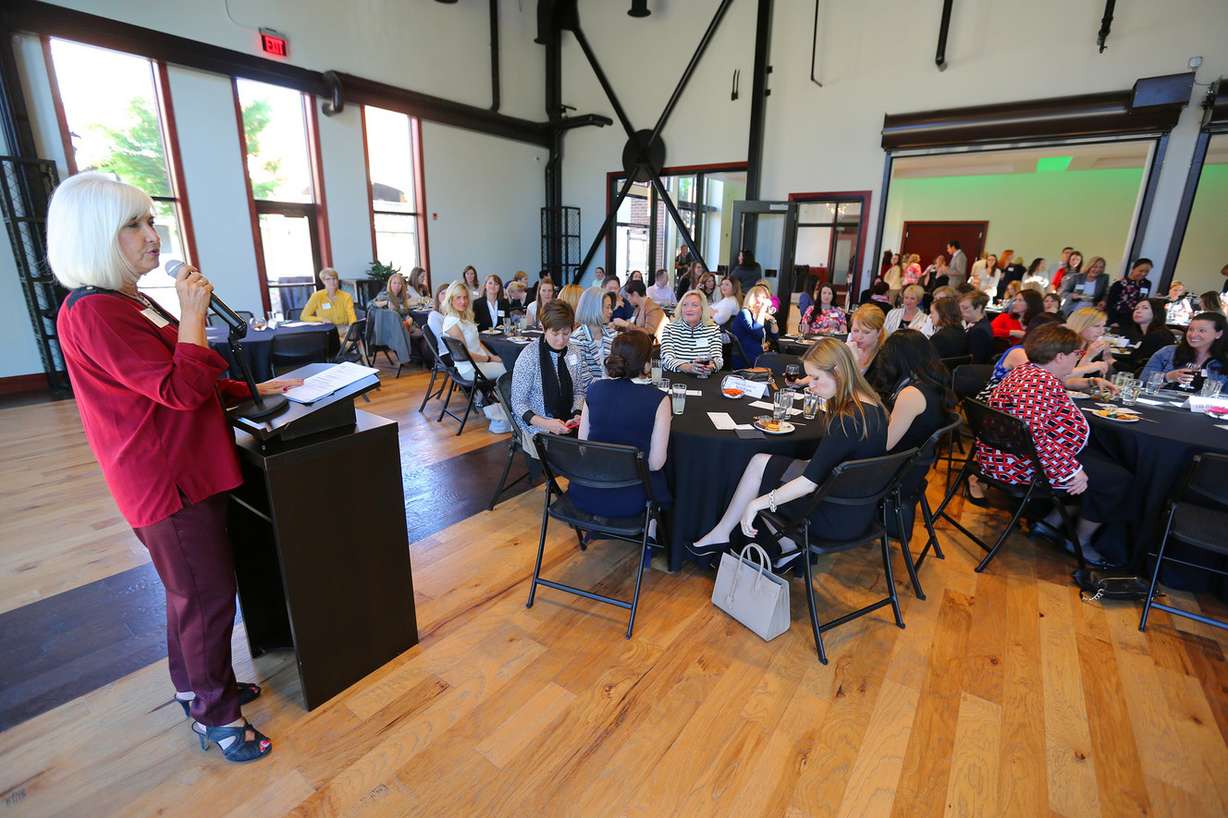 He said he doesn't see women as "victims of malice, but rather victims of gender apathy and gender ignorance." Murray said he's hoping to foster better principles and push for policies to help even the playing field.
With what she calls a different leadership style — drawing on some stereotypical female characteristics — Estabrooke said she strives to work toward consensus in the workplace rather than taking on a dictatorial leadership style.
She values more than just the job-relevant skills that people bring to the office, and she's "not that afraid of failing or being wrong," as experience has made her more comfortable with mistakes or being questioned.
Since taking the helm at USTAR, the number of women in leadership positions has increased almost equal to those held by men and not because of an underlying agenda, Estabrooke said, but because the female applicants' abilities and capabilities met or exceeded the qualifications for each position, a trend she believes is growing.
And it has visibly enriched our organization, she said.
That is exactly the type of success Jones said businesses are seeing as they implement strategies to help women become better leaders.
"We want women to hear the message that they are important in leadership," she said. "And that is happening. We couldn't be more pleased."
Contributing: Ladd Egan
×
Photos
Related links
Most recent Utah stories