Estimated read time: 2-3 minutes
This archived news story is available only for your personal, non-commercial use. Information in the story may be outdated or superseded by additional information. Reading or replaying the story in its archived form does not constitute a republication of the story.
The 2008 Summer Games officially begin on Friday. Nineteen athletes with Utah ties will be participating in the Games.
Probably the biggest show of the pre-opening ceremonies week will be when Deron Williams and Carlos Boozer and Team USA hold the "Redeem Team" press conference later in the week.
But the biggest individual star, maybe ever, is swimmer Michael Phelps. His only press availability brought out the paparazzi too.
Before he goes for eight gold medals, Phelps dressed the part of the Chinese fictional icon, the evil Dr. Fu Manchu. "I'm just messing around with it a little bit. I've had facial hair for a few of my meets, leading into a few of my meets over the last year. So, it's messing around with the facial hair," Phelps said.
He can't break Mark Spitz' record of seven gold medals without getting the first of his eight events: Saturday morning's 400 meter individual medley. "I think one of the hardest ones the first ones: the 4M. It's the one I'm most excited to swim," Phelps said.
Nobody's more excited about the Olympics than Utah's Lindsey Anderson. The former Weber State All-American is competing in the first Women's Olympic Steeplechase, but she is not answering her first questions about it.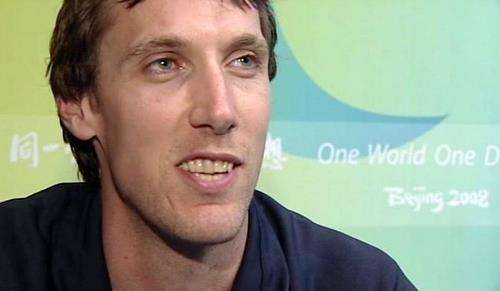 "We get asked all the time: 'What's the steeplechase? Is it a horse event?' So we get asked that a lot," Anderson said. "It's fun to actually explain and to tell them about the history of it and tell them it's going to be the first time it's going to be at the Olympics. It's really fun for me 'cause it's my event."
Not the first rodeo for former BYU Cougar Ryan Millar. It's his third Olympics. He says so far, Beijing's spiked it.
"Everything that we've seen so far has been top-notch. This one where we're practicing this morning, we're actually going to be in there, I think, four out of our five matches. So, it was pretty important to get in there and see the lights and see how the gym is, get a feel out for it. We usually do that at tournaments, but it was really nice. It's a great place to play volleyball," Millar said.
And now with Mao and Yoa sharing the stage at Tienanmen Square, this Beijing candle's about to be lit.
E-mail: tkirkland@ksl.com
×
Most recent Utah stories