Estimated read time: 4-5 minutes
This archived news story is available only for your personal, non-commercial use. Information in the story may be outdated or superseded by additional information. Reading or replaying the story in its archived form does not constitute a republication of the story.
SALT LAKE CITY — When it comes to your signature, juicy burgers, you may not think there is 'shroom for improvement. You'll want to think again.
Let's talk mushrooms. Blended with your meat, they are more delicious, nutritious and sustainable.
If you think about it, mushrooms are a perfect addition to homemade burgers. They have a meaty texture, add moisture and earthy flavor. Cooked mushrooms also have an umami quality — that fifth basic taste chefs often talk about described as a pleasant savory taste.
The addition of vegetables to ground beef is not new. Meatloaf is often loaded with savory blends of onions, celery and carrots. They add loads of flavor, moisture and great texture that you're familiar with in meatloaf. Many smart moms have used this trick to sneak veggies onto their kids' plates, hiding everything from zucchini to spinach in ground meat.
Mixing meat with vegetables is a great way to stretch your grocery dollar since veggies are cheaper than quality meat. Mushrooms also add vitamin D to your diet and help boost your immune functions. Try a variety of mushrooms in your burgers, from meaty portobellos to shiitake and button.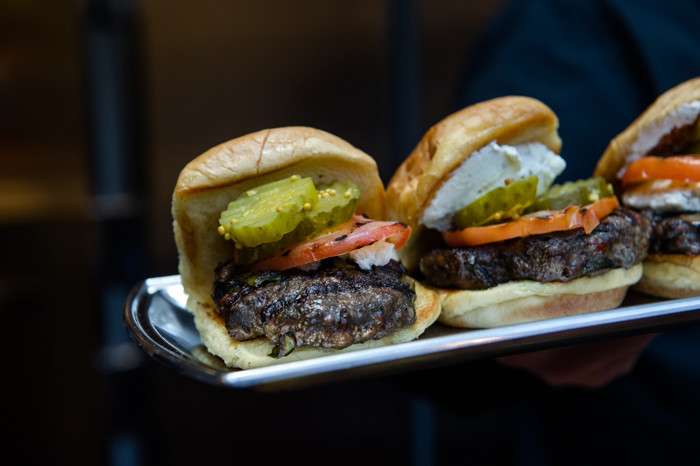 This week, at the second annual kickoff for the James Beard Foundation's Blended Burger Project, a partnership with the Mushroom Council, chefs from around the country participate in creating the most amazing blended burgers. The project is open to all chefs. Last year, nearly 250 restaurants joined in creating takes on this culinary concept.
The competition opened this week at the James Beard Foundation in New York City. I was happy to be able to attend and taste chef Hugh Acheson's take on a mushroom-blended burger. He mixed cremini mushrooms with ground lamb and topped it with Boursin cheese to make the most delicious meal.
Acheson is an award-winning chef, author and top chef judge. He said he was thrilled to be a part of the Blended Burger Project and noted, "The meaty, umami qualities of mushrooms make them the perfect ingredient to boost a burger's flavor — and their nutritional and environmental qualities make a great burger even better."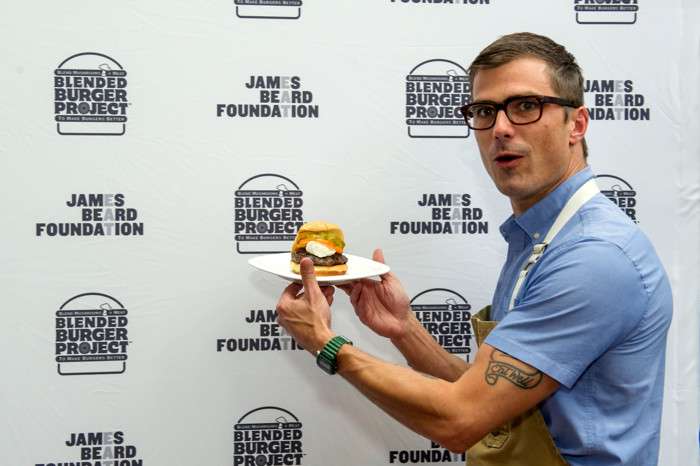 Below you'll find the recipe for the basic blended burger. A simple mixture of sautéed mushrooms and ground beef that will truly impress.
Visit TaraTeaspoon.com for Acheson's Cremini-Lamb Burger with charred scallions, Boursin, pickles and tomato recipe so you can recreate his masterpiece at home. Be inspired to experiment with your blended burgers.
Chefs can participate in the formal competition by signing up at jamesbeard.org/blendedburgerproject and serving their unique blended burger at their restaurants from Memorial Day through July 31.
You can be involved by helping your favorite chef win an opportunity to cook their blended burger and the historic James Beard House. Just go here to cast your vote.
Classic Blended Burger
Serves 4
½ pound cremini or white button mushrooms 2 tbsp olive oil, divided 1 pound ground beef ½ tsp salt 4 hamburger buns
1. Finely dice mushrooms or gently pulse in a food processor.
2. In a skillet, warm 1 tablespoon olive oil on medium-high heat and add mushrooms, sautéing 5-7 minutes or until golden brown. Remove from heat and cool for five minutes.
3. Transfer cooled mushrooms to a medium bowl. Add ground beef and salt, mixing until combined. Make four patties. Add remaining olive oil to pan and cook burger patties on medium-high heat until desired doneness. Plate and add desired toppings to buns.
4. Recommended toppings: Add fresh tomato, red onion, butter lettuce, cheddar cheese and your favorite spreads.
Recipe and photos courtesy of The Blended Burger Project.
Previous recipe:
---
![](http://img.ksl.com/slc/2581/258173/25817393\.jpg" style=width:65px; height:65px;)

About the Author: Tara Bench ----------------------------

Tara is a Utah native who has been a food editor for Martha Stewart and Ladies' Home Journal. She contributes delicious recipes to websites and cookbooks from her home in New York City, and has appeared on the Today Show and Studio 5. Find more great ideas on TaraTeaspoon.com.

×
Related stories
Most recent Lifestyle stories