PROVO — There have been plenty of changes around the BYU football offices over the last few weeks.
New coaching staff. New players and positions. New offensive and defensive schemes. It all makes linebacker Sae Tautu's move to defensive end seem pretty innocuous, right?
Think again.
"I'm not used to coming out of a stance and working that close to the offensive lineman," Tautu said after practice Friday morning. "That's been the biggest change — but it's coming along."
Tautu's role as an outside linebacker was primarily the pass rush, and the move to defensive end has been designed to get him closer to the quarterback.
BYU head coach Kalani Sitake has repeatedly called the new defense he plans to run "multiple" in that it moves between a 3-4 and 4-3 base defense. But multiple players and coaches said there is no doubt the Cougars have been practicing plenty with four defensive linemen to add to the 3-4 base defense that has become a staple of the past 12 years.
That makes Tautu's move all the more important.
"The more I play this position, the more I like it," Tautu said. "When I first played it, I was annoyed because I spent four years at linebacker. But the more I play, the more I am starting to get the hang of it. When you are good at something, you like it more, and I think I am having more fun."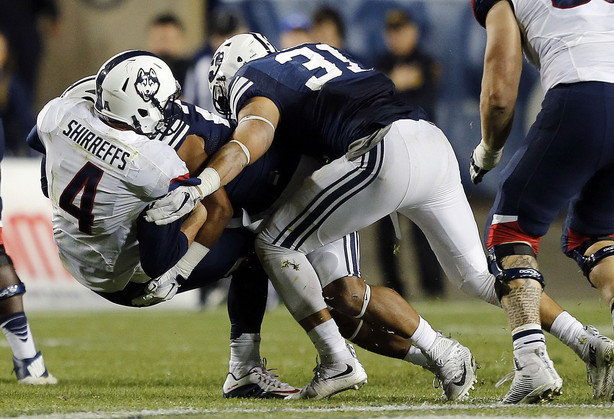 It hasn't been easy, because Tautu has been a linebacker for most of his career. He played linebacker at Lone Peak High School, where he totaled 87 tackles and five sacks as a senior while helping the Knights to a 9-3 record.
In his first camp at BYU, Tautu was named to the outside linebacker role. He briefly made the move to defensive end immediately following a two-year mission for the LDS Church to Tacoma, Washington — but that was mostly because he came back heavier than anticipated. Tautu quickly moved back to linebacker and he compiled 48 tackles, four sacks and three quarterback hurries as a junior in 2015.
The new schemes have helped Tautu and the rest of the BYU front seven feel freer to pressure offenses and make plays.
"It's not as complex of a scheme, but we are all allowed to run and make a tackle. It's really fun," Tautu said. "I like helping others make plays, but it would be nice to get in on those plays and make them, too. It's nice to get in on those flashy plays and make them myself."
Tautu's other big difference involves his weight. The senior has added almost 15 pounds to his 245-pound frame, thanks in large part to his work with BYU nutritionist Dan Wilcox and Tautu's wife whom Sae calls "a fantastic cook."
"You don't find those very often these days, but she likes to eat really healthy, too," he said, only half-jokingly. "It's a lot of chicken, a lot of starches, a lot of protein. I've learned from Dan it's a lot about the timing of my meals, and not so much what I eat."
Tautu's change hasn't been the only one around BYU's football offices. But that's what keeps the Cougars on their toes as they approach the midway point of spring camp.
BYU spring football
"I think there's still excitement. We're continually adding little wrinkles here and there, and giving guys different opportunities and formations," offensive coordinator Ty Detmer said. "I feel good with where we are at and where we've been. We've put quite a bit in and guys are taking to it, and starting to understand it. The more you know, the faster they can play."
The Cougars have no time to be complacent, either. The Sept. 3 opener against Arizona in Glendale, Arizona is on the horizon.
"There's still a buzz, because of what is on the line," Tautu said. "We have a huge schedule with brand-new coaches in a scheme none of us have played before.
"We're more motivated than we have been in the past because there is so much to do in order for us to be successful in the fall."
Listen to post-practice interviews with Tautu, Detmer, assistant head coach Ed Lamb and running back Algie Brown in the "Cougar Cuts" section.
×
Photos
Related Stories