Estimated read time: 3-4 minutes
This archived news story is available only for your personal, non-commercial use. Information in the story may be outdated or superseded by additional information. Reading or replaying the story in its archived form does not constitute a republication of the story.
PROVO — The BYU football team has developed a reputation for their up-tempo offense, but the new coaching staff isn't afraid to slow down the pace of play during spring practices to focus on technique.
Head coach Kalani Sitake feels that emphasis on technique is a priority.
"We want to make sure to be assignment sound and have our offense and defense set, and then as soon as we're comfortable with that we'll put the pads on and do some tackling," he said.
Tuesday marked the second day players have worn shoulder pads. Sitake noted the importance of shoulder pads in allowing players to practice proper technique, especially when it comes to blocking.
"I've been really impressed with how much better the linemen are getting technique-wise, Sitake said "Overall it's been great, we're having fun."
Offensive coordinator and quarterbacks coach Ty Detmer is having some fun of his own, taking time during practice to not only share his football knowledge, but also get on the field with his players to show them technique.
"It's one thing on the white board in the meeting room," Detmer said. "It's another thing to actually be out there, to interact and demonstrate a little bit. That's the fun part."
Detmer acknowledges he has a real passion for sharing his love and knowledge of the game with players.
"I like to coach them all — running backs, receivers, etc," he added. "I try not to step on the other assistants' toes, but I can't help myself sometimes"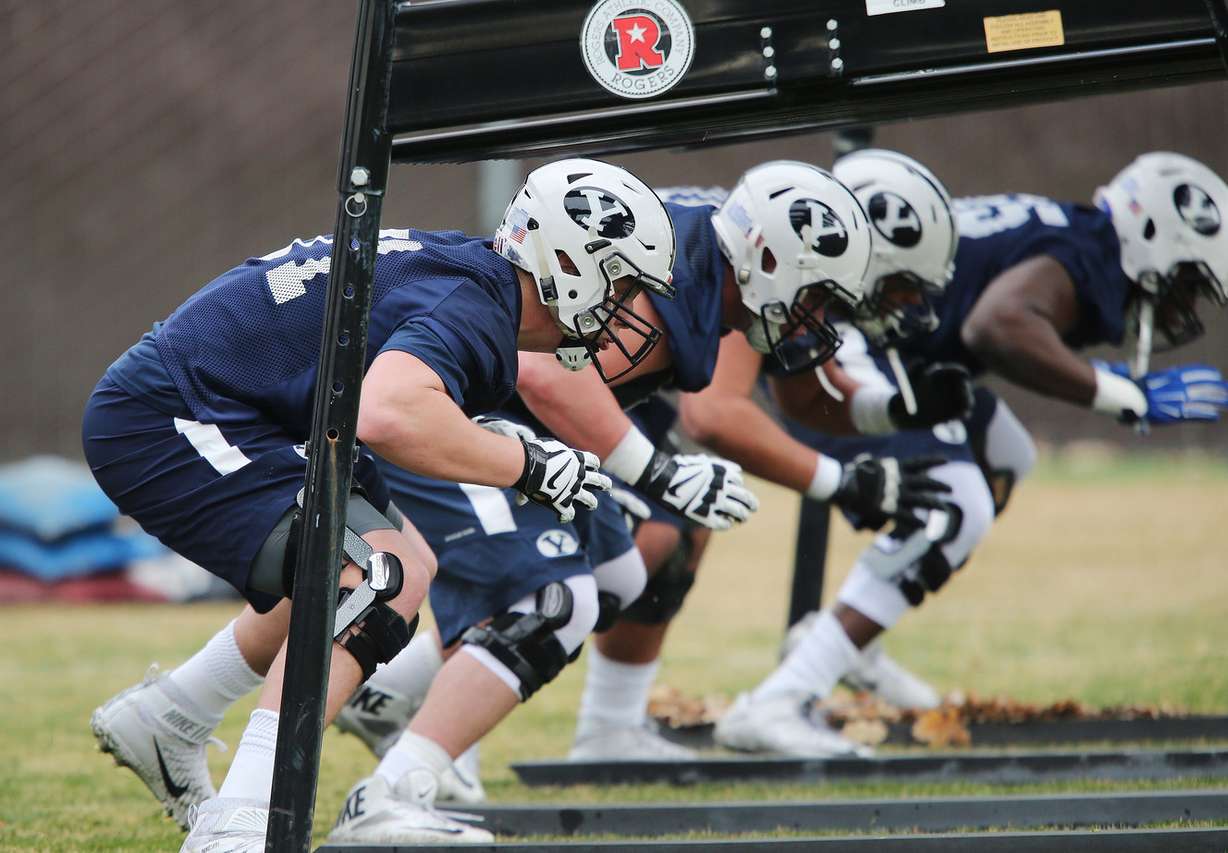 Sitake has also taken a hands-on approach with his players. He's involved everywhere during practices and is working on getting familiar with the techniques that his players are learning, especially the offense. "I'm more comfortable with the defensive side, but my mind tends to gravitate towards the offense quite a bit. I'm always trying to hear what the play is."
Running back Algie Brown says his position coaches are very much involved with his game and his success.
"I think it's really fun to have them pretty much give us secrets here and there that will help us build a better resume for the NFL," Brown said.
Brown is one of several players adjusting to a modified role this season. The senior is doing more blocking so far this season and acting like more of a fullback. Brown is accepting of this change and feels like his strengths fit the new role quite well.
"I'm trying my best to do what the coaches need for the team," Brown said.
Many other players are being moved around and tried out at different positions in an effort to find the best fit for the team. Besides the quarterback situation that everyone has their eye on, other players are also fighting for position on both sides of the ball.
"I think we're having some good battles right now," Sitake said.
An area with lots of question marks remaining is the tight end position. The program hopes to revive the position, which was once a mainstay at BYU, but has faded in recent years.
Sitake understands and says his staff can't just throw any player into the tight end spot.
"Being a tight end is difficult, it's not just about catching the ball. You have to be able to block and do a bunch of different things, which is why it's an important position for us to have," Sitake said. "I know [the tight ends] are getting coached well, and the technique and things that they're showing so far has been impressive."
For now, the coaching staff is enjoying teaching the basics and enjoying watching individuals develop.
Listen to post-practice interviews with Sitake, Detmer, Brown and linebacker Fred Warner on the "Cougar Cuts" page on KSL.com.
---
Freddy is a KSL sports radio intern covering BYU basketball. Follow him on twitter @freddycougar21.
×
Most recent Sports stories