Estimated read time: 4-5 minutes
This archived news story is available only for your personal, non-commercial use. Information in the story may be outdated or superseded by additional information. Reading or replaying the story in its archived form does not constitute a republication of the story.
GLEN CANYON NATIONAL RECREATION AREA — Park rangers at Lake Powell have been forced to take unusual steps to protect a unique historic inscription at Lake Powell.
Created by a legendary Spanish expedition in 1776, and undiscovered until 2006, it's Utah's oldest known physical evidence of non-Indian people.
Now the National Park Service has had to put a steel cage around the inscription to protect it from modern-day graffiti.
"Yeah, actually I think it's really unfortunate that we should have to put a fence up here," said Erik Stanfield of the National Park Service as he placed a descriptive sign on the front of the heavy-duty steel structure.
The location is about 25 miles up Lake Powell from the Glen Canyon Dam. A boat traveling that distance today roughly follows the route taken in November of 1776 by a desperate party of Spanish explorers. The Dominguez-Escalante expedition traveled for dozens of miles alongside the Colorado River, picking their way around rugged cliffs and canyons, looking for a way to get across.
As she traveled by speedboat up the man-made lake, park ranger Emily Upchurch said, "If you can imagine this area without Lake Powell here, this canyon would have been several hundred feet deep with very sheer-wall cliffs on either side."
The 1776 expedition is memorialized by a painted mural in the rotunda of the Utah State Capitol and by a statue at This Is the Place Heritage Park. Two Spanish priests, Father Francisco Atanasio Dominguez and Father Silvestre Velez de Escalante, led a group on horseback that was trying to establish a route from Santa Fe to Monterey on the California coast. They blazed a trail around much of what became Utah a century later, but they ultimately gave up because of bad weather and circled back toward Santa Fe.
When they ran into the Colorado River, it seemed like an insurmountable barrier. Hemmed in by a maze of cliffs and canyons, the two padres were running out of hope, according to writings in the expedition's journals. They were facing the worst, fearing they would never make it home.
"They finally did find a successful crossing in what is now known as 'The Crossing of the Fathers' in Padre Bay," Upchurch said.
Before the crossing, though, a member of the expedition apparently carved an inscription into the face of a cliff.
To help protect it, the National Park Service prefers not to publicize the exact location of the inscription. But it's a short hike from the lake in a narrow side-canyon. The evidence that Dominguez and Escalante once passed through the area is now safely secured behind a steel cage designed to keep recreationists from damaging it further with their own inscriptions. Modern-day graffiti is all over the place, even on a warning sign that says those caught doing it can be jailed or fined.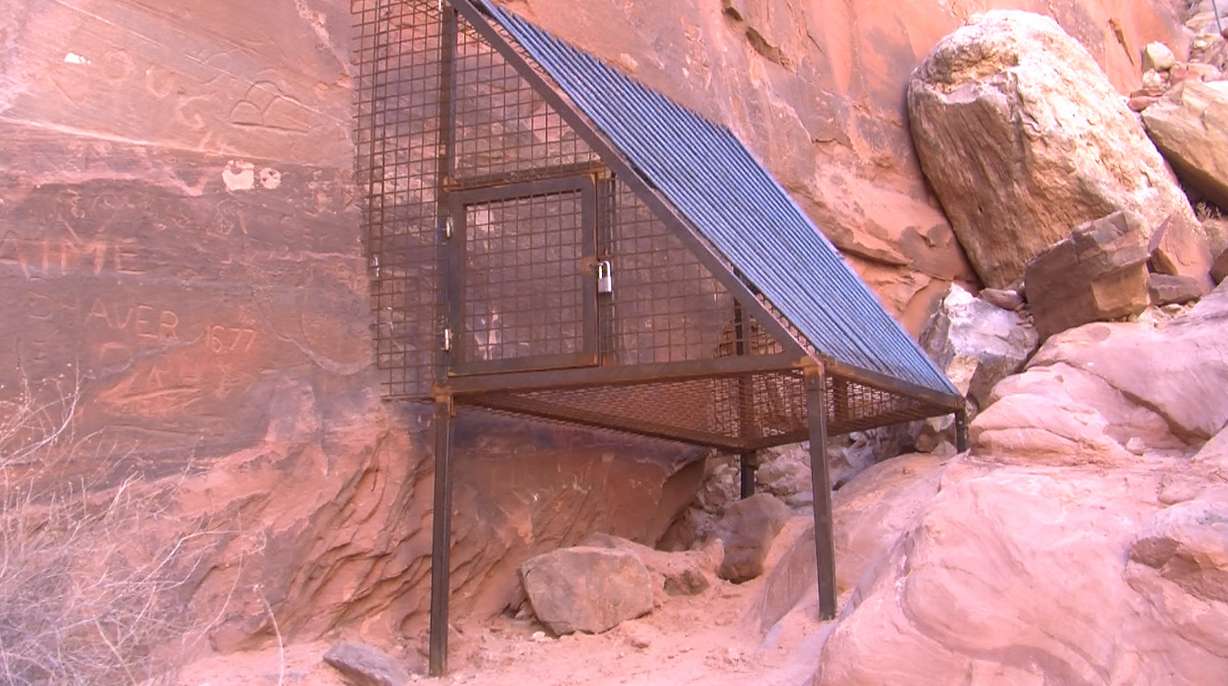 The 1776 inscription is difficult to make out on the cliff face. Before it was discovered, it was nearly destroyed by graffiti. It is still largely obscured by recent markings made by boaters from Lake Powell.
"This is '1776' right here," Upchruch said as she pointed to some faded markings with the blunt end of a pen.
"Actually you can see 'Rob and Kathi' carved right over the top of it," Stanfield said.
The inscription, in Spanish, is much easier to read in a computer-enhanced animation provided by the National Park Service. It removes the distraction of modern graffiti. "Paso por aqui, Anyo 1776," Upchurch said, reading it aloud. In English, she said, it reads "Passed through here, the year 1776."
The expedition journals suggest that the inscription may have been written in a moment of celebration. A short hike away, there's an alcove where the two padres and their men apparently took shelter from a fierce and terrifying storm.
"They were certainly very scared when they were hiding out in this alcove," Upchurch said. "The men gathered and they said a prayer. And it was very soon after the prayer that they did describe the sky opening up and a ray of sun coming down."
Did they make the inscription then — in gratitude for being saved? Or did they do it earlier, when they thought they were going to die? No one knows. Either way, Upchurch said, they wanted to leave a record in the only way they could. Visitors in modern times can just as easily tweet or send an email, instead of carving their message in such a special place.
"I feel like we're losing a little bit of history when that kind of thing happens," Stanfield said.
Ironically, the historic inscription was discovered a decade ago by a park service volunteer who was there to scrub away the graffiti. Fortunately, the volunteer recognized it as historic, just in the nick of time, before it was scrubbed away.
The graffiti clean-up program at Lake Powell is getting revived this year after several years without funding.
×
Photos
Related stories
Most recent Utah stories