This archived news story is available only for your personal, non-commercial use. Information in the story may be outdated or superseded by additional information. Reading or replaying the story in its archived form does not constitute a republication of the story.
SALT LAKE CITY — Kelly Seim and Katrina Berg fill their respective canvases with pleasantly muted tones from a similar soft color palette for their paintings.
The two Utah artists share several mutual friends in the art world and were introduced to one another at the Evergreen Gallery in Salt Lake City. After meeting, they recognized the complimentary aesthetics of their work and decided to put on a joint exhibit together.
Seim's paintings heavily feature female subjects set against a background of bright colors and elaborate patterns. However, in many cases, the colorful background is in direct contrast to the facial expressions of the subjects: a wistful, fatigued stare into the middle distance, reflecting the thoughts and emotions of the characters depicted. Being a licensed clinical social worker, Seim knows a thing or two about mental states.
"As a therapist, I'm always very interested in hearing about what people think about, dream about and fantasize about," Seim said. "My art sort of evokes that same thing, where I get to hear (my audience) talk about what they imagine that figure is thinking about or they get to project their own ideas onto it. It's an awesome process."
Seim said she is often asked why her characters seem so forlorn.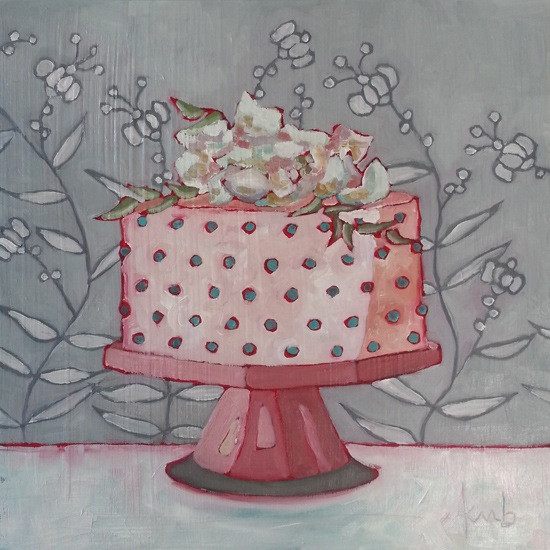 "There's a lot of pathos in my work," Seim said. "I find that people are more interested in a figure that is expressing something different than just happiness. When there's a little more complexity, I think it's more relatable. So there are these beautiful women and beautiful textures and bright colors, but there's also very clearly another layer to what's going on that's expressed by the looks on their faces."
Seim is intensely interested in female relationships and likes to highlight mothers, sisters and female friends in her paintings.
Berg's medium of choice is primarily oil paints. She is particularly attached to oil paints because of the versatility the slow drying paint affords her. Berg said she has always loved drawing, but didn't learn to paint until architecture school, when a friend gifted her a set of watercolors which she quickly took to.
Berg spent a couple semesters studying abroad in France and Italy. She studied landscape architecture, which focuses on tying outdoor spaces together through design.
"As soon as I learned that landscape architecture was a way to connect all the spaces, I was sold," Berg said.
---
It's funny. My 10-year-old said, 'Mom, I don't think about how much art we have in our home until I go somewhere else.' It's something they're growing up with and I think it's great.
–Katrina Berg
---
After graduating, Berg spent a lot of time doing plein air (outdoor) paintings with a friend and fellow BYU grad who introduced her to oils, which Berg says she became "obsessed" with.
"A lot of times, it looks a lot like frosting to me, so it just looks yummy," Berg said.
The fascination with frosting isn't surprising, considering that Berg's paintings often feature colorful cakes and other baked goods. As a mother who loves to bake, Berg doesn't often bake cakes, so she chooses to paint them instead because, as she says, "It's easier to paint a cake than to bake a cake."
With many fond familial memories surrounding food and celebrations, Bert finds that encapsulating cakes in an abstract still life painting is an easy way to remember them. The artist also observed that her home has an abnormally high amount of art and decoration.
"It's funny," she said. "My 10-year-old said, 'Mom, I don't think about how much art we have in our home until I go somewhere else.' It's something they're growing up with and I think it's great."
Berg and Seim will be exhibiting their artwork together at the Evergreen Gallery in Salt Lake City on Friday, Feb. 19.
---
Sean Stoker is a journalism student at UVU interning for KSL.com. He runs a YouTube channel at QuestSeans.com. Follow him on Twitter @theroyalthey
×
Photos
Related Stories