This archived news story is available only for your personal, non-commercial use. Information in the story may be outdated or superseded by additional information. Reading or replaying the story in its archived form does not constitute a republication of the story.
Editor's note: The above video contains foul language and graphic content and may be disturbing to some viewers. Viewer discretion is advised.SALT LAKE CITY — Salt Lake police on Wednesday received praise for not using deadly force against a man who allegedly sliced an officer's ear to the point that it was almost completely severed.
But on Thursday, some were raising questions about whether officers used excessive force while taking the man into custody after cellphone video that appears to have been recorded by someone from a nearby apartment was posted on YouTube.
"My little brother Leon Hall is in jail for cutting off part of a police officer's ear during an altercation. Is what he did OK? Not at all. Did the cop excessively beat him? … Yes," Hall's brother, Eli Hall, posted on Facebook.
Salt Lake police officers were called to check on a man who was banging on doors of the Pauline Apartments about 11:40 p.m. Tuesday near 120 S. 300 East. Once there, they encountered Leon Dane Hall, 23, who is listed in court records as being both from Salt Lake City and being homeless.
Hall refused to give the officers his name or any personal information and "resisted arrest by clinching his hands and arms and not following police commands," according to a Salt Lake County Jail report.
Salt Lake police released additional details Thursday, saying: "The officers asked the male to leave, then he became violent and attempted to assault both officers. The man and officer went to the ground and a dynamic struggle ensued with an officer using intermediate force in an effort to subdue the male."
Police said Thursday that it took five officers to eventually subdue Hall. The department would not say whether officers suspected he was under the influence at the time.
Police say Hall pulled out an 18-inch cast-iron lawn ornament with "jagged edges" and swung it at officers, causing one officer to suffer a gash on his forehead and a cut on his ear that one observer described as leaving his earlobe "barely hanging on."
Related:
In the YouTube video, a man — presumably Hall — can be heard yelling, "I need help" and "Stop!" several times as police surround him. The group is seen in the video near a driveway in a dimly lit area with a tree partially obstructing the video recorder's view. It is not clear whether the officer has already been cut when the video starts. "Stop. He's hurting me," the man screams along with what sounds like cries of distress.
Salt Lake police detective Montoya said Wednesday that the veteran officers used a baton and a Taser to try and bring Hall under compliance, but the Taser had no effect on him. Police believe they most likely could have also pulled their guns once the officer suffered a severe injury but chose not to do so.
The man can be heard screaming in much of the 90-second video for the officers to stop. The officers can also be heard in the video telling him, "Hands behind your back."
As the man continues to struggle, an officer can be heard in the video telling him to "knock it off" and another strikes him several times with a baton before the man is taken to the ground. The video shows approximately 12 swings of the baton by one officer as the man continues to yell, "Stop."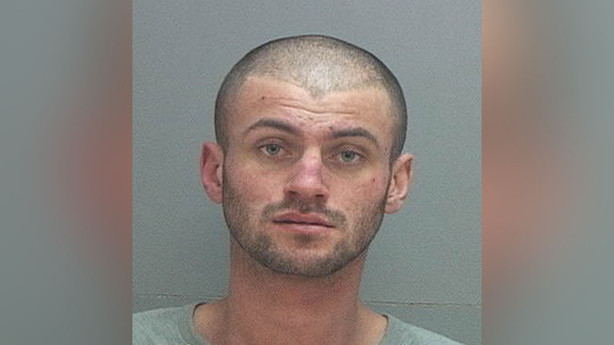 On Wednesday, police said Hall continued fighting with officers even after he was taken to the ground, refusing to flip onto his back so they could handcuff him.
Police also confirmed that the officers were wearing body cameras that were recording during the incident. But they declined a public records request by the KSL News to release their video, citing a pending investigation.
"An independent review of this incident will be conducted by the Civilian Review Board. There will be no further comment on this incident pending completion of the Internal Affairs investigation," Salt Lake police said in a prepared statement Thursday.
Salt Lake police detective Cody Lougy said Thursday that a report is filed, and an internal review is conducted anytime an officer uses force.
"If there's any question whatsoever, we always take a look at it," Lougy said. "We're constantly taking a look at those use of force reports to see if there is a better way we can do business and to make sure that use of force is reasonable and justified."
As the department and the Civilian Review Board look into the encounter between Hall and police, they are calling on any witnesses who may have seen or recorded the incident to come forward with what they know, Lougy said.
Eli Hall posted on Facebook a link to the video and wrote: "Hardest video I think I've ever had to watch. Here is my little bro being beaten by cops. He's literally begging for them to stop. Luckily he wasn't shot."
https://youtu.be/jgdvQsvuioQHere is the video of police brutally beating my little brother. Please share and voice your opinion.

Posted by Eli Hall on Wednesday, February 3, 2016
Leon Hall had recently been released from the Salt Lake County Jail after serving time for violating terms of a previous jail release, according to Utah state court records. A warrant was issued for his arrest on Jan. 27 for failing to appear in court on a charge of criminal mischief.
In 2014, Hall was convicted of interfering with an arresting officer, a class B misdemeanor. In 2013, he pleaded guilty to DUI and no contest with failing to remain at the scene of an accident involving an injury. A Breathalyzer test administered during his arrest showed Hall's blood-alcohol level was more than twice the legal limit.
Hall also pleaded guilty to public intoxication in 2011, according to court records. It was a few weeks later that Hall was in the news after allegedly being assaulted by a group of men shouting what he said were gay slurs at him as he walked home from Club Sound, 579 W. 200 South. The group punched him and kicked his head into a curb, resulting in serious injuries that required jaw surgery, he said.
Hall's brother stated on Facebook that his brother had not been the same since that assault.
"Leon has never been even remotely the same after being severely gay bashed a few years back. For those of you who personally know him, I'm sure you're aware that he has serious brain damage after that brutal beating and has been diagnosed with schizophrenia. He needs mental help, not jail time. Please, if you can spare five minutes of your day, call the Salt Lake City Police Department and let them know this. He is not in the right state of mind and should be treated as such."
Michael Aaron, the publisher of Q-Salt Lake who posted the video on its YouTube channel, knows Leon Hall and said it wasn't unusual for him to come to his house at all hours of the night. He said he was unsure if Hall suffers from a mental illness or is still reeling from the effects of the so-called "curb-check" attack in 2011, or if Hall may have been under the influence of something Tuesday night.
Contributing: Peter Samore, McKenzie Romero
×
Photos
Related Stories