This archived news story is available only for your personal, non-commercial use. Information in the story may be outdated or superseded by additional information. Reading or replaying the story in its archived form does not constitute a republication of the story.
SALT LAKE CITY — A Salt Lake police officer's ear was partially severed by a cast-iron flower while questioning a man who was allegedly banging on doors at random late Tuesday night.
The officer, whose name was not released Wednesday, was hit with what was described as an 18-inch cast-iron flower decoration that had "jagged edges" on the stem and a porcelain top, according to Salt Lake police detective Veronica Montoya.
The assault left a gash in the officer's forehead that required stitches, as well as a large cut on his "lower ear lobe" that also required several stitches. The ear was partially severed and "barely hanging on," one observer said.
The officer, who has more than seven years of experience, was treated at a local hospital and later released.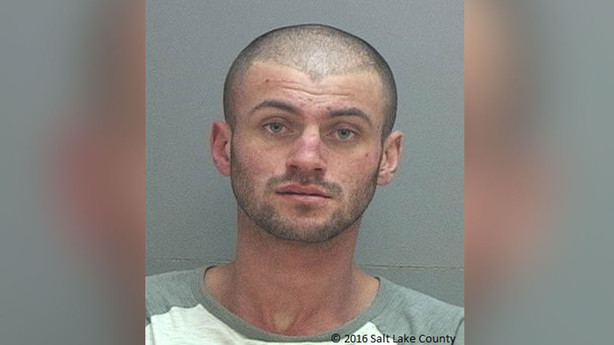 The man who allegedly assaulted the officer, Leon Dane Hall, 23, was also treated for minor injuries at a hospital before being booked into the Salt Lake County Jail for investigation of assaulting a police officer and interfering with an arrest. Hall is listed in recent court filings as being both from Salt Lake City and being homeless.
The incident happened about 11:40 p.m. Tuesday near 120 S. 300 East. Officers had been called to the area to check on a man who was banging on doors of the Pauline Apartments, Montoya said.
But as they began talking to him, Hall refused to give them his name or any personal information and "resisted arrest by clinching his hands and arms and not following police commands," according to a jail report.
"He became combative as soon as he was being questioned by officers," Montoya said.
Hall then allegedly pulled the cast-iron ornament out of a bag and swung it. The officer was close enough to him that he was hit, Montoya said. Hall swung the ornament at other officers who were able to get out of the way, she said.
Police then used a baton and a Taser to try and bring Hall under compliance, but the Taser had no effect on him, Montoya said.
The officers could have also drawn their guns in the situation, she said. But the officers who were at the scene, who Montoya said are all veterans on the force, decided they could resolve the situation without using guns.
"Officers felt comfortable enough to take him into custody without using deadly force," she said, adding that whether an officer uses a gun in a potentially deadly force situation is a judgment call.
"If they felt like they could control the situation without going to deadly force, then that's the decision they made last night," Montoya said.
According to investigators, Hall continued fighting with officers even after he was taken to the ground, refusing to flip onto his back so they could handcuff him.
Hall had recently been released from the Salt Lake County Jail after serving time for being convicted of violating a previous jail release, according to Utah state court records. A warrant was issued for his arrest on Jan. 27 for failing to appear in court on a charge of criminal mischief.
In 2014, Hall was convicted of interfering with an arresting officer, a class B misdemeanor. In 2013, he pleaded guilty to DUI and no contest with failing to remain at the scene of an accident involving an injury. A Breathalyzer test administered during his arrest showed Hall's blood-alcohol level was more than twice the legal limit.
Hall also pleaded guilty to public intoxication in 2011, according to court records. It was a few weeks later that Hall was in the news after allegedly being assaulted by a group of men shouting what he said were gay slurs at him as he walked home from Club Sound, 579 W. 200 South. The group punched him and kicked his head into a curb, resulting in serious injuries that required jaw surgery, he said.
×
Photos