Estimated read time: 3-4 minutes
This archived news story is available only for your personal, non-commercial use. Information in the story may be outdated or superseded by additional information. Reading or replaying the story in its archived form does not constitute a republication of the story.
WEST VALLEY CITY — Weston Umphenour, 21, has always enjoyed tinkering with automotive engines. It's an avocation the Riverton High graduate picked up from his father, who works as a technician for the Utah Transit Authority.
"I've always liked working on engines," he said. "At home, we've always worked on cars — (for) neighbors (or) whoever needs it. So I kind of fell in love with it at an early age."
It was that passion that prompted Umphenour to enroll in a pilot program at his high school during his junior year. That's when he was introduced to what would become the Utah Diesel Technician Pathways program.
Following high school and two years at Salt Lake Community College, he is today working full time for Wheeler Cat, with ambitions of one day becoming a diesel technician or engineer.
Designed to provide Utah students with a direct path from high school and college into the workforce, the program starts in high school with the completion of select classes. Upon graduation, students will complete an internship with one of the diesel technician industry partners and then at least one year of training at Salt Lake Community College.
This program involves collaboration between the diesel technician industry, education leaders and government, explained Gov. Gary Herbert. Addressing an audience of students, education and diesel industry leaders at the Cummins Rocky Mountain facility in West Valley City during an event announcing the official launch of the program, Herbert said productive education partnerships, such as the Utah Diesel Technician Pathways program, are important investments in the state's future.
"We are fortunate to have unique partnerships with industry and education leaders to better align workforce education with economic opportunities in Utah," he said Tuesday.
The initiative is similar to the Utah Aerospace Pathways program introduced last year, Herbert said, with the diesel technician industry creating a pathway that will open opportunities for young men and women who are interested in the diesel technician field.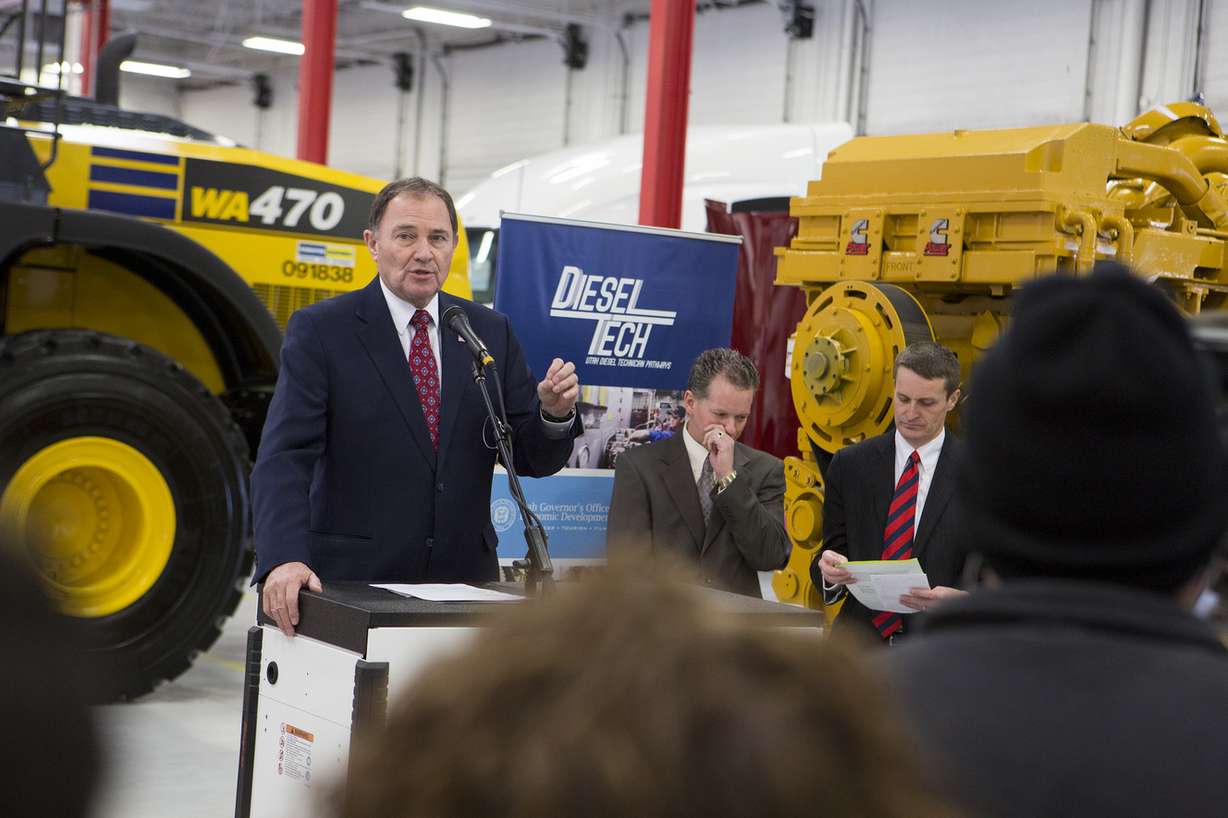 Participating in the program are six diesel technician industry partners, including Cummins Rocky Mountain, Jackson Group Peterbilt, Kenworth Sales Co., Komatsu Equipment Corp., Mountain West Truck Center, Volvo Mack and Wheeler Cat. The collaboration effort started in October 2015 with the goal of having the official program beginning during the 2016 school year.
The Canyons and Jordan school districts, which already offer a diesel technician curriculum, have joined in the collaboration to work with the industry partners to fully align the courses offered in their respective programs. Students enrolled in those classes can complete an internship after graduating high school and then, with additional training at SLCC, potentially get a job with one of the industry partners, said Canyons District Superintendent Jim Briscoe.
"We are excited about the opportunity to work with these school districts to strengthen our workforce in the diesel technician industry," said Kyle Treadway, president of Kenworth Sales Co. "Working with education will prove to be an asset to the industry community as we get to interact with the students who are interested in this career path."
The industry partners will be providing the school districts with the most up-to-date technology for their students to train on, said Brady Southwick, president at Cummins Rocky Mountain.
The program is geared toward building a pipeline of qualified candidates to work in the diesel technician industry in the years ahead, said Salt Lake Community College President Deneece Huftalin.
"This helps us make the pathway much clearer for students in high school that (know) they want to do this," she said.
Contributing: Jed Boal
×
Photos
Most recent Utah stories