Estimated read time: 5-6 minutes
This archived news story is available only for your personal, non-commercial use. Information in the story may be outdated or superseded by additional information. Reading or replaying the story in its archived form does not constitute a republication of the story.
SALT LAKE CITY — Mark Lewis, the deputy federal security director for the Transportation Security Administration in Utah, pulled up a picture of his son on his phone.
Anthony was his eldest child. Anthony was also one of 290 people who died in 2014 after overdosing on prescription painkillers in Utah.
"We didn't understand how much of an epidemic it was," Lewis said. "I would tell Tony, 'You just gotta quit.' (But) it's not that simple."
Sometime in the early 2000s, before public health officials realized the true scope of what was happening, the number of deaths from drug overdoses crept past gun deaths, then surpassed traffic fatalities, then continued to rise until they became what Dr. Kurt Hegmann calls "the biggest epidemic of anybody's lifetime."
"It's not even a close call," said Hegmann, who directs the Rocky Mountain Center for Occupational and Environmental Medicine at the University of Utah. "And to date we have been unsuccessful at doing much to slow it down."
On Friday, lawmakers announced a group of bills to target the opioid epidemic in Utah, which had the eighth highest rate of drug overdose deaths in the nation in 2014.
These bills have "one overarching objective," said Rep. Carol Spackman Moss, D-Holladay. "And that is to save lives."
Altogether, four lawmakers — one Democrat and three Republicans — spoke at a news conference Friday.
For many, addiction begins innocently.
Erin Finkbiner, a 32-year-old mom from Cottonwood Heights, was a thriving customer service representative with a supportive family when she started using — and then abusing — painkillers prescribed to her for her autoimmune disease.
When Finkbiner lost her medical insurance, desperation steered her to heroin.
She hid her addiction from her family and friends until, one day, she overdosed on heroin and was revived with a drug called naloxone. She found out she was pregnant shortly thereafter.
Finkbiner hasn't used drugs since. Now she's the mom to 1-year-old Max.
"When I was in active addiction, I had no idea anything was available. I didn't know about naloxone," Finkbiner said. "And I hid it from everyone."
Moss and Rep. Steve Eliason, R-Sandy, are sponsoring bills that would expand access to naloxone, the overdose reversal drug that saved Finkbiner's life.
In 2014, the Legislature voted to allow doctors to dispense naloxone kits to anybody who might need them.
The bipartisan support for the drug shocked Moss, the bill's sponsor.
Now she's is pushing to authorize any individual, including family members, law enforcement officers and substance abuse counselors, to give out naloxone so long as they receive instruction on how to use the kits and pass on those instructions to others.
That means vast numbers of people could get naloxone kits without needing a prescription from a doctor.
"If a family member goes to a doctor now, I heard some doctors won't even prescribe it," Moss said. "They don't even know about it. We need to get it on the front lines."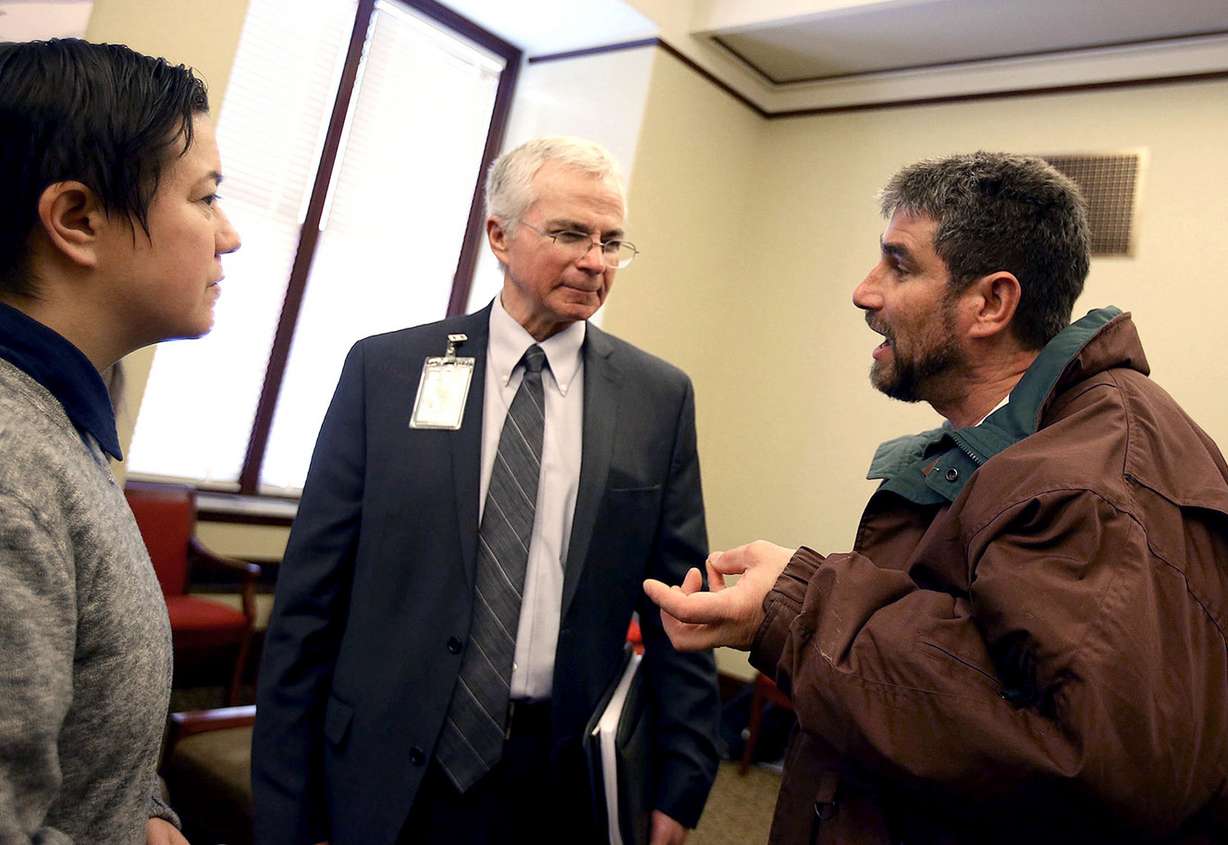 On Friday, Eliason also announced plans to run a bill that would authorize needle exchange programs.
Afterward, he said, "If you had asked me a year ago (about a bill to authorize needle exchange programs), I probably would have burst into laughter."
But after listening to legislators in other states, talking to public health officials and reading the studies, Eliason said he realized "it's a proven form of harm reduction that needs to happen in Utah."
Lawmakers and public health officials have taken notice of the persistent sweep of opioid addiction into demographics that previously seemed immune to it — white, educated and upper and middle class.
Hegmann and a colleague studied the backgrounds of 278 people who died from opioid overdoses in Utah in 2008.
They found that 98 percent were white and 57 percent had at least one prior work-related injury. The problem was also worse in rural areas than urban ones, Hegmann found.
It seems counterintuitive, but the problem is "too much access to medical care," Hegmann said.
When it comes to treating pain from injuries, "what I was taught in training is you start out with the opioid and maybe some ibuprofen and bed rest," Hegmann said.
He said providers are just now beginning to understand how dangerous prescription painkillers are and their limited efficacy in treating pain.
Rep. Mike McKell, R-Spanish Fork, wants to boost public health funding. One of his bills would authorize $500,000 of ongoing funding to the Utah Department of Health for a pilot program targeting opioid addiction.
Utah Department of Health Director Dr. Joseph Miner said the department decreased opioid overdose deaths by 28 percent between 2007 and 2010 when it received funding for the issue.
But that money ran out in 2010, and since then, prescription painkiller deaths have jumped up 27 percent, Miner said.
Dan Davidson, a certified peer support specialist who spent decades addicted to heroin and meth, said it's important to break the stigma of drug addiction.
Davidson said he has been clean almost two years and is in his third semester in community college. He wants to become a social worker.
It will be a challenge for the 48-year-old who dropped out in ninth grade. But he's "tired of losing people," he said.
In four months in 2014, Davidson lost nine friends to overdose or suicide.
A week ago exactly, he lost another one. The news came in the form of a text: She had been found dead in her living room.
"Addiction doesn't care," Davidson said. "It hits rich people, poor people, everybody out there. Anybody can become an addict."
×
Photos