Estimated read time: 3-4 minutes
This archived news story is available only for your personal, non-commercial use. Information in the story may be outdated or superseded by additional information. Reading or replaying the story in its archived form does not constitute a republication of the story.
SALT LAKE CITY — Not many people know that there's a piece of Hollywood right in Trolley Square. And you might not ever guess, it's at an eyeglasses shop.
Trolley Square is an iconic building in Salt Lake City rich with history. But few people know that inside the mall, tucked away on the second floor, is a little eyeglasses shop. And inside that shop is a man who is somewhat of an icon himself.
John Cottam owns The Spectacle. He doesn't often talk about his famous past, but he's sometimes referred to as the "Optician to the Stars." Cottam got his start in 1965 working in an eyeglasses shop on the Las Vegas Strip.
"One of the first ones came in right after we opened," Cottam remembered. "I looked and couldn't believe it was Ann-Margret. I didn't know what to say. I'm a little guy from a little town and here I am talking to her."
If that got his heart pounding, you can imagine how he felt when he was asked to commission a pair of glasses for Elvis.
The King of Rock and Roll famously wore them when he met President Nixon in 1970. Cottam crafted the sunglasses by hand in his garage. They were made of extremely lightweight aluminum, used to make airplanes.
"They were kind of his trademark," Cottam said.
Cottam also made glasses for two members of the Rat Pack, Dean Martin and Sammy Davis Jr., who lost one eye in a car accident.
"We were very careful to use the most impact resistant lens that was on the market at the time to protect the other eye," Cottam said.
One of Cottam's biggest clients was the Rocket Man himself, Elton John. Cottam crafted several pairs of glasses for the singer.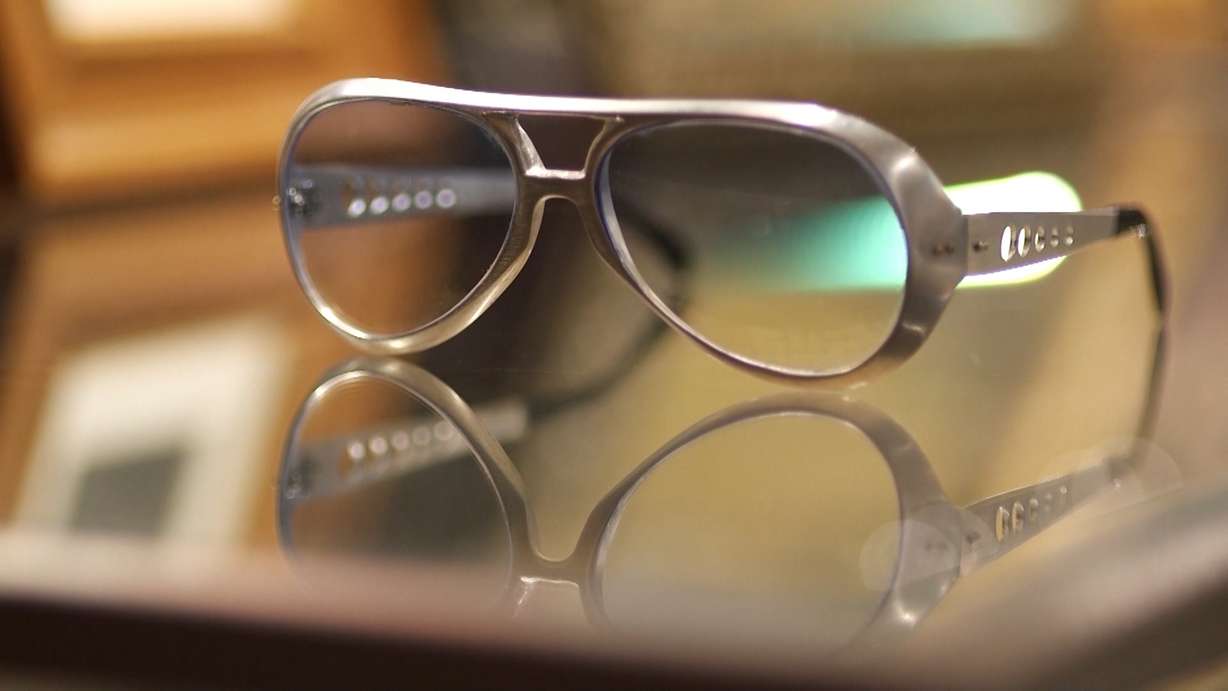 "This one was on one of his albums," Cottam showed KSL. "This is a pair of stars I cut out by hand for him."
Cottam also created a pair of Mickey Mouse glasses, a special request from Elton John, but Disney wasn't too happy.
"They said, 'Mickey Mouse is our trademark. Please don't make any more of those,'" he said.
Cottam didn't just make glasses for famous people, he made glasses for famous movies.
"I was approached to make some prop glasses for Blade Runner," he said. "They said it's for a guy. He's a detective. He's in the future and we want glasses with a lot of strange things on them."
He came up with a pair of glasses worn by the Chinese scientist in the film who was growing eyes.
"It's just a conglomeration of things," Cottam said. "It's supposed to look utterly baffling and scientific."
From stars of the past like Andy Williams to more recent clients like John Oates, Cottam has rubbed shoulders with some of Hollywood's biggest names. But if you happen into his shop you'll soon find out, even if he does have stars in his eyes, he hasn't let fame go to his head.
"I don't feel like I'm Michelangelo or anybody," he said. "I'm just a little guy from a little town having a lot of fun."
Cottam moved to Salt Lake City in 1985 after falling in love with Trolley Square. In addition to The Spectacle, he also owns a shop on the first floor called The Machine Age which specializes in everything from antique clocks and lamps to steampunk and ray guns.
×
Photos