Estimated read time: 3-4 minutes
This archived news story is available only for your personal, non-commercial use. Information in the story may be outdated or superseded by additional information. Reading or replaying the story in its archived form does not constitute a republication of the story.
SANDY — A 17-year-old Bountiful teen who survived a terrible car accident in 2014 wants to find and thank the people who stopped to help.
The accident occurred May 22, 2014 on northbound I-15 near 9700 South, according to a Utah Highway Patrol traffic accident report. Bountiful resident Logan Cook and four of his friends were attending a baseball game in Orem and began driving back home to Bountiful around 5 p.m. Cook said he was tired so he laid down to sleep in the cargo area of his friend's Jeep during the drive home. He said his friend who was driving also fell asleep and drifted into the median.
"He hit the median and then kind of swerved and that woke us all up," Cook said. "He kinda fishtailed and stuff, and on that last fishtail, he slammed on the brakes and it rotated the car sideways and we started rolling. When we started rolling, that was like the most horrifying thing. It was so loud and so crazy."
According to the accident report, the Jeep was traveling around 80 miles per hour when it rolled several times and slid upside down on its roof. Cook and another passenger were not wearing seat belts and were ejected while the vehicle was rolling.
"We broke through the windows," Cook said. "I think me and him were both knocked out when we were ejected. … Me and my friend were ejected onto the freeway into the middle of the traffic so we both ran off the freeway to the median. It was pretty crazy that we didn't get hit."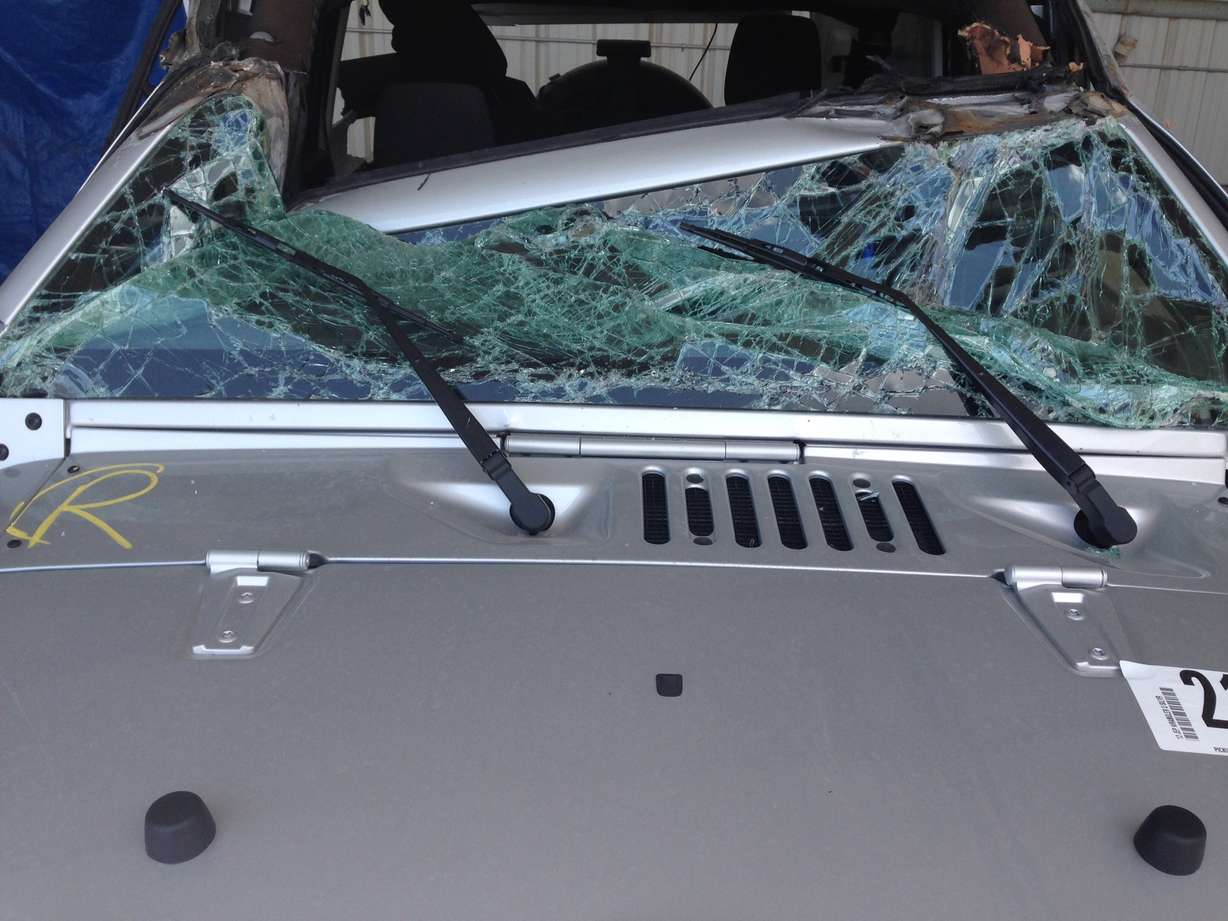 Although the accident occurred during rush hour, no other vehicles were hit when the Jeep rolled across several northbound lanes. Cook said all of his friends met at the median and miraculously none of them were critically injured. They all received concussions and Cook said he had severe road rash and sustained a fractured femur and several torn ligaments. His friend, Hayden St. John who was also ejected during the accident, sustained a laceration on his forehead, but was otherwise fine.
Cook said several cars immediately pulled over to the side of the road and the drivers came to offer assistance. He said he felt it was miraculous because the people who stopped all had some sort of medical training — there was a nurse, a paramedic, a doctor and a few EMTs. Cook said the nurse stabilized his leg while another man used rubbing alcohol to clean his road rash.
"That was really a blessing to us all those people that were there immediately and (were) able to calm us down," Cook said. "We didn't have parents with us or anything. So it was kind of an interesting experience."
Cook said the first responders helped him and his friends for about 20 minutes until the ambulance arrived. He and St. John were transported to an area hospital.
While Cook had to undergo physical therapy for several months, none of the teens sustained lasting injuries from the accident. He said it was a miracle they survived and he would like to find the first responders and thank them.
"It's a miracle honestly. That's what we think," he said. "These people were amazing and it was incredible, because so many people were there naturally, that had the training to deal with the situation. These are the people I want to thank. There's no reason we should be alive."
The first responders can get in touch with Cook by emailing him at loganmcook@gmail.com.
×
Photos