Estimated read time: 3-4 minutes
This archived news story is available only for your personal, non-commercial use. Information in the story may be outdated or superseded by additional information. Reading or replaying the story in its archived form does not constitute a republication of the story.
SALT LAKE CITY — Debbie Welder fights back tears as she recounts what brought Roxette to the floor at the Outdoor Retailer Winter Market.
Meanwhile, the 2-year-old dog settles into the arms of a stranger.
"Some of these dogs have never experienced this kind of attention and kindness," Welder said of the dogs available for adoption this weekend through a unique partnership between the public and private sectors.
"(Roxette) comes from a hoarding situation," she continued. "She was beaten, neglected. She's just been through a lot. And through it all, she was an amazing mom (to 10 puppies). It's really nice for me to see her receive this kind of attention."
The partnership between Ruffwear, an Oregon company that makes and sells outdoor gear for dogs, and Rescue Rovers, a Salt Lake nonprofit dog rescue group, means dogs like Roxette have a shot at more than kind words and cuddles.
"We know there are a lot of people that these types of dogs change their lives and vice versa," said Ruffwear brand manager Greg Freyberg, who oversees the adoption partnership that began last August. "And they're oftentimes a little harder to find homes for. So we thought this just made sense, where all of these active, outdoor people are collected."
Ruffwear doesn't just allow Rescue Rovers to hang out at its booth with adoptable (and adorable) dogs all day. The company also pays all expenses for the adoption, including fees and transportation costs. It even throws in a little enjoy-the-outdoors-with-your-dog starter kit for those who adopt during the Outdoor Retailer shows.
"It's the right thing to do," Freyberg said. "We call these RAD dogs — Ruff Adventure Dogs. They're dogs that need to get out; they need people who are active."
Patrick Kruse, who founded Ruffwear in 1994 and has two dogs himself, said the program grew out of a partnership the company has with Best Friends Animal Society in Kanab.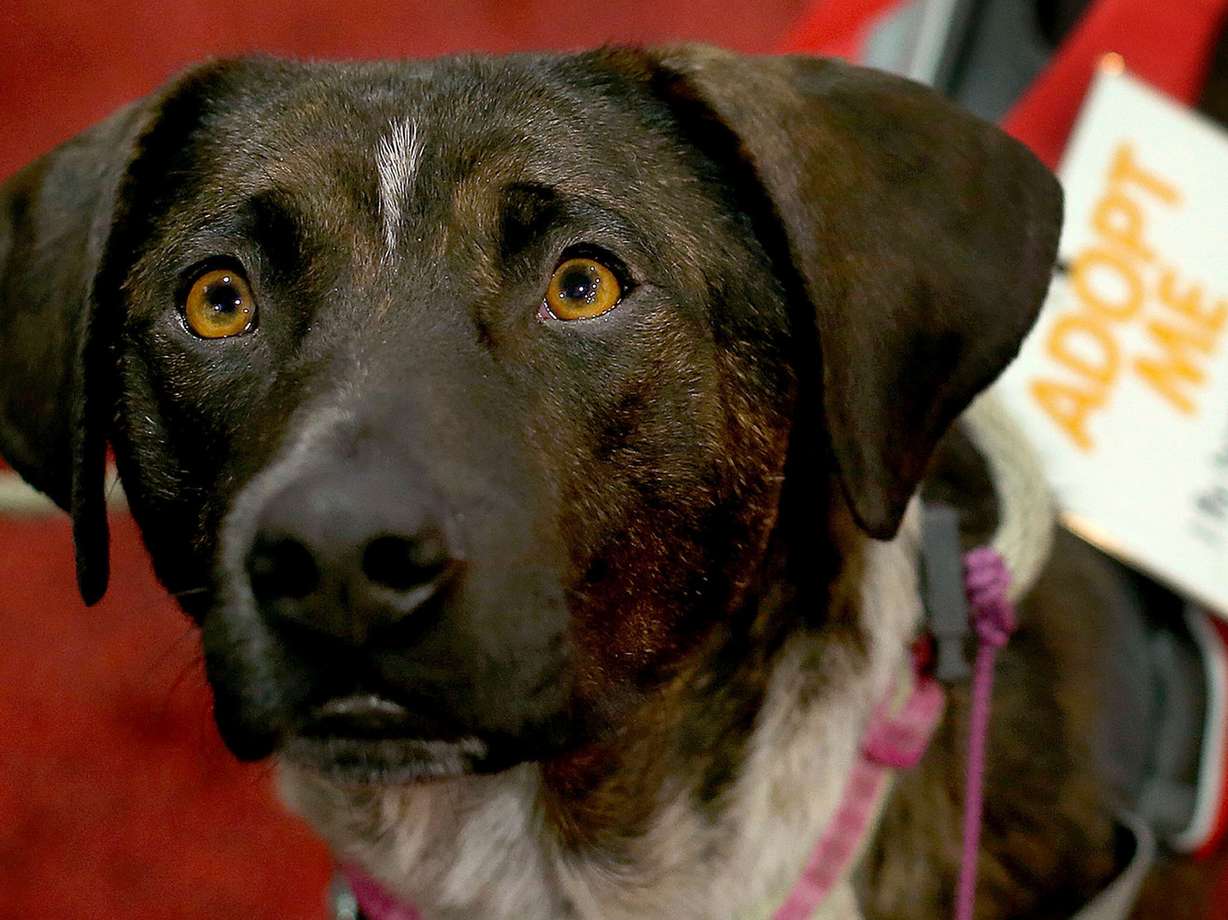 On Ruffwear's website, the company offers the chance to find a new trail companion through the RAD adoption program. So far, 12 dogs have found homes through the online program, which highlights dogs from Best Friends in Kanab and is fully funded by Ruffwear.
"I think it kind of fits with our mission of getting out with dogs," Kruse said as convention attendees stopped to pet the dogs. "Being active and having dogs be a part of our activities, I think it's just who we are."
In two days, the partnership has found homes for six dogs in Vermont, California, Colorado and Utah. Welder, a founding member of Rescue Rovers, said it's a perfect partnership for the organization.
"It's a very positive event for us because of the partnership," she said. "And the people who attend are high-quality adopters. They know what it takes to be a good dog owner. They understand the breeds and what that requires."
Janette Diegel, an education coordinator for Rescue Rovers who spent Friday with Roxette, said the group has a rigorous application process for a reason. The dogs have can be found at the Ruffwear booth between 11 a.m. and 4 p.m. each day of the show.
"Our goal is to find the right home, and not just any home because we make a lifetime commitment to our dogs," Diegel said. "If it doesn't work out, our dogs come back to us. It's very traumatic for the dogs. … The best way to do that is to get them in the right home to begin with."
×
Photos
Most recent Utah stories