Estimated read time: 2-3 minutes
This archived news story is available only for your personal, non-commercial use. Information in the story may be outdated or superseded by additional information. Reading or replaying the story in its archived form does not constitute a republication of the story.
SALT LAKE CITY — William Bloomfield says the new year is time for a do-over, and he's optimistic 2016 will be a good one.
"It will be if I can get off drugs," he said.
Bloomfield said he has decided to enter treatment and get on with his life.
"I've had enough of this," he said.
To start the new year, Bloomfield took part in the Salt Lake City Mission's New Year's Day observance at the Christian Life Center. From 7 a.m. to 4 p.m. Friday, organizers and volunteers offered food, entertainment, warm clothing and fellowship.
Shannon Harrison, program director for the Mission, said volunteers prepared some 3,500 meals for people to eat throughout the day. The day's events also included an adult coloring contest, movies and occasional spiritual messages intended to uplift and to encourage a stronger connection to Christ and the mission's programs.
"I feel like we're doing what God intends us to do, trying to give people a hand up. What we find a lot of times with the homeless, the community, pretty much all around, casts them to the side and treats them as if they don't exist. It's easier to look the other way," Harrison said.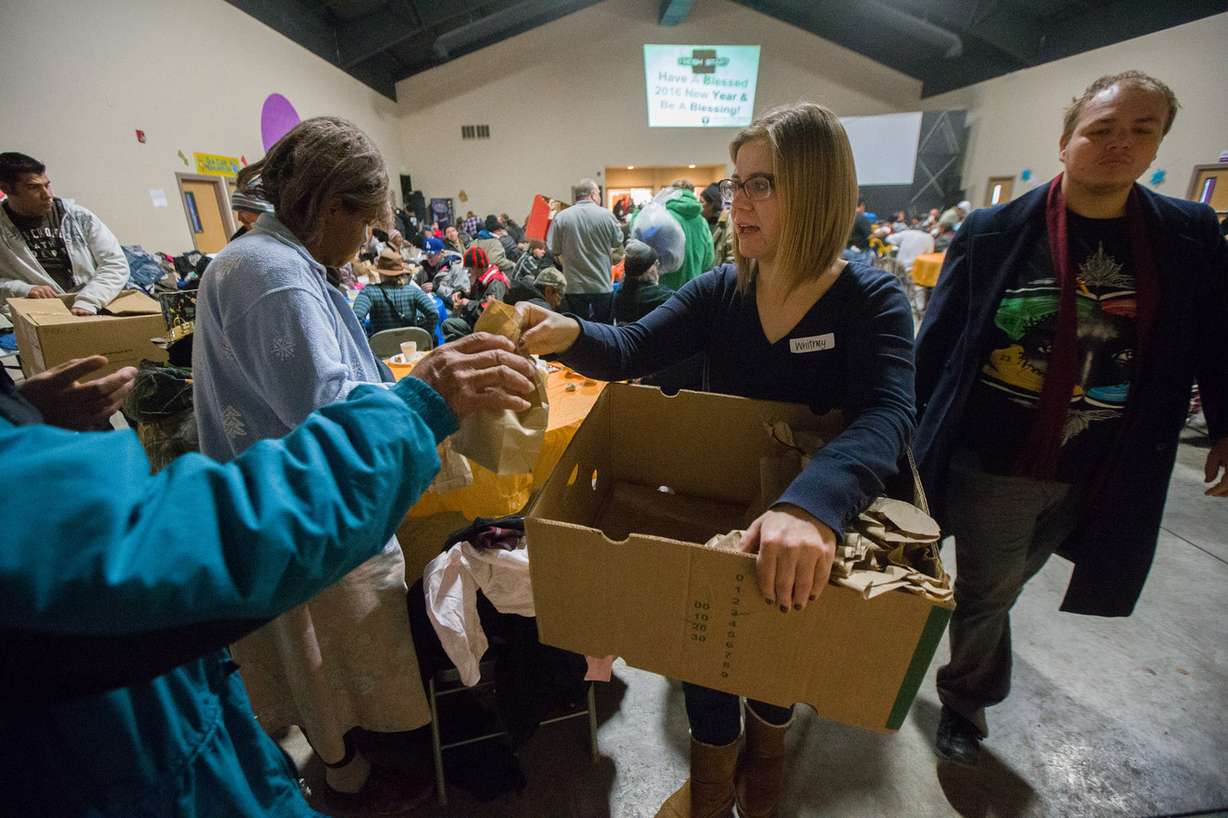 "A lot of times I see people looking down. For them to have someone lock eyes with them and genuinely care, it's definitely different for them."
Kyle Hansen, who recently sought shelter at The Road Home with his young family, said he is more of a homebody, but his wife, Jerika, and their 6-month-old daughter, Rosalyna, prefer socializing with others.
As it turned out, Hansen said he was glad to be part of Friday's festivities, too.
"The food is all right, and I've really been needing some socks. Also, talking to people is good," he said.
Sarah Snider, who has interned with Salt Lake City Mission since March, said she hopes Friday's event helps people experiencing homelessness start the year on a positive note.
"It gives people hope that this is going to be a better year for them," she said.
While the event provides meals and a respite from bitter cold temperatures, it also serves as a reminder to people who are homeless that "they are loved, accepted and that they matter," Snider said.
The Salt Lake City Mission helps people experiencing homelessness and addiction with a number of programs and services throughout the year, Harrison said.
While the help of the larger community is always appreciated, Harrison said sometimes the greatest kindness someone can extend to a person going through difficult times is to meet them in eye, shake their hand and greet them warmly.
"Have some humanity. These are people. These are God's children," she said.
×
Photos
Related stories