Estimated read time: 2-3 minutes
This archived news story is available only for your personal, non-commercial use. Information in the story may be outdated or superseded by additional information. Reading or replaying the story in its archived form does not constitute a republication of the story.
MOSS LANDING, Calif. — A stealthy shark off the coast of Central America has an unusual advantage over its prey: its head glows.
The Etmopterus benchleyi is the first lanternshark species to be discovered in that area, according to a report published in the Journal of the Ocean Science Foundation on Dec. 21. Its scientific name was given in honor of "Jaws" author, Peter Benchley, who dedicated much of his time to promoting oceanic conservation to counter the movie's negative portrayal of sharks, according to lead author Vicky Vásquez. Vásquez, of the Pacific Shark Research Center, turned to four children between the ages of 8 and 14 for a more catchy common name. They came up with "ninja lanternshark" based on the shark's uniform black color and cloaking ability. The report states that the shark's appearance is "somewhat reminiscent of the typical outfit and stealthy behavior of a Japanese ninja."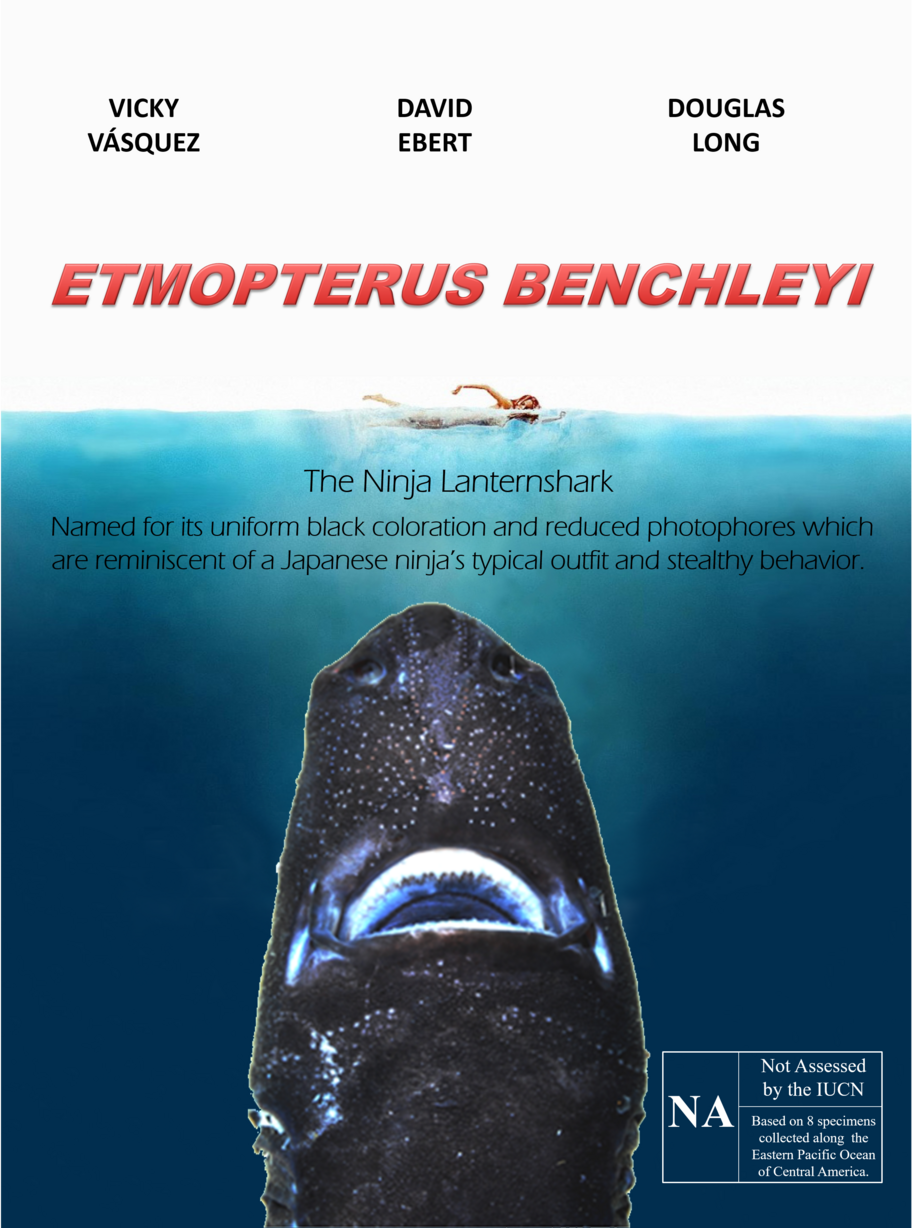 "We don't know a lot about lanternsharks," Vásquez told Hakai Magazine. "They don't get much recognition compared to a great white, so when it came to this shark I wanted to give it an interesting story."
Eight of the sharks were collected from underwater depths of between 836 and 1443 meters, or about .5 and .9 miles, for the research. Researchers determined that most of the shark's photophores, which give off light, are on its snout and head.
The shark doesn't pose a threat to humans, according to Vásquez.
"I've seen a few reports alluding to how dangerous and scary this shark might be, which is pretty funny to me since the largest one we found (a full grown adult) was 515 mm (20.3 inches) long from head to tail," she wrote in an email. "Since we don't have a lot of specimens we can't confirm if they grow larger. Nevertheless, since it lives in the deep sea a chance encounter with people is highly unlikely."
While its photophores aren't quite as dense as other lanternsharks, researchers believe the shark gives off a blue light. The faint light could help the shark blend in with shadows and lure in prey.
There are 37 other known species of Etmopterus sharks, which are commonly referred to as lanternsharks.
×
Photos
Related links
Most recent Features stories