Estimated read time: 4-5 minutes
This archived news story is available only for your personal, non-commercial use. Information in the story may be outdated or superseded by additional information. Reading or replaying the story in its archived form does not constitute a republication of the story.
SNOWBASIN — Ski patroller Mike Erickson was partially buried in an avalanche Tuesday morning at Snowbasin Resort after getting caught up in the slide while trying to make a slope safer for skiers and snowboarders.
By the afternoon, Erickson, who is recovering from cracked ribs, was warning others about the severe avalanche risk in Utah this week.
His encounter with the elements comes amid warnings from the Utah Avalanche Center about fragile conditions on mountain slopes up and down the Wasatch Front that could lead to massive slides.
Avalanche danger
On Tuesday, the avalanche center warned of "high" avalanche risk in mountain ranges in Salt Lake, Davis and Weber counties.
Mountain ranges in Utah County posed a "severe risk" Tuesday, officials said, adding that avalanches there a certainty.
Avalanche risk also remained high in the Uinta Mountains and mountain ranges surrounding Abajo Peak and Moab.
Utah Avalanche Center forecaster Craig Gordon said avalanches set off in remote areas statewide are likely to be violent.
"This is the real deal right now. Any avalanche that's triggered in the backcountry is going to break deep, it's going to break wide, it's going to take out the entire season's snowpack," Gordon said Monday. "So we're talking avalanches that are tree-snapping (and) unsurvivable."
'Extremely lucky' avalanche encounter
Erickson, a 15-year ski patrol veteran, was near the John Paul ski lift to mitigate any avalanche risk close by. He was hit around 7:45 a.m., shortly after he detonated a "hand charge," an explosive device meant to enable minor slides and prevent larger avalanches.
Erickson also hit a tree on his way down the mountainside and is "extremely lucky" not to be more seriously hurt, said Weber County Sheriff's Lt. Brandon Toll, who heads the agency's Search and Rescue team.
"He's a professional," Toll said. "He does this for a living, making the resort a safe place for the customers to come."
#avalanche_deaths
Erickson employed an air bag designed to make him more likely to stay on top of the sliding snow. Two other ski patrollers nearby rushed to his aid and sledded him out of the area.
Snowbasin spokeswoman Tess Hobbs expressed gratitude for Erickson's work reducing avalanche risk at the resort and called the mitigation essential.
"Our guests and our staff safety is our utmost importance, so for us avalanche reduction work is incredibly important," Hobbs said.
More snow coming
Strong avalanche risk this week is accompanied by a winter storm that's dropping a lot of snow at Utah resorts. Snowbasin recorded at least 22 inches of new snow as of late Tuesday afternoon, and about 33 inches had fallen at Deer Valley Resort in Park City.
Southern Davis County was also hit hard Tuesday, as residents along the Bountiful bench received 10 inches of snow.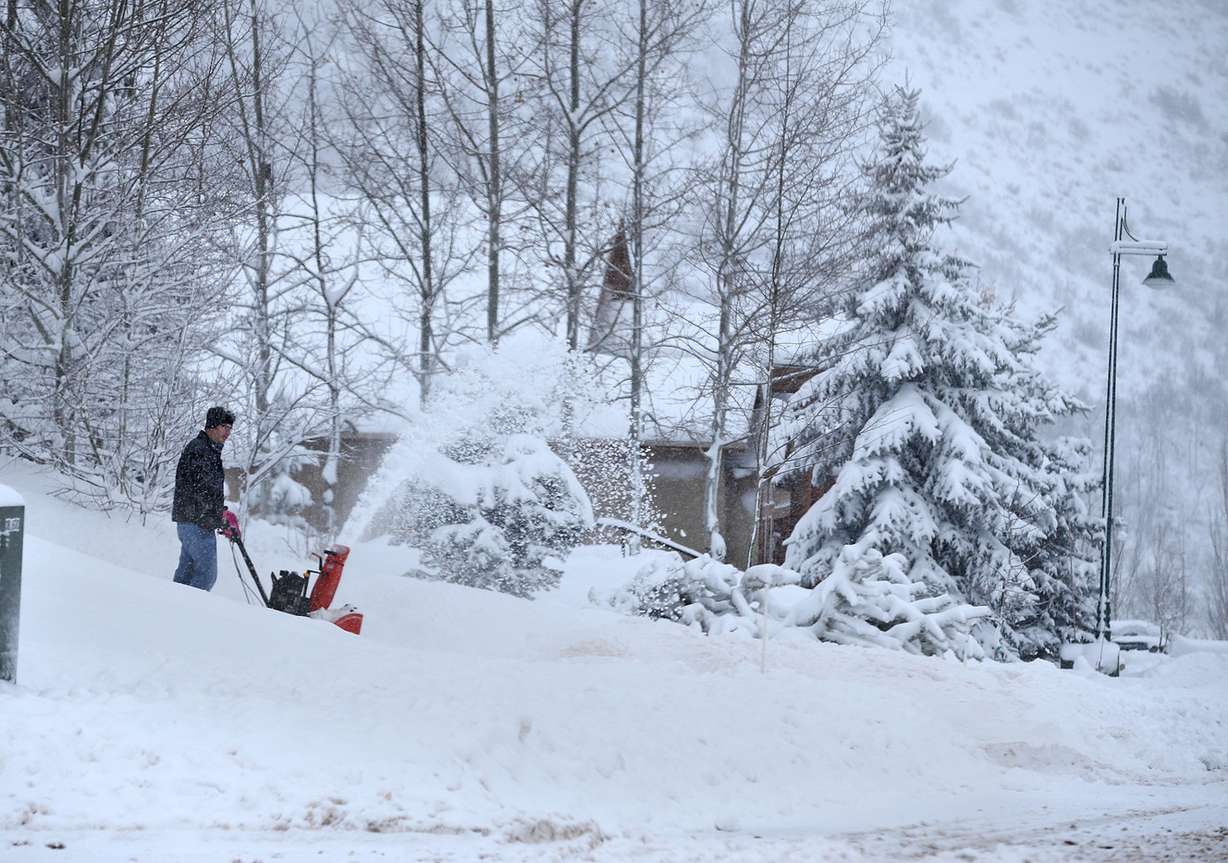 #snow_pic
The storm system moved into the Wasatch Front from the west and began as rain overnight but turned into snow in the morning and afternoon, said KSL-TV meteorologist Dan Guthrie. The precipitous weather system will likely be replaced by drier weather beginning the day after Christmas, he said.
Wasatch Front residents can expect between 1 and 4 inches of snow late Tuesday and into Wednesday morning, according to Guthrie.
"There will be a mess on some of the roadways," he said, noting that ice also could be a problem.
Road conditions contributed to crashes and slide-offs throughout northern Utah on Tuesday.
The Utah Highway Patrol reported 54 highway crashes in Salt Lake County, 20 in Davis County and 11 in Utah County. Weber County saw at least 40 crashes on its highway through Tuesday afternoon, though the combined police dispatch center there was too inundated with weather-related calls to report an evening total, said Utah Highway Patrol Trooper trooper Evan Kirby.
In all, 14 people were reported injured in the counties' combined crashes. None of the injuries were considered life-threatening.
Contributing: Mike Anderson
×
Most recent Utah stories