Estimated read time: 3-4 minutes
This archived news story is available only for your personal, non-commercial use. Information in the story may be outdated or superseded by additional information. Reading or replaying the story in its archived form does not constitute a republication of the story.
WEST VALLEY CITY — Rep. Jason Chaffetz, R-UT, spoke with a Muslim congregation at the Khadeeja Mosque on Monday, addressing their concerns about the faith being misunderstood nationwide in light of the recent ISIS-inspired mass shooting in San Bernardino.
In a question and answer session, Chaffetz told about 50 Muslim leaders and congregants he is strongly against any proposals to bar members of the faith from immigrating to the United States. He didn't specifically refer to Donald Trump, whose remarks last week about disallowing muslim immigration came under heavy criticism from high-ranking Republicans and Democrats, as well as others.
"Some of the reaction to (ISIS-inspired violence) has been far too much and way over the top. ... I think it needs to be called out for what it is – it's intolerance," Chaffetz told those gathered.
Chaffetz said it is reasonable for refugees to expect a rigorous screening process before entering the country, and that legitimate concerns exist about ISIS-influenced extremists who act "upon weakened souls ... to create terrorism." But he said he flatly rejects the notion of screening anyone for their faith.
"When somebody steps up and says no more Muslims, that's not reasonable, that's not moral ... and it's not something I could ever support," Chaffetz said.
The congressman was joined at the meeting by Imam Muhammed S. Mehtar, who heads the Khadeeja Mosque as well as the Islamic Society of Greater Salt Lake. Imam Mehtar said he and members of his congregation are burdened by the association others make between them and violent terrorist groups.
"It is a painful realization for all of us that distant conflicts affect us now," he said."
Imam Mehtar expressed gratitude for Chaffetz's visit, saying "it shows a link between ourselves." He asked the congressman to promote understanding of the faith among decision-makers in the federal government.
With more than 1.5 billion Muslims worldwide, Imam Mehtar said it's inevitable "there are going to be some bad apples."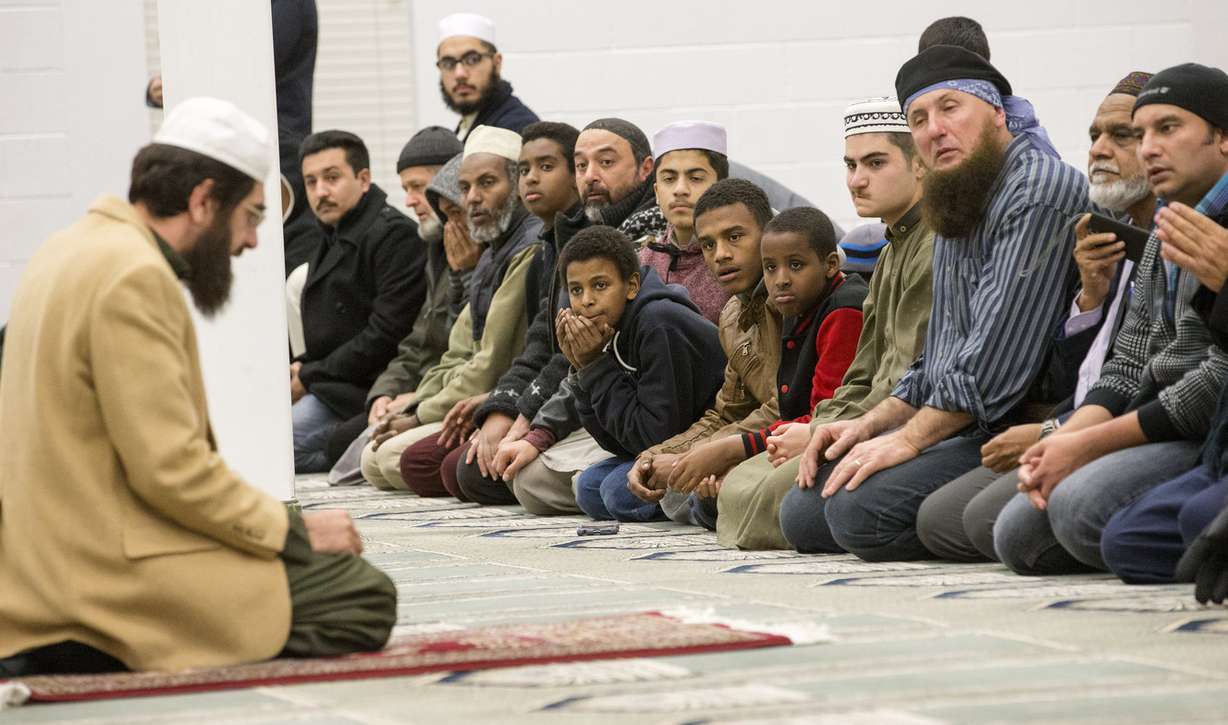 Khosrow Semnani, a prominent Muslim figure in Utah and founder of Envirocare, which later became part of EnergySolutions, praised several Christian churches for recently condemning public policies hostile to Muslims.
"They all came out and made formal statements (saying) that an attack on any religion, including Islam, is an attack on all religions," Semnani said.
Chaffetz asked the congregation to help him understand why, in his view, terrorists frequently cite Islam as their motivation, while the majority of Muslims want peace.
"There is this .. radical version of Islam that's taking the lives of innocent people," he said. "Correct me if I'm wrong, but that's my perspective."
Several people asked Chaffetz questions expressing their frustration with media portrayals of terrorism, saying that Christians and people of other religions who commit killings are not as closely tied to their religion. Two women said they were discouraged that ISIS is portrayed as an extreme offshoot of their religion.
"We're not a part of them and they're not a part of us. They're terrorists," one woman said.
A man in the audience disagreed with Chaffetz's view of radicalized Islam being responsible for terrorist acts.
"There is no radical Islam. There is only Islam. Islam is not radical," he said, adding that ISIS's ties to the religion are weak.
One woman asked Chaffetz to refer to the Islamic State of Iraq and Syria by another name, considering the organization's disparities with the faith. She said the word "Islamic" in the name of the organization needlessly "just fuels the fire."
Chaffetz said he is trying to "get it right" by balancing vigilance regarding the dangers of radicalized Islam and providing compassion and inclusion for Muslims who feel blamed and ostracized for events beyond their control. He told the youth at the mosque to be proud of their heritage.
"Young people here, be proud of who you are," Chaffetz said. "Stand true and tall for who you are and know we love and care for you."
×
Photos
Related stories
Most recent Utah stories