Estimated read time: 4-5 minutes
This archived news story is available only for your personal, non-commercial use. Information in the story may be outdated or superseded by additional information. Reading or replaying the story in its archived form does not constitute a republication of the story.
SALT LAKE CITY — Los automovilistas se enfrentaron a un lento viaje a lo largo del Wasatch Front el lunes por la mañana mientras la primer gran tormenta de la temporada trajo nieve.
Varios coches que resbalaron fueron reportados en la I-15, a la que el fotógrafo de KSL, Derek Petersen, describió como "un estacionamiento" a la altura de la 10600 South.
UDOT tuiteó un accidente en dirección oeste en la I-215 que bloqueaba la salida de la Highland Drive en Cottonwood Heights, pero fue despejado antes de 8 a.m.
UHP reportó numerosos deslizamientos en el Condado de Davis.
En el condado de Utah, los conductores dijeron a KSL Newsradio que tardaron dos horas en llegar desde Provo a West Jordan. Otros reportaron una diferencia entre la "noche y el día" entre la nieve de Springville y Provo, con la nieve apenas pegándose en Springville pero con carreteras reportadas como "horrible" en Provo.
Escuelas
Los retrasos y cierres incluyeron Mana Academia Charter School en West Valley City, que fue cerrada el lunes debido a la nieve, de acuerdo con su página de Facebook.
La Hollywood Charter High School, también en West Valley City, informó un inicio tardío a las 10:35 a.m.
Legacy Preparatory Academy South Campus K-4 en el norte de Salt Lake iniciará a las 10 de la mañana, el jardín de infantes de la mañana fue cancelado. Y Legacy para los grados 5 a 9 en Woods Cross comenzó a las 9:45 a.m.
Y el Distrito Escolar Granite twiteo que tanto Eastwood Elemental como Oakridge Elementary están en un protocolo de comienzo tardío comenzando la jornada a las 10 a.m.
Los padres y los estudiantes deben consultar con su escuela acerca de posibles cierres o aperturas tardías.
Restricciones
Vehículos cuatro por cuatro o con cadenas para la nieve son necesarios para viajar a través de Big y Little Cottonwood Canyon y en Parleys Canyon.
UDOT dijo que el hábito de conducción que contribuye más significativamente a los accidentes en las carreteras cubiertas de nieve son los conductores que van demasiado rápido para las condiciones climáticas. Su recomendación es tomar su tiempo y llegar vivo.
Una advertencia de tormenta invernal estaba en efecto para todas las montañas del norte de Utah y valles, con hasta 10 pulgadas de nieve que se espera en las montañas.
El Servicio Meteorológico Nacional compartió "impresionantes" totales de nieve en la mañana del lunes: 13 pulgadas en Bountiful, 12 pulgadas en Cottonwood Heights, 11 pulgadas en Sandy, y siete pulgadas en las avenidas superiores.
Se espera que la nieve continúe hasta el martes. Obtengan el pronóstico completo en la Página de KSL.
Las autoridad de Tránsito de Utah publicaron en su cuenta de Twitter que los limpiadores de nieve estaban en camino en muchas rutas de autobús. Para obtener información sobre una ruta específica, por favor llame al 801-RIDE-UTA.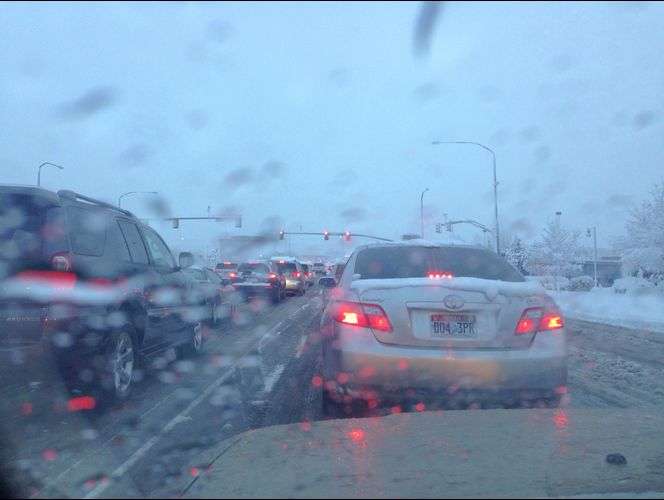 El TRAX estaba experimentando retrasos de entre 10 y 15 minutos en las líneas rojas y azules debido a problemas relacionados con la nieve, UTA tuiteó. Las personas que usan FrontRunner deben esperar retrasos, también.
Corte de energía
Rocky Mountain Power informó de un corte de luz para alrededor de 1.041 clientes en Bluffdale y Draper el lunes por la mañana. Los afectados se encuentran en los códigos postales 84020 y 84065. La causa de la interrupción se desconocía.
Se esperaba que la energía fuera restaurada antes de las 2 p.m.
Advertencias de avalancha
Las autoridades también han emitido una vigilancia de avalancha en las montañas del norte y centro de Utah. El U.S. Forest Service Utah Avalanche Center, dijo el domingo que se espera condiciones de avalancha peligrosas para comenzar el lunes y durarán toda la semana en el sureste de Idaho, la gama del Bear Lake, la Western Uintas y el Wasatch Plateau.
El peligro será mayor en las laderas medianas y superiores en elevación hacia el oeste y el norte.
La advertencia no se aplicaba a áreas de esquí donde normalmente se lleva a cabo el control de avalanchas.
Contribuidores: Peter Samore, Haley Smith, Nicole Vowell
×
Most recent News stories