This archived news story is available only for your personal, non-commercial use. Information in the story may be outdated or superseded by additional information. Reading or replaying the story in its archived form does not constitute a republication of the story.
PROVO — BYU's Bronco Mendenhall will step down as head football coach at the end of the season to accept the head coaching job at the University of Virginia, and his absence leaves a gaping hole for the Cougars' next hire.
BYU head coaches must be approved by the Board of Trustees, which includes members of the First Presidency of The Church of Jesus Christ of Latter-day Saints. The head coach is also required to be a temple recommend-holding member of the church in good standing, Tom Holmoe confirmed Thursday night.
"If you look around the country at all the candidates, I know all of them," Holmoe said. "I don't need a search firm to tell me who they are. The pool could be 40 candidates for a job such as Bronco's."
Still, the BYU athletic director said he has already reached out to a few potential candidates for the position, and expects to have a hire in place as soon as possible. Holmoe will not consult with a search firm, and will be in charge of making the final hire.
"I'm looking for leadership, expertise, someone that has a great connection with players and can bring the best out of their players," he said. "I'm looking for someone who can be fully aligned with the mission of the school. Recruiting is a huge part these days."
With some of those basic qualifications in mind, here are five head coaching candidates who at least deserve an interview for the vacancy in Provo.
Ken Niumatalolo, Navy
In eight seasons as head coach of the former FBS independent U.S. Naval Academy in Annapolis, Maryland, Niumatalolo tallied a 9-2 regular-season mark in 2015 and a 7-1 record in the Midshipmen's first season in the American Athletic Conference.
Niumatalolo has Navy back in the top 25 for the first time since 1978, and his team was known for committing the fewest penalties (35) and turnovers (7) in the nation in 2015.
On top of all that, the Niumatalolo family was recently a franchise role in the documentary "Meet the Mormons," released last summer. In the film, Niumatalolo spoke openly about his job, his Polynesian upbringing, and his current church calling as a nursery leader in the family's D.C. area ward.
An offensive coach by trade, Niumatalolo helped raise quarterback Keenan Reynolds' stock to fringe Heisman Trophy candidate by employing a triple-option offense, a regular staple of the service academies.
Niumatalolo's son Va'a is a sophomore linebacker at BYU.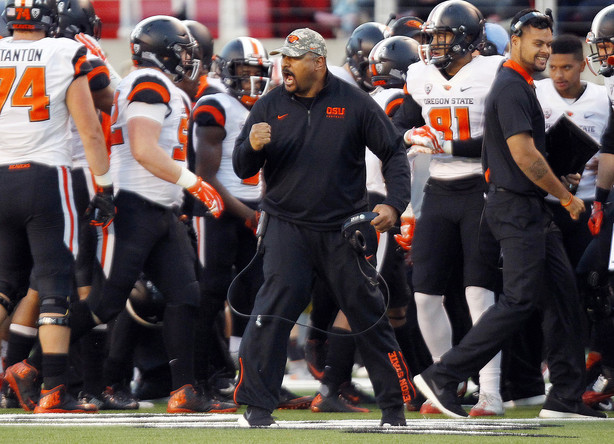 Kalani Sitake, Oregon State
The rise of the former Utah defensive coordinator over the past few seasons has been remarkable, and Sitake will likely have head coaching offers as soon as he wants to entertain them.
The BYU graduate has a reputation as a heralded recruiter, bringing in top signing classes to both Utah and Oregon State while maintaining a strong connection to Utah high school athletes, LDS recruits and many from the Polynesian islands. He has a 7-1 record as a coach in eight bowl games, and he was the linebackers coach during Utah's undefeated season in 2008 that ended with a Sugar Bowl victory over Alabama.
On the field, Sitake's defenses were among the best in the Pac-12, ranking second in yards allowed and passing defense, and leading the NCAA in sacks.
Kyle Whittingham, Utah
A former All-American linebacker at BYU, Whittingham was a candidate to replace Gary Crowton when Mendenhall got the job in Provo 11 years ago. The Utah coach has taken the Utes to new heights, guiding them through a transition into the Pac-12 and back-to-back bowl-eligible seasons.
Whittingham has an 8-1 record in bowl games, including helping the Utes to a win in the 2005 Fiesta Bowl shortly after taking the job on the hill. A defensive specialist, Whittingham was named the 2008 national coach of the year, and he has 170 career victories in his time as the head coach and an assistant with the Utes — more than any other football coach in school history.
Whittingham, however, would also likely have to take a pay cut to return to his alma mater, as the Utes' television contract with the Pac-12 has been publicly more lucrative than BYU's deal with ESPN.
Lance Anderson, Stanford
The defensive coordinator at Stanford has coached for the Cardinal for nine seasons, with positions under head coaches Jim Harbaugh and current top man David Shaw under his belt. While coaching Stanford's linebackers and defensive tackles, he was instrumental in leading the Cardinal to back-to-back Rose Bowl appearances in 2013-14 by putting the nation's top defensive unit on the field.
Stanford has been a top-15 team for the past four seasons, all with Anderson playing a role on that side of the ball.
A 1996 graduate of Idaho State, Anderson doesn't have a direct connection to BYU or Provo. His only connection to the Provo university, then, is that he is LDS — making him one of a limited pool of candidates eligible for the head job at BYU.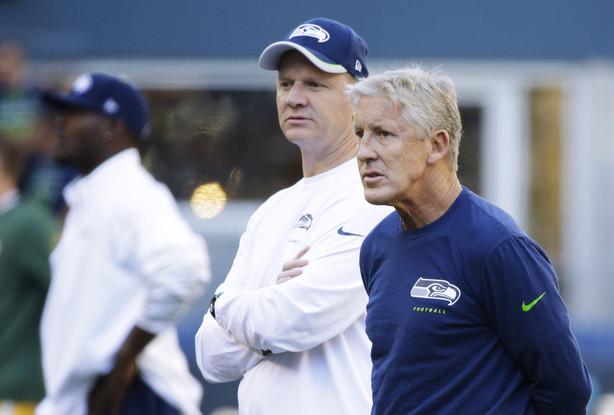 Darrell Bevell, Seattle Seahawks
Bevell has been with the Seahawks since 2011, including serving as the team's offensive coordinator en route to a Super Bowl XLVIII win.
After a collegiate career at Wisconsin, Bevell went undrafted in 1995 and began his coaching career as a graduate assistant at Iowa State two years later. He joined the Green Bay Packers as an assistant quarterbacks coach in 2000, and has been in the NFL ever since with jobs in Minnesota and now Seattle.
A native of Scottsdale, Arizona, Bevell served a two-year mission for the LDS Church to Cleveland, Ohio, and he received scholarship offers from Northern Arizona and Utah before opting to join former head coach Barry Alvarez at Wisconsin. His wife's parents, however, live in the Provo area.
Other potential candidates:
Robert Anae, BYU; Kelly Poppinga, BYU; Garett Tujague, BYU; Andy Reid, Kansas City Chiefs; Jay Hill, Weber State; Aaron Roderick, Utah.
×
Photos
Related Stories