Estimated read time: 2-3 minutes
This archived news story is available only for your personal, non-commercial use. Information in the story may be outdated or superseded by additional information. Reading or replaying the story in its archived form does not constitute a republication of the story.
Gene Kennedy ReportingThe largest turnout so far in the search for Destiny Norton. And now, there's new publicity for the case.
It's been almost a week since anyone has seen Destiny Norton.
The five year-old girl disappeared from her Salt Lake City home last Sunday night. Police have no leads in the case, so volunteers are left to search on their own.
Volunteers faced triple digit temperatures Saturday, but that did not slow them down much. Between 800 to 1,000 people joined the search on Saturday.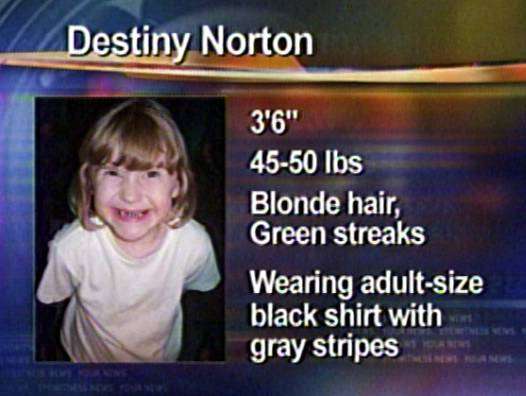 In six days, volunteers have covered more ground than even they probably realize. According to the search team, they've canvased 70-percent of the Salt Lake Valley, including two canyons and streets from Tooele to Salt Lake City.
From South Temple to 1300 South, and 400 West to 1300 East-- more than 100 blocks.
Typically half a dozen people hit each block. And some people keep coming back for more searches, like Jennifer Hammond.
Jennifer Hammond/ Searcher: "If one of my nieces or nephews disappeared, I'd want everyone looking."
That kind of attitude has compelled thousands to join in the search for Destiny. Yesterday, Lori Hacking's father, Eraldo Soares decided he would search until the girl was found. And today, Lori's mother Thelma got involved for the first time.
Thelma Soares/ Lori Hacking's Mother: "I understand what that family is going through. It breaks my heart."
Unlike the Lori Hacking case, the national news media has not picked up the Destiny Norton story. But for first time, America's Most Wanted ran her description.
The publicity in the last couple of days has been noteworthy. There are now two "Find Destiny" electronic billboards. They are both on Interstate-15--one at 600 South in Salt Lake City and another at 9800 South in Sandy.
And there have been nearly 50,000 hits on finddestiny.net.
So even though the police have no new information in this case, the public is stepping up more and more to keep the search alive.
Authorities still plan to drain the pond at Liberty Park sometime next week.
Another search is planned for tomorrow, Sunday, at 6 am, at the LDS ward house at 440 East Harvard Avenue (1110 South).
Volunteers are encouraged to come prepared for the heat, and are asked to leave children at home. Volunteers must be at least 18 years old to join the search.
Once again, Destiny is 3 foot 6 inches tall. She weighs about 50 pounds. The last time she was seen, she had strawberry blonde hair with green streaks. She also has silver capped teeth.
She was last seen last Sunday night around 8:30 pm at her home. At that time, she was wearing an extra large black adult-sized shirt, with quarter inch horizontal stripes.
There is a 30-thousand dollar reward issued for any information. If you have any information, call Salt Lake Police at 799-INFO, or you can report your information online at www.tipsforcash.com.
×
Related Links